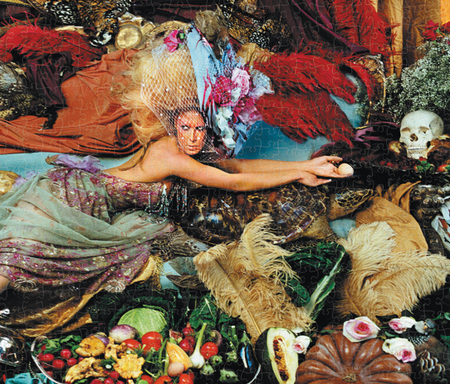 Heidi Klum by Ruven Afanador
Editions Ricordi is proud to invite all the fans of award winning fashion and celebrity photographer Ruven Afanador to experience his extraordinary art in an unique and playful way: by assembling a jigsaw puzzle, and thus retracing piece by piece the composition of a magnificent image starring top-model Heidi Klum.
Ruven Afanador, the Colombian photographer with the most international success and recognition for his outstanding conceptual photography, started his career in Milan in 1987. After building an impressive portfolio he won the award for Best photographer of the Year, (Paris 2001) for his unique mastery of imagery and composition. He has been publishing and showcasing his artwork in major fashion magazines, galleries and museums throughout the world such as Throckmorton Fine Art, Forma and FotoMuseo. Moreover, he is the author of the precious art books Torero (Stemmle 2001), Sombra (Merrell 2004), Seven (Fuzzi 2006) and Mil Besos- to be published in October 2009 by Rizzoli Int. Along with his exceptional achievements supported by visual media like magazine editorials, books and exhibitions, Ruven Afanador opens up now a new amusing way of approaching his art- by the tactile experience of composing his image in a jigsaw puzzle.
The image called Couture Banquet originates from a Vogue Spain issue and exhibits an opulent scenery of lusciousness, conjuring up the flamboyant ambiance of a rich courtly feast. Elements such as the skull and the eggs on the background unleash the symbolic power of a ritual ceremony. Amid an explosion of colors there is an alluring Heidi Klum who displays her great talent for mutability by condensing multiple archetypes of femininity- as moody mistress, seductive vamp and modern witch. The magic and the mystery of the woman, bound in an eccentric outer world, has been a main topic of Ruven Afanador's photography art and gains extra power through the surreal dimension of the puzzle.
The puzzle is a limited edition of only 1000 masterpieces, each numbered and signed personally by Ruven Afanador. The puzzle is wrapped up in an delicate silk bag and packed in a luxurious hand-made wooden box with a red velvet interior. The image is magnified by the large format of the ready puzzle: cm 70×100 (24×36 inch) , apt to be framed, with jumbo size pieces and printed on high-quality art paper with a velvet back side, enhanced by the golden glitter dust which covers gently Heidi Klum's splendid dress.
The puzzle will be presented at a special event in Milan in October with the kind participation of Ruven Afanador.
Retail price is 350,-Euro; USD 490$; available now for pre-booking at fashion@editionsricordi.com, on sale from October 2009 in exclusive stores worldwide and through the website www.editionsricordi.com.
With this limited edition Fashion Art Puzzle Editions Ricordi will be supporting the foundation AMREF in an educational project in Kenya. (www.amref.org)