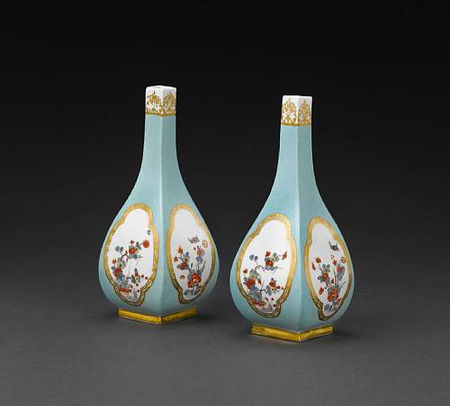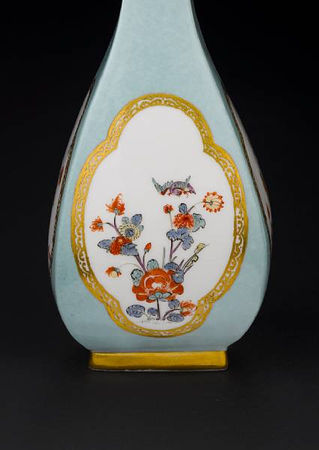 A very rare pair of Meissen turquoise-ground vases from the Japanese Palace, circa 1732-34 © 2002-2009 Bonhams 1793 Ltd
Of square baluster shape, each side reserved with a quatrelobe panel painted with flowering branches of indianische Blumen, insects and birds within a gilt scrollwork border, the necks reserved with gilt scrollwork, 21.5cm high, crossed swords marks in blue enamel, impressed Dreher's mark for Gottfried Seydel, incised Japanese Palace inventory number N=291-/ W (2) - Estimate: £40,000 - 60,000
Provenance: The Royal collections of Saxony, Japanese Palace, Dresden (from 1734);
Maurice de Rothschild Collection, his (anon.) sale, Christie's London, 28 March 1977, lot 38;
Acquired in 1989

Literature: Hoffmeister 1989, II, nos. 256-257

Exhibition: Hamburg, Museum für Kunst und Gewerbe, 1999-2009

According to a delivery list, 96 such "Aufsatz-Bouteillen" [display bottles] were delivered to the Japanese Palace in 1734. This delivery included newly-produced bottles from the Meissen manufactory, as well as some which had originally been made for the French merchant Lemaire, part of a large quantity of over 4500 Meissen copies of Asian porcelain that was seized in 1731 (Boltz 1996, p. 116). A 'Specification of Porcilan' of 1736, probably produced in conjunction with the architect Zacharia Longueleune's plans for the Japanese Palace, show that the celadon-coloured porcelain was intended to decorate three walls of a pavilion of a gallery facing the city. Twelve such quadrangular bottles, along with hundreds of other pieces of celadon-ground porcelain, including cups and saucers, was intended to adorn each wall (quoted by Cassidy-Geiger 1996, pp. 120-121).

Some of the porcelain delivered to the Japanese Palace was subsequently used to decorate the buffet in the Dresden Residence, known as the Turmzimmer. The 1769 inventory of the Turmzimmer records "No. 291 Acht und dreyßig Stück Aufsatz Bouteillen, Celadon Couleur, mit weißen Feldern worein kleine Blümgen nach altindianischer Art, goldne Rändgen und Zierathen gemahlt, differenter Facon, 9 1/2 Zoll hoch" [thirty-eight display bottles, celadon colour, with white panels painted with small flowers in old Indian style, gold borders and decorations, various shapes, 9 1/2 Zoll high].

The 1770 inventory of the Japanese Palace records: "Neun und Funfzig Stück diverse Aufsatz-Bouteillen, Celdaon-Couleur, mit weißen Feldern, darein kleine Blümgen und Zierrathen gemalt, auch vergoldten Rändgen, No. 291" [fifty-nine various display bottles, celadon colour, with white panels painted with small flowers and decorations, also gilt rims, No. 291].

The Dreher's mark of three circles in a triangle is that of Gottfried Seydel (1711?-1764), who is recorded from June 1732 (Rückert 1996, p. 79). Another pair of turquoise-ground vases was sold at Christie's London, 11 December 2007, lot 53. A different pair of vases of octagonal shape and with panelled decoration but with the same Japanese Palace inventory numbers was sold at Christie's London, 2 June 2009, lot 58.
Bonhams. The Hoffmeister Collection of Meissen Porcelain Part 1, 25 Nov 2009. New Bond Street www.bonhams.com