Bonhams has announced an exciting line-up of works for its Impressionist and Modern Art sale to be held at New Bond Street on Thursday 3 December.

Fighting for position as the sale's most valuable lot is 'Gladiatori nell'arena' by Giorgio de Chirico (1888-1978). An oil on canvas dated 1927, the painting is from Leonce Rosenberg's hugely important collection of the artist's Gladiator paintings which he housed in his Parisian apartment. Unsurprisingly, for such a significant piece, 'Gladiatori nell'arena' has attracted a pre-sale estimate of £600,000-800,000.
Giorgio de Chirico (Italian, 1888-1978) Gladiatori nell'arena, signed 'G. de Chirico' (upper right), oil on canvas, 55 x 46cm (21 5/8 x 18 1/8in). executed in 1927. Estimate: £600,000 - 800,000, €660,000 - 880,000
PROVENANCE: Léonce Rosenberg, n.8929, Paris
Private Collection, New York
Private Collection, Europe

EXHIBITED: 1986-1987 Verona. Galleria d'Arte Moderna e Contemporanea di Palazzo Forti
de Chirico, Gli Anni Venti p. 160
2003 Varese. Villa Panza Giorgio de Chirico, Gladiatori 1927-1929 4 October to 14 December

LITERATURE: C. Bruni Sakraischik, Catalogo Generale dell'Opera di Giorgio de Chirico, opere dal 1908 e 1930. ed. Electa, Milan 1987, vol.8, n.514.
M. Fagiolo Dell'Arco and P.Baldacci, Giorgio de Chirico, Parigi 1924-1929.
ed. Daverio-Mondadori, Milan 1982, n.201, p.536.
P. Baldacci, Giorgio de Chirico, Gladiatori 1927-1929, ed. Skira. Milan 2003, n.6, p.68.

Around 1927 Giorgio de Chirico was commissioned by the collector and dealer Léonce Rosenberg to create a series of Gladiator paintings to be displayed in a 'Room of the Gladiators' specially designed for Rosenberg's Paris home. There seems to have been thirteen of these Gladiator paintings produced from 1927 to 1929. Gladiatori nell'arena must surely be one of the most dramatic and visually striking of the series.

Léonce Rosenberg originally opened his own gallery in 1910 called the Haute Epoque at 19 rue de la Baume in Paris' 8th arrondissement. By the end of 1914 he had acquired works by artists such as Picasso, Herbin and Gris. In 1918 he opened a new gallery, L'Effort Moderne, which continued in business till 1941 and became a powerful force in promoting avant-garde art. Between 1924-1927 the gallery issued the Bulletin de l'Effort Moderne which provided a forum for his views and for artists such as de Chirico. In the latter years several artists, whom Rosenberg represented defected to his brother Paul, also a dealer, including Picasso.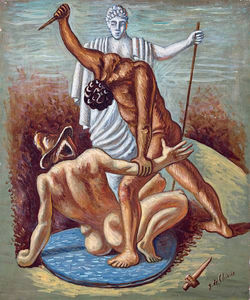 In the Rosenberg paintings de Chirico realised his personal vision. Whilst elements of 'meta-physicism' remain, he turned his attention to creating 'meta-historical' themes. The helmets, daggers and lances appear historically correct and reflect the research de Chirico carried out, he studied Roman sarcophagi and antique Roman paintings to ensure the details would be as authentic as possible. He had a longstanding involvement with classical culture but was able to incorporate it into Italian Modernism. In contrast his Gladiator figures appear mostly naked as if live statues or in some case as mannequins, mostly seen before in his work.

The group of figures in Gladiatori nell'arena hint at emotional and familial relationships in their interaction, especially with the contrast of the ghostly arbiter or referee and the dominant gladiator. The Roman setting of the arena is a meta-historical field of action, in which the key players are bound up in a romantic vision. It's almost as if de Chirico wanted to bring the figures directly to us in our living rooms as they don't seem that involved in their backgrounds. Perhaps de Chirico was conscious of creating them for Rosenberg's Salon where they would talk to each other, interact with each other. Whilst the themes are of battle, the pictures' effects are static rather than dynamic, lyrical rather than fierce.


Of Gladiatori nell'arena P.Baldacci states: 'This is one of the most important works, especially in its detail, of the works executed in 1927 with the theme of Gladiators. One can see clearly the arena with spectators in the terraces in the evening light. It is already twilight and one can distinguish the moon in the night sky. It appears to be one of those Roman evenings described in Hebdomeros. At the end of the spectacle, when the sun was going down and the sombre mood augmented the shadow in the arena, the scene had an odour of sawdust and sand mixed in with blood'.

'Various elements contribute to making this painting impressive, particularly the stark colouring, which contrasts with the radiant mystical figure standing on the left. It seems he is almost one of the returning figures which populated de Chirico's metaphysical paintings. To counter balance this figure, we are presented with the pose of the winning gladiator and the defeated warrior beneath his foot. The psycho-analytical component of this painting is very strong, for example we can perhaps see in the white figure to the left the ghost of a father figure. It is evident that the recent battle can be a metaphor for a conflict between brothers or even friends'.

Paolo Baldacci, Giorgio de Chirico, Gladiatori 1927-1929. ed. Skira, Milan 2003, n.6 p.68.

As well as the metaphysical and psycho-analytical elements discussed there is another important theme, an enigmatic one. This is as intriguing to today's viewer as it must have been to de Chirico's contemporaries. The victorious gladiator and the fallen one describe respectively violence and death. Paradoxically with the ghostly arbiter alongside, an element of possible reconciliation as well as paternal love is introduced. There are definitely 'two sides of the sword', as it were being explored here. De Chirico has shown himself to be a master of an enigmatic depiction. This is confirmed by a sentence painted by him on one of his works which sums it up:

Et quid amabo nisi quod aenigma est?(What shall I love, if not that which is an enigma?)
A second piece by de Chirico is another sale highlight. This hugely rare sculpture – 'Manichini coloniali' – was cast in 1969, during the artist's lifetime and is expected to achieve £80,000-120,000. It will be joined by two magnificent modernist works by Alberto Burri (1915-1995): the two cellotex paintings (dated 1990 and 1991) are priced at £180,000-200,000 and £140,000-180,000 respectively.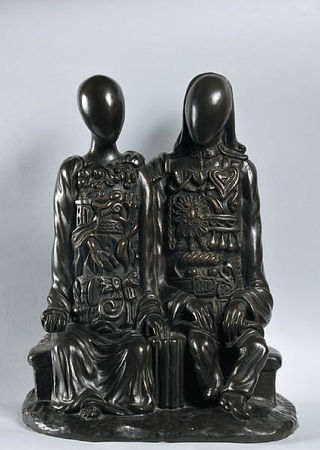 Giorgio de Chirico (Italian, 1888-1978) Manichini coloniali, signed 'de Chirico', inscribed and numbered 'I Coloniali 4/9. Fond Artistica G.B.Esse Verona Italy' (on the base), bronze with a dark patina, 49 x 26cm (19 5/16 x 10 1/4in). cast in 1969. Estimate: £80,000 - 120,000, €88,000 - 130,000
This bronze is an important addition to de Chirico's oeuvre as it was cast during the lifetime of the artist in an edition of 9, of which this is number 4 (9 examples were produced plus 2 artist's proofs). It is dated 1969 and was inspired by the painting of the same title of 1959 and is archived as no 0041/07/03 OT in the archives of Fondazione Giorgio e Isa de Chirico.

This work comes with a certificate of authenticity from Professor Paolo Picozza stating the above and dated 5 July 2003.

EXHIBITED: Milan and Ferrara, 1970
New York, 1972
Rome, 1974-1975
Paris, 1975

LITERATURE: Bruni, Catalogo Generale volume 2, n.293/3, 1972
Catalogo Nazionale della Scultura Italiana, Bolaffi, n.5, 1981.
G.Dalla Chiesa, De Chirico scultore, Mondadori, Milano, 1988, p.71, n.15
Alberto Burri (Italian, 1915-1995) Cellotex, signed 'A. Burri' (on the reverse) acrylic and vinavil on cellotex, 72.5 x 102.5cm (28 9/16 x 40 3/8in). executed in 1990. Estimate: £180,000 - 200,000, €200,000 - 220,000
Note: Inscribed on the reverse (inv. 669). This inventory number is the same as that stated in the archives as an original work by Alberto Burri and relating to inventory no.90.11.

The work is accompanied by a certificate of authenticity from the Fondazione Palazzo Albizzini, in Città di Castello, dated 9 March 2005 and signed by Professor Marizio Calvesi.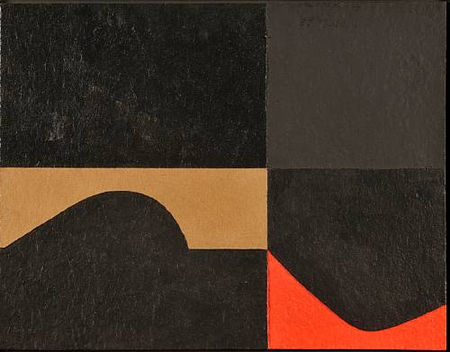 Alberto Burri (Italian, 1915-1995) Cellotex, signed 'A. Burri' (on the reverse) acrylic on cellotex, 53.5 x 68cm (21 1/16 x 26 3/4in). executed in 1991. Estimate: £140,000 - 180,000, €150,000 - 200,000
Note : This work is accompanied by a certificate of authenticity from the Fondazione Palazzo Albizziniin Città di Castello, dated 7 February 2000 and signed by Professor Nemo Sarteanesi.

This work dates from 1991 and is the same work as that listed in the archive with the number 91.43/710.
Collectors of Italian art will also be drawn to Gino Severini's (1833-1966) wool tapestry. The colourful 'Il Ciclista' is one of only three authorised by the artist's daughter, Gina, following Severini's death. The tapestry was made between 1977-1978 and has been priced at a hugely tempting £15,000-20,000.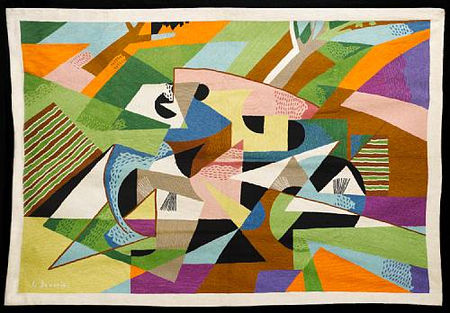 Gino Severini (Italian, 1883-1966) Il Ciclista, signed 'G Severini' (lower left). Edition of 3. wool tapestry, 150 x 210cm (59 1/16 x 82 11/16in). Estimate: £15,000 - 20,000, €17,000 - 22,000
Note: Bonhams are grateful to Elio Palmisano for confirming the authenticity of this work. Only three tapestries of Il Ciclista were authorised by Gina Severini, the artist's daughter, after Severini's death.

Elio Palmisano, founder of a tapestry workshop near Milan and supporter of Italian avant-garde artists, was instrumental in translating painted and printed works by Futurist artists into tapestry form. Severini collaborated with Palmisano on three occasions. The designs chosen were Ballerina based on a Cubist work of 1913 and Il gioco delle carte, again a Cubist work (1956). Il Ciclista was modelled on a lithograph by the same name of 1956.

Il Ciclista, a pure-wool hand–woven tapestry, was made in Palmisano's workshop between 1977 and 1978. The tapestry was executed in chain-stitch using a wooden handled crochet-hook. Il Ciclista clearly exhibits Futurist traits, namely fragmentation of form and a clear sense of speed, where the cyclist becomes a metaphor for the dynamism of the modern world. The decision to make works in tapestry form is also in keeping with the Futurists' aim not to limit their output to formal artworks but to ensure that their designs became a part of everyday life to create a 'Futurist Universe'.
The catalogue includes a series of striking sculptures by Salvador Dali (1904-1989), of which his bronze, 'Winged Triton' (c1972) is sure to catch the eye of collectors of modern art. At nearly 2 metres high, the sculpture is one of only twelve produced and as such has attracted a pre-sale estimate of £100,000-150,000.
Salvador Dalí (Spanish, 1904-1989) Winged Triton, signed 'Dalí' (on the base) bronze with a light blue patina, 190 x 140cm (74 13/16 x 55 1/8in). the sculpture is on a pedestal, executed circa 1972. Estimate: £100,000 - 150,000, €110,000 - 170,000
EXHIBITED: Cedar Rapids City, Iowa, USA, 2001
Lowe Art Museum, Miami, USA, 2001
Mississippi Art Museum, Jackson, USA, 2001
Toramaru Outdoor Park, Ohchi, Japan, 2002
Quinta Patino, Estoril, Portugal, 2003
Palacio Lusitania, Lisboa, Portugal, 2004
Caves Burmester, Porto, Portugal, 2004
Palacio Episcopal de Malaga, Spain, 2004
Chateau les Roeulx, Belgium, 2004/2005
Chateau de Bray, France, 2007
Sevilla, Spain, 2008

LITERATURE: Robert & Nicolas Descharnes The Hard and the Soft. ed. Eccart. p. 165 ref. 415

Winged Triton shows the body of a young man who evokes the movement of the sea and yet stands above the waves. In Greek mythology the gods used two winged messengers, Hermes and Triton.

This is edition 7/8 and was cast by the Mibrosa Foundry in Spain c. 1972. In total there were 8 monumental examples produced in bronze plus 4 artist's proofs.

This work is part of a series which belonged to the Clot collection. In the early 1970s the Catalan art lover Isidro Clot, a friend of Dalí, made an agreement with him to reproduce a series of sculptures in bronze. These had initially been sculpted by Dalí in soft wax in his summer house in Port Lligat in Spain. They were later cast, also in a monumental size, of which this is an example.

The Impressionist market is similarly well-represented, with works by 'up and coming' talent alongside more recognisable names. A series of paintings by Jean Franck Baudoin (1870-1961) are the ideal introduction to Impressionist ownership – his dreamy oil landscapes are estimated between £5,000-15,000. Alongside Baudoin's work is a late entry to the sale – a charming oil landscape by Pierre-Auguste Renoir (1841-1919) . A stunningly evocative – yet simple – composition, the painting is estimated between £80,000-100,000.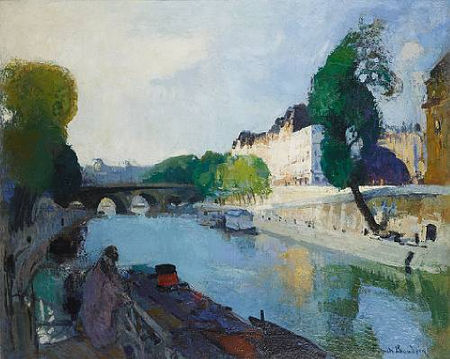 Jean-Franck Baudoin (French, 1870-1961) Quai de Seine avec vue sur la Concièrgerie, signed 'Jean-Franck Baudoin' (lower right) oil on canvas, 130 x 161cm (51 3/16 x 63 3/8in). Estimate: £15,000 - 20,000, €17,000 - 22,000
PROVENANCE: With Frost & Reed, London
Pierre-Auguste Renoir (French, 1841-1919) Paysage arboré, signed with initial 'R' (lower left) oil on canvas, 19 x 24cm (7 1/2 x 9 7/16in). Estimate: £80,000 - 120,000, €88,000 - 130,000
PROVENANCE: With Galerie Dominique Hurtebize, Cannes

This work is accompanied by a certificate of authenticity from Monsieur Dauberville and will be included in the forthcoming Cataloque Raisonne prepared by Mr Dauberville and edited by Bernheim-Jeune

Edward Plackett, Head of Bonhams Impressionist and Modern Art Department comments: "This sale contains a wide variety of Impressionist and Modern art, including sculptures, paintings, watercolours and even a tapestry. There is something for every type of collector from a Renoir oil sketch to a de Chirico painted at the height of the artist's powers."