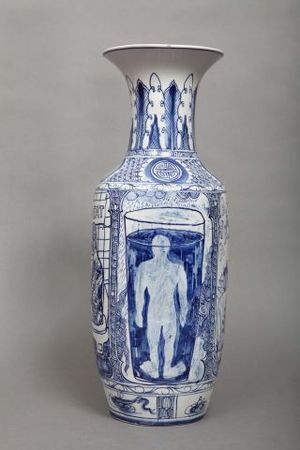 Bùi Công Khánh | Vietnam b.1972 | The harmless crowd 2008 | Porcelain, handpainted | 58 x 20 x 20cm | Purchased 2009. Queensland Art Gallery Foundation Grant | Collection: Queensland Art Gallery
Bùi Công Khánh's paintings, performances, sculptures and ceramics address history and contemporary society in Vietnam, particularly the increasing impact of global capital. His paintings and drawings are often figurative and deeply personal, drawing on Buddhist and Taoist philosophy. Bùi's most recent series of works incorporate drawing into the traditional form of Vietnamese blue-and-white porcelain vases. In Vietnam, as in China, blue-and-white wares were primarily produced as a trading commodity, and absorbed numerous influences from China, Cambodia and India. Bùi's vases address what he calls 'the character of the present', the sounds and sights of daily life. They include motorbike riders, street signage, advertising and romantic interludes. By working with the traditional form of the ceramic vase, Bùi aims to place the culture of modern life into the flow of history. For APT6, he will display a selection of vases, including one for each day of the week, creating a kind of diary for 'life that seems never to be interrupted'.
Bùi Công Khánh. b.1972 Da Nang, Vietnam. Lives and works in Ho Chi Minh City, Vietnam
Exhibitions (group): 'Time Ligaments', 10 Chancery Lane Gallery, Hong Kong, China, 2009; 'Who Do You Think We Are?', Bui Gallery, Hanoi, Vietnam, 2009; 'Reflow', Java Gallery, Phnom Penh, Cambodia, 2006; Nippon International Performance Art Festival, Japan, 2004.
Some of his works:
Bùi Công Khánh, sketch for "The Hit of New and Old" series
Bùi Công Khánh, "Dollar Man", photograph and performance, 2005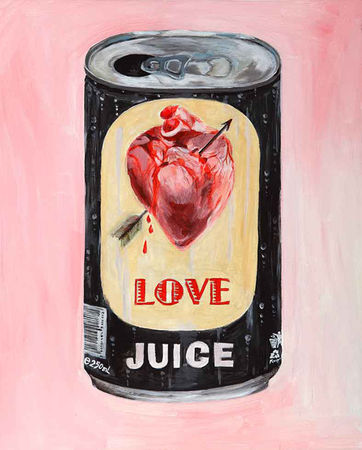 Bùi Công Khánh, "Love Juice". oil painting on canvas