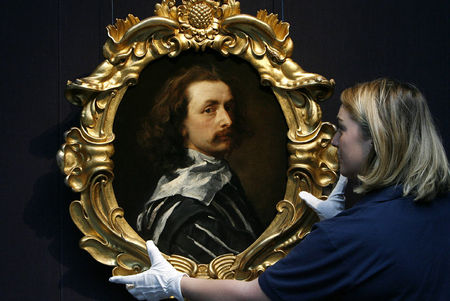 The outstanding van Dyck Self Portrait was hotly pursued by nine bidders, who drove the price far above the pre-sale expectations of £2-3 million and established the record-breaking price. AP Photo/Akira Suemori
LONDON.- Tonight's sale of Old Master & British Paintings at Sotheby's in London saw a new auction record established for Sir Anthony van Dyck - one of the most important artists to have worked in England - when his last Self Portrait soared above expectations and sold for £8,329,250/ €9,207,960/US$13,521,704. The portrait was the top-selling lot in a sale which realised £15,098,250/ €16,691,068/ US$24,510,499, within the pre-sale expectations of £12,340,000-18,410,000. Strong prices were also seen for works by the Dutch artist Cesar Boetius van Everdingen and the prominent British masters, Sir Edwin Henry Landseer and Samuel Scott.

The outstanding van Dyck Self Portrait was hotly pursued by nine bidders, who drove the price far above the pre-sale expectations of £2-3 million and established the record-breaking price. The painting was finally purchased by Alfred Bader in partnership with Philip Mould. Van Dyck painted the portrait in London in 1640 in the final months of his life. It is one of only three self portraits that he executed in England and this, his last, captures him dashingly attired in a black and white slashed silk doublet. Prior to this evening's sale, the painting had last appeared on the market in 1712 and it therefore came to the market with exemplary provenance, having been in the same family collection for almost 300 years. It was offered for sale tonight by the Earl of Jersey's Trust.

Discussing the record-price achieved for the van Dyck self portrait, David Moore Gwyn, Deputy Chairman, UK and Senior Specialist in Early British Paintings at Sotheby's, said: "This was without doubt the most important portrait by van Dyck to come to auction in my 33-year career at Sotheby's. Over the last few weeks and months the painting has attracted an enormous amount of interest and we are absolutely thrilled with tonight's record-breaking result, which is testament to the rare opportunity that it's sale – after 300 years in a family collection – represented."

A hitherto unrecorded and unpublished painting by the Dutch artist Cesar Boetius van Everdingen was also the subject of considerable bidding battle this evening. It saw interest from six potential buyers who competed strongly and whose determined bids took the price to £1,161,250, which was 16 times the pre-sale estimate of £50,000-70,000. The remarkable painting provides a rare addition to the known oeuvre of one of the most important Dutch classicist painters of the mid-17th century.

The British master Sir Edwin Henry Landseer was represented this evening by an exceptional Highland scene which performed well and brought £937,250 against an estimate of £800,000-1.2 million. This ranks as the second highest price ever for a work by the artist at auction. Return from the Staghunt captures a peaceful moment at the end of a day of hunting adventure and it came to auction in a superb, untouched condition. The dramatic scenery of the Scottish Highlands had a profound influence on Landseer and his art and Scottish subjects came to dominate his oeuvre, with the most iconic of these being his hunting scenes.

Furthermore, the exquisitely detailed and superbly preserved Shipping at Anchor in the Thames Estuary, Near Wapping by Samuel Scott (circa 1702-1772) sold for £481,250, handsomely within an estimate of £400,000-600,000. Painted on a grand scale, the depiction of the great sailing vessels of the age is characteristic of Scott's most endearing work.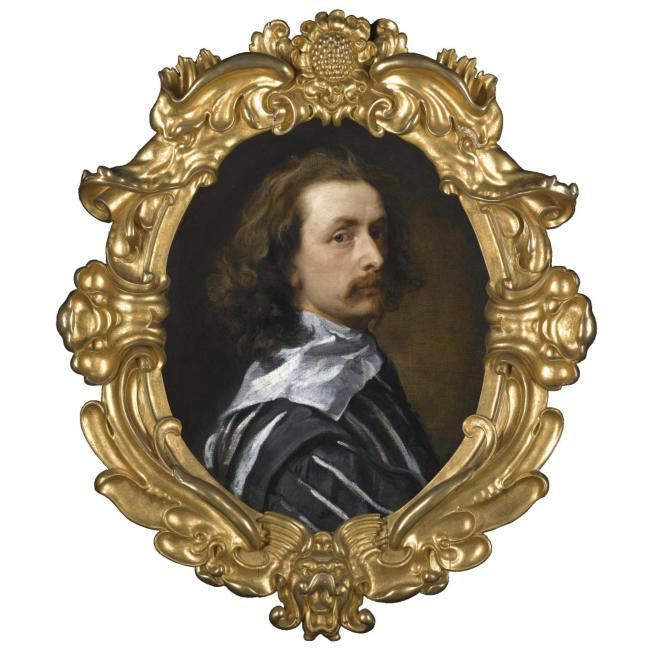 Sir Anthony van Dyck (ANTWERP 1599 - 1641 LONDON), Self Portrait. Photo Sotheby's
oil on canvas, oval, held in an important seventeenth century Italianate Mannerist style English frame; 59.7 by 47.3 cm. 23 1/2 by 18 3/4 in.
PROVENANCE: Possibly in the collection of Sir Peter Lely, d. 1680;
Possibly his sale 18th April 1682 (bt. by Lord Newport, 1st Earl of Bradford (1619-1708) for £34);
Richard Graham (fl. 1695-1727) until sold in his sale, Peletier London, 6 March 1712, lot 41, bt by Sir Francis Child the Younger (1684-1740);
by descent to his nephew Robert Child (1739-1782) of Osterley Park;
by descent to his grand-daughter Lady Sarah Sophia Fane (1785-1867) who married George Child-Villiers, 5th Earl of Jersey and 8th Viscount Grandison (1773-1859) of Osterley Park, Middlesex and Middleton Park, Oxfordshire;
by descent
EXHIBITED: London, Arts Council of Great Britain, Old Masters from Jersey Collections, 1952, no. 11;
London, National Portrait Gallery, Van Dyck in England, 1982, no. 65;
London, Tate Gallery, Van Dyck in Britain, 2009, no. 67;
LITERATURE AND REFERENCES: G. Gluck, 'Reflections on Van Dyck's Early Death,' The Burlington Magazine, 1941, vol. 79, no. 465, p. 194;
Possibly, 'Sir Peter Lely's Collection,' Editorial, The Burlington Magazine, August 1943, p. 187;
E. Larsen, L'Opera Completa di Van Dyck, Milan, 1980, no. 757;
E. Larsen, The Paintings of Anthony van Dyck, Freren, 1988, Vol. II, no. 1018;
R. Davids, The Artist as a Portrait, London 2000, p. 48;
E.E.S. Gordenker, Anthony van Dyck and the Representation of Dress in Seventheenth Century Portraiture, Brepols 2001, pp. 61, 118 no. 126;
S Barnes, N de Poorter, O Millar, H Vey, Van Dyck: A Complete Catalogue of the Paintings, Yale & London, 2004, no. IV.5, p. 432
NOTE: This is one of the most important Flemish Baroque self portraits and perhaps the finest still remaining in private hands. Painted in England in 1640, it presents a powerful image of the artist who so successfully immortalised the social elegance and aristocratic sophistication of King Charles I and his court. Infused with character and charisma it was painted at the height of van Dyck's career - with the utmost bravado and confidence; each sweep of the paint brush breathtakingly effective despite its deceptive simplicity. Van Dyck portrays himself dressed in a rich black and white silk doublet his body leaning intimately against the picture plane and towards the viewer. His intense gaze attracts and holds our attention.
A highlight of the recent Van Dyck & Britain exhibition, this portrait epitomises the elegant poise and relaxed informality that the artist had brought to the art of portraiture in Britain, a new style that was to revolutionise the entire genre forever. As Stephen Deuchar has observed, "Sir Anthony Van Dyck was the most profoundly influential of European-born artists who were to work in England and so notably nurture its artistic growth from the sixteenth to the eighteenth centuries – amongst them Holbein, Rubens, Lely and Canaletto."[1]
Born in Antwerp, van Dyck was an exceptionally precocious artist whose penetrating if perhaps tentative gaze is first presented in his early self-portrait (Fig. 1, Gemäldegalerie, Vienna). He first visited England briefly in 1620, and returned following a period of artistic development and travel through Italy and northern Europe, in 1632. The young artist's timing was fortuitous with the arrival on the throne of the young Charles I who was clearly determined to secure the loyalty of van Dyck. Not only was he immediately knighted but also given a pension for life and a house.
Van Dyck proudly advertised his new role as 'Principal Painter in Ordinary to their Majesties' in his Self-portrait with a Sunflower (Fig. 3, 1632/3, Private Collection). Here he presents himself almost with his back turned on us the viewer. He wears the gold chain, a recent gift from Charles I, and points emphatically towards the sunflower a symbol of devotion (and an allusion to the sun of regality). Extravagantly dressed and fashionably coiffured, his costume is of the most sumptuous, brilliant and bold red silk. It is a self-portrait which illustrates a halcyon era of Charles I and his devoted artist and courtier. Van Dyck further advertised his position within the court and broader diplomatic circles at this time in his Self portrait: Van Dyck with Endymion Porter (Fig, 2, c. 1633, Museo Nacional del Prado, Madrid). Here he not only pays tribute to his close friendship with the trusted courtier and diplomat, Porter (whose portrait by Van Dyck was sold in these Rooms, 8 July 2009, lot 11, for £1,800,000), but also takes great care to display the exceptional richness of their costume.

Utterly ambitious by 1639 Van Dyck had cemented his presence within Court circles by marrying Mary Ruthven the lady in waiting to the Queen and grand daughter of the 1st Earl of Gowrie. However, a year later, when this portrait was painted, the world had irrevocably changed. By November of that year the Long Parliament met for the first time without royal permission in London. The King's rule had been questioned and many of those of the court who had supported the King had moved or were to move into opposition. Among them were van Dyck's most important patrons including the Earls of Bedford, Danby, Northumberland and Warwick and van Dyck was planning to leave England and move back to his native Antwerp.[2]
In the present self-portrait van Dyck now distances himself from the Stuart Court and displays no specific reference to his social or political loyalties. He does, however, paint a portrait which perhaps deliberately echoes the composition and pose of the celebrated Self portrait of circa 1623 by his earlier master, Sir Peter Paul Rubens (Royal Collection, London), who had only recently died. Both self portraits were intended as private images and neither was subsequently engraved for a public audience. However, van Dyck's portrait went on to have a profound influence. Numerous contemporary and later copies were produced (Sir Oliver Millar lists at least twelve variants), and the pose and composition was also re-used by a number of subsequent artists, attempting to align themselves with the talents and fame of Van Dyck. They include William Dobson (Private Collection), Robert Walker (The Ashmolean Museum, Oxford), Samuel Cooper (Royal Collection) and Sir Godfrey Kneller (now untraced). Even over a hundred years later this charismatic portrait inspired emulation by a new generation of ambitious artists including Sir Joshua Reynolds (see examples of circa 1746, Private Collection and circa 1766, Society of Dilettanti Collection) and Richard Cosway (Attingham Park) amongst others. Further evidence of the importance of this portrait is demonstrated by its probable subsequent ownership by the artist who made the most significant attempt to emulate and revive Van Dyck's manner, Sir Peter Lely.[3]
This painting was probably the portrait purchased in Lely's studio sale by Francis 2nd Baron Newport, 1st Earl of Bradford (1619-1708). Newport's political career saw him move advantageously in and out of court circles during the reigns of Charles I, Charles II, James II and finally William III. He was clearly an ambitious as well as astute man as he purchased a baronetcy for his father in 1642 following his marriage to the rich heiress Diana Russell (1624-1695), youngest daughter of Francis Russell, 4th Earl of Bedford. Newport was renowned for owning a fine art collection, which included other works by van Dyck, Lely, Dobson and Poussin, many of which were purchased in Lely's studio sale. Newport was succeeded by his eldest surviving son Richard, but his younger surviving son, the Hon Thomas, Baron Torrington was thought to have inherited his collection. He clearly did not inherit the entire collection, as it appears this painting was acquired by Richard Graham at some point following Newport's death in 1708.[4]

Richard Graham was one of the most influential early 18th Century writers and exponent of the arts. He wrote a Short Account of the Most Eminent Painters both Ancient and Modern (1695),[5] where he listed the artist William Dobson as Van Dyck's 'happy imitator.' Graham acquired both the present portrait and one on which it had a direct influence as mentioned above, the Self portrait by William Dobson, 1645 (Private Collection). He was also probably responsible for framing both paintings in the dramatic matching frames in which they both remain to this day.[6] In 1712 he offered both paintings for sale at Peletier's where they were subsequently purchased by Sir Francis Child the Younger (1684-1740).
The Childs had amassed a large fortune through activities as bankers and goldsmiths. Osterley Park became the main family seat in 1713 and this portrait and the family's exquisite collection of Old Master paintings were displayed there. By 1782 the inventory of works in the Gallery alone at Osterley listed 49 paintings, including this self portrait and other works by Sir Anthony van Dyck, works by van de Velde, Rubens (the large equestrian portrait of the Duke of Buckingham) and The Glorification of the Duke of Buckingham, (National Gallery, London), Poussin, Lucca Giordano, Claude Lorrain and Salvator Rosa. However, the last male descendent Robert Child (1739-1782) died without a male heir and having disinherited his own daughter Sarah Anne for eloping and marrying John, 10th Earl of Westmorland (1759-1841) his entire estate was left to his grand daughter Lady Sarah Sophia Fane (1785-1867). Lady Sarah married George Child-Villiers (he assumed the Child name in 1819), 5th Earl of Jersey and 8th Viscount Grandison (1773-1859) of Middleton Park in whose family this portrait has descended. This painting is now offered for sale for the first time in nearly 300 years.
[1] S Deuchar, Director Tate Britain, Van Dyck & Britain, 2009, p. 7
[2] September 1640, The Earl of Arundel obtains a passport for Van Dyck and his new wife to travel to Antwerp. During his return in October Van Dyck accepts the commission to paint the Martyrdom of St George for the altar of the Archer's Guild in Antwerp Cathedral. The painting was unfinished at his death.
[3] It is widely accepted to be the one listed in Sir Peter Lely's Studio sale on the 18th April 1682 entitled 'Of Sir Anthony Van Dyck, His Own Picture in an Oval,' (bought by the Earl of Newport for £34 and listed as measuring 01f 10 in. by 01 f 6 in., (22 by 18 in. 56 by 46 cm.) which coincides with the size of the present painting. Editorial, 'Sir Peter Lely's Collection,' The Burlington Magazine, 1943, p. 187 and Diana Dettloff, 'The Executor's account book the dispersal of Sir Peter Lely's Collection,' Journal of the History of Collections, 1996, pp. 18, 29.
[4] We are grateful to Gareth Williams, Curator to the Weston Park Foundation for pointing out that this painting is not listed in the earliest inventory of Lord Torrington's Surrey Street House, London pre-1714.
[5] This was added at the end of John Dryden's translation of Dufresnoy's De Arte Graphica, trans. J Dryden (1695), pp. 227-355
[6] The present frame is believed to date from the late 17th century with later 19th century re-guilding. We are grateful to Lynn Roberts, Paul Mitchell and Malcolm Rogers for their assistance in researching this frame. Further information on the design, date and gilding of the frame is available upon request.