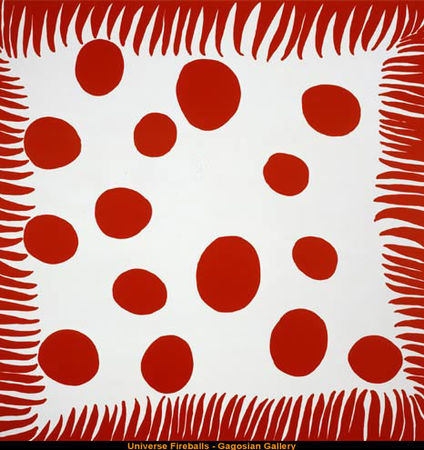 Yayoi Kusama, Universe Fireballs. Photo: Courtesy Gagosian Gallery.
MILAN.- Councillorship for Culture and 24 ORE Motta Cultura present the exhibition Yayoi Kusama. I Want to Live Forever at PAC Padiglione d'Arte Contemporanea, under the curatorship of Akira Tatehata (Director of Osaka National Museum of Art). A unique, exclusive event for Italy, dedicated to the unquestioned protagonist of Japanese contemporary art. In addition to recent figurative and abstract paintings, large-scale sculptures and installations from the last decade, there will be a selection of formative drawings from the 1950s and 60s.

On show also Narcissus Garden, a sculptural installation first exhibited at the 33rd Biennale di Venezia (1966). Kusama produced this interactive environment of 1500 mirror balls with the assistance of Lucio Fontana. In a rogue presentation on the lawns of the Italian Pavilion, Kusama, dressed in traditional Japanese kimono, drew attention to the usually covert commercial aspects of the Biennale, selling
each mirror ball for 1,200 lire. More than forty years later, Narcissus Garden will come to Milan for the first time.

Kusama produced her first huge "infinity" paintings as a young, struggling artist in New York in the late Fifties. The inherent philosophical paradox of these works – that "infinity" could be quantified within the arbitrary framework of a readymade canvas – combined with the more subjective and obsessional implications of their process, distinguished them from the Minimalist abstraction that would dominate the local scene several years later.

Today Kusama composes the Infinity Net paintings as isotropic fields filled with fairly evenly painted elements, either in austere monochromes or vibrant contrasting and psychedelic hues such as the magnificent five-panel I Want to Live Forever (2008). Her latest figurative paintings, such as Cosmic Space (2008) in which eyes, amoebae, and other more indeterminate biomorphic forms abound, reflect a preoccupation with mortality, as well as with enlightenment, solitude, nothingness, and the mysteries of the physical and metaphysical universe.

Kusama's sculpture takes another approach to visualizing infinity through her continuing use of mirrors from the free-standing Passing Winter (2005) to the complex environment Aftermath of Obliteration of Eternity (2008) that operates on a system of simple yet ingenious optical devices to create an endless interaction of reflected light. Kusama's most recent group of monumental sculptures Flowers that Bloom at Midnight are vividly painted, baroque flowers measuring between 1.5 and 5 meters in height.

Yayoi Kusama was born in Matsumoto City, Japan in 1929. Her work is in the collections of leading museums throughout the world including the Museum of Modern Art, New York; LACMA, Los Angeles; Walker Art Center, Minneapolis; Tate Modern, London; Stedelijk Museum, Amsterdam; Centre Pompidou, Paris; and the National Museum of Modern Art, Tokyo. Major exhibitions of her work include Kitakyushu Municipal Museum of Art, Fukuoka, Japan (1987); Center for International Contemporary Arts, New York (1989); "Love Forever: Yayoi Kusama,1958-1969", LACMA, 1998 (traveling to Museum of Modern Art, New York, Walker Art Center, Minneapolis and Museum of Contemporary Art, Tokyo), 1998-99; Le Consortium, Dijon, 2000 (traveling to selected venues in Europe and Korea), 2001-2003; "KUSAMATRIX", Mori Museum of Art, Tokyo, 2004 (traveling to Art Park Museum of Contemporary Art, Sapporo Art Park, Hokkaido); "Eternity – Modernity", National Museum of Modern Art, Tokyo (touring Japan), 2004-2005; and "The Mirrored Years", Museum Boijmans Van Beuningen, 2008, currently on view at the Museum of Contemporary Art, Sydney and traveling to the City Gallery, Wellington, New Zealand later in 2009.

Kusama has completed several major outdoor sculptural commissions, mostly in the form of brightly hued monstrous plants and flowers, for public and private institutions including the Fukuoka Municipal Museum of Art and Matsumoto City Museum of Art in Japan; Eurolille in Lille, France; and most recently, the Beverly Hills City Council in Los Angeles. Kusama currently lives and works in Tokyo.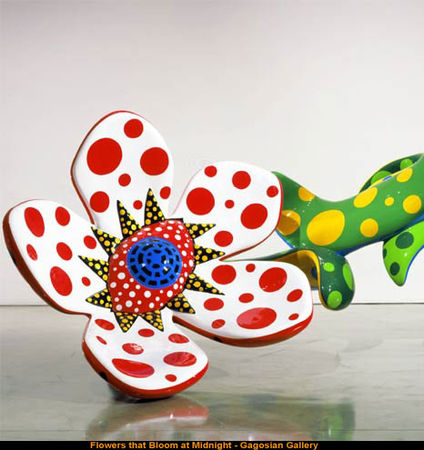 Yayoi Kusama, Flowers that Bloom at Midnight. Photo: Courtesy Gagosian Gallery.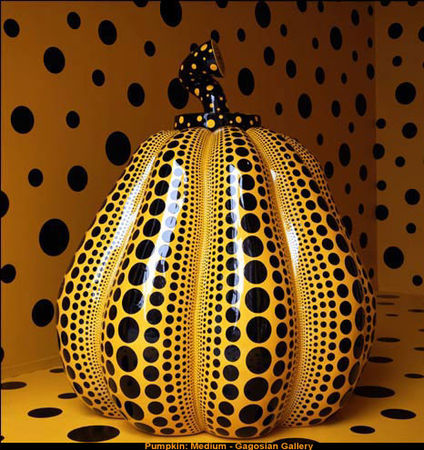 Yayoi Kusama, Pumpkin Medium. Photo: Courtesy Gagosian Gallery.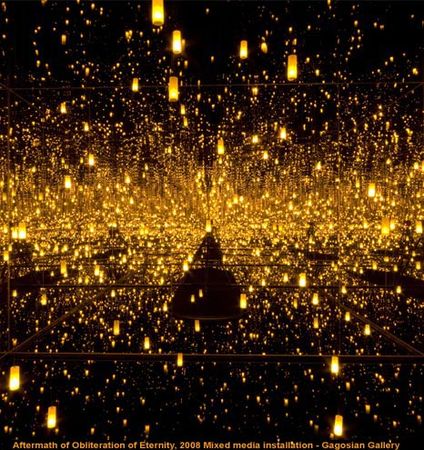 Yayoi Kusama, Aftermath of Obliteraion of Eternity. Photo: Courtesy Gagosian Gallery