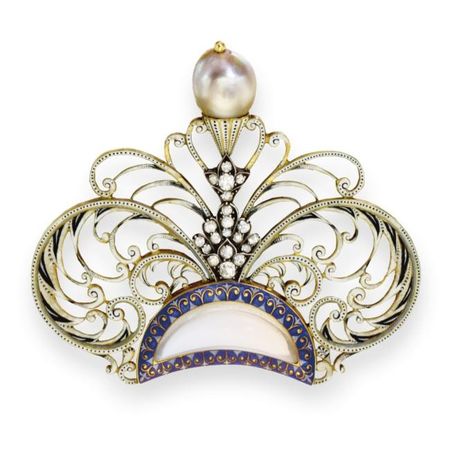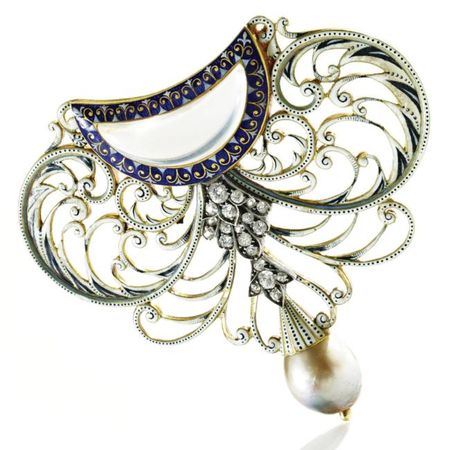 Diamond, enamel, moonstone and pearl brooch/hair ornament combination, Carlo and Arthur Giuliano, Circa 1895. Photo Sotheby's
Old mine diamonds weighing approximately 1.20 carats, the pearl measuring approximately 13.9 by 12.8 mm., mounted in gold, signed C& AG, brooch pin detachable, together with a tortoise shell hair comb fitting. With signed and fitted box. Est. 15,000—20,000 USD. Lot Sold. Hammer Price with Buyer's Premium: 22,500 USD
Sotheby's. Magnificent Jewels. 09 Dec 09. New York www.sothebys.com
In the mid-19th century, the archeological revival was at its peak in England and demand for jewelry in the ancient style was high. At this opportune time, Carlo Giuliano moved with his wife and sons from Italy to England, where he began to make granulated gold jewelry in the ancient Greek and Roman style and to sell it through established jewelers such as Hancocks, Hunt and Roskell, and Phillips.
There are no records to support the theory, but it's widely believed Giuliano studied under the renowned Castellanis in Italy and moved to London at Alessandro Castellani's request to open a workshop for him. Giuliano's early work is close in style to the Castellanis', and Giuliano signed his work the same way – interlocked initials "C.G." in place of the interlocking double "Cs" of the Castellanis.
Whatever the initial arrangement, Giuliano's workshop was solely in his name from 1860-1877. By 1874, he also opened a retail shop with his son under the name Carlo and Arthur Giuliano. The company blossomed and developed its own style. Some of the success must be attributed to the head designer, Pascuale Novissimo, whose exceptional designs Giuliano skillfully transformed into exquisite jewels that caught everyone's attention.
Renaissance Revisited. By the 1870s, archeological-style jewelry had lost much of its appeal, and the Renaissance style was capturing attention. Rather than replicate Renaissance jewelry, Giuliano sensitively interpreted it to suit late-19th century taste. In a style derived from 17th century French enamelwork, Giuliano meticulously applied opaque enamel in contrasting patterns of tiny dots, small scrolls and whisker-like lines in black on white, white on black and sometimes both alternately in the same piece. The most popular jewels in his Renaissance repertoire were lozenge-shaped pendants, cruciform pendants, brooches, hinged bangle bracelets and multistrand necklaces of pearls or gold links, all embellished with delicate enameling.
Although precious stones were never the focus, Giuliano enriched his jewelry with a modest combination of gems that enhance the design and maintain the Renaissance character. He particularly favored diamonds and pearls because they ideally suit the black and white theme. Other more colorful pieces feature faceted and cabochon ruby, sapphire, emerald, beryl, garnet, zircon, chrysoberyl, moonstone, amethyst and topaz.
Wide Appeal. Between 1874 and 1890, the company flourished. Its understated yet superb pieces appealed to everyone from royalty, including Queen Victoria and the Prince of Wales, to members of the Aesthetic movement such as artist Edward Burne-Jones. In the 1890s, interest in historicism waned and the company faltered a bit. To rectify this, Giuliano created a popular "candy-twist" enameled baton link, variations of which carried the company into the 20th century.
Today, collectors and connoisseurs alike seek Giuliano jewelry. The delicate beauty of each enameled treasure is as fresh today as it was 100 years ago. Although some imitations were attempted, none matched Giuliano's precise enameling and attention to detail. Today, when virtually everything has a dozen knock-offs, it's comforting to know Giuliano jewelry is unique. – Elise B. Misiorowski