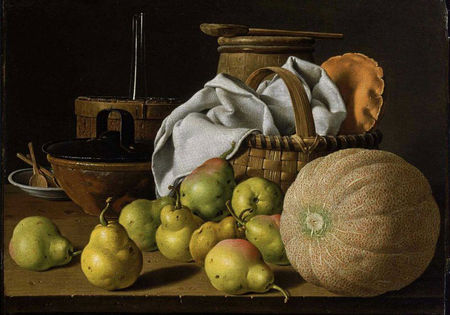 Luis Meléndez (Spanish, 1715 - 1780), Still Life with Melon and Pears, c.1772, oil on canvas, overall: 63.8 x 85.1 cm (25 1/8 x 33 1/2 in.) Museum of Fine Arts, Boston, Margaret Curry Wyman Fund
BOSTON, MA.- Delights of the Spanish table depicted by 18th-century painter Luis Meléndez (1715-1780) will be presented to American audiences for the first time in nearly 25 years at the Museum of Fine Arts, Boston, February 1 through May 9, 2009. In a rare opportunity to explore the artist's working method, "Luis Meléndez: Master of the Spanish Still Life" will showcase 31 paintings, some of which have never been exhibited publicly, and nine examples of 18th-century kitchenware similar to those used as studio props by Meléndez.

Fourteen of Meléndez's still-life paintings now in American collections will be shown with 17 relevant works by him from collections abroad, exploring the artist's creative process and celebrating his compelling artistic achievements. Loans of paintings come from major museums such as the Museo Nacional del Prado, Museé du Louvre, and the Museum of Fine Arts, Boston, as well as from private lenders, such as Teresa Heinz and Mr. and Mrs. Thomas A. Saunders III.
Luis Meléndez (1715-1780)
In 1771 Meléndez received a commission from Charles III, Prince of Asturias (later King Charles IV), and his wife, Princess Maria Luisa, to paint an extensive series of still lifes for the New Cabinet of Natural History in the Royal Palace. The commission was intended to depict "the four Seasons of the Year…with the aim of composing an amusing cabinet with every species of food produced by the Spanish climate."

The royal commission, a central event in Meléndez's life, led to modest success with other patrons, although it was cancelled abruptly in 1776. By 1778 these rich and lifelike paintings were moved from the New Cabinet of Natural History to the recently constructed Casita del Príncipe at El Escorial outside Madrid.

Luis Meléndez, who was born in Naples, Italy, and was initially trained in the art of miniature painting by his father, Francisco Antonio, began his career with great promise, studying at the provisional royal academy of art in Madrid, an institution that his father helped to establish. Both Meléndez and his father were expelled from the academy—an event that significantly damaged the son's career prospects.

After studying in Italy, Meléndez returned to Madrid in 1753 to assist his father with a commission to illuminate choir books for King Ferdinand VI. Although Meléndez aspired to the more prestigious post of royal painter, all four of his petitions to the king were denied. In 1780 Meléndez died shortly after declaring himself a pauper, and his reputation sank into relative obscurity.

Overshadowed for centuries by the work of fellow Spaniard Francisco Goya (1746-1828), Meléndez's paintings have received increasing attention and appreciation from scholars as well as collectors. Modern scholarly study of Meléndez's art, including extensive technical examination, has taken on new momentum in the last few decades. The National Gallery of Art acquired Still Life with Figs and Bread (c. 1770) in 2000, and monographic exhibitions in Madrid and Dublin in 2004 have enhanced understanding and recognition of his remarkable talents.

Exhibition Highlights
Paintings, which will be loosely grouped by subject, include nine still lifes from the royal commission and the elegant Self-Portrait (1746) painted while the artist was a student at the academy. The first of his characteristic vertical-format compositions, Still Life with Small Pears, Bread, White Pitcher, Glass Bottle, and Earthenware Bowl (1760), illustrates Meléndez's typical method of painting from foreground to background.

Meléndez often created compositions based on meals served at a particular time of year or according to the religious calendar. He presented the elements of a meatless Lenten meal in Still Life with Cauliflower and Basket of Fish, Eggs, and Leeks (c. 1770), for instance, and the ingredients for a traditional winter dish in Still Life with Bread, Oranges, Garlic, Condiments, and Kitchen Utensils (1772).

Hot chocolate, a favorite of the Spanish upper classes since its introduction from South America in the 16th century, was showcased in Meléndez's Still Life with Chocolate Service, Bread Roll, and Biscuits (1770). An 18th-century copper chocolate pot and wooden whisk, like those used to make hot chocolate in Meléndez's day, will be on view in an adjacent case.

Meléndez kept in his studio a stock of props, mostly common kitchenware, which are frequent subjects in his paintings. In Still Life with Bread, Bottle, and Jug (c. 1770) and Still Life with Bread, Grapes, Jug, and Receptacles (c. 1770), the bread, a ceramic jug with a broken plate as a lid, and wooden-handled utensils are arranged identically, except the viewpoint has shifted. Although the paintings share motifs, each one is strikingly inventive. For example, Still Life with Pigeons, Onions, Bread, and Kitchen Utensils (c. 1774), the first of Meléndez's works to enter an American collection in 1938, reiterates the pigeons found in Still Life with Game (c. 1770).

Several works by Meléndez relate to each other as pairs. The diagonal landscape settings of Still Life with Watermelons and Apples in a Landscape (1771), and Still Life with Pomegranates, Apples, Azaroles, and Grapes in a Landscape (1771) echo one another, and these works may be his first to incorporate rocky landscapes with distant buildings and cloudy skies, replacing his usual wooden tabletop and dark, undefined interior.

Technical Studies
A new investigation by the National Gallery of Art of 15 of the paintings in the exhibition was inspired by a previous technical study made by Peter Cherry, Trinity College Dublin, and Carmen Garrido, Museo Nacional del Prado, who focused on the series of 44 still lifes from the royal commission. Catherine A. Metzger, senior conservator of paintings, and Gretchen A. Hirschauer, associate curator of Italian and Spanish paintings, examined this smaller group of paintings using wherever possible a microscope, infrared reflectography (a tool frequently used to discover drawings made on the canvas prior to the application of paint), and x-radiography (a well-known diagnostic tool in the medical field, used by conservators to reveal artists' methods and compositional changes).

The combined results of the technical studies of Meléndez's paintings bring to light much about his working method. A perfectionist, he revised many of his compositions before deciding on just the right choice and placement of objects. Some of his still lifes were painted over royal portraits―the x-radiograph of Still Life with Beef, Bowl of Ham and Vegetables, and Receptacles (c. 1772) shows that the image we now see completely obscures a portrait of King Ferdinand VI.

Although Meléndez did not always use the highest-quality materials, his work maintained a consistently superb and refined finish. Comparative findings from both of the technical examinations provide clues as to how this gifted artist accomplished the imitation of life throughout his career. It is clear that the items depicted at some point must have originally been painted directly from life, for the rendering of texture, color, volume, and surface anomalies can only have resulted from close observation of nature, even though no independent preparatory drawings survive.

The artist also frequently adjusted or replaced elements in his works. An x-radiograph of Still Life with Figs and Bread (c. 1770) shows that a large wedge of cheese originally occupied the lower right corner, berries covered the plate that now holds figs, and a knife takes the place of three berries that had spilled onto the tabletop.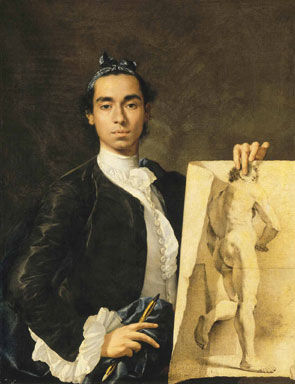 Luis Meléndez, (Spanish, 1715-1780), "Self-Portrait", signed and dated 1746. Oil on canvas, overall: (98 x 81 cm), 38 1/2 x 31 7/8 inches. Musée du Louvre, Paris.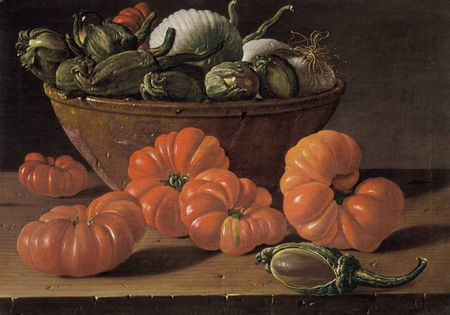 Luis Meléndez, (Spanish, 1715-1780), "Still Life with Tomatoes, a Bowl of Aubergines, and Onions", c. 1771-1774. Oil on canvas, overall: (36.8 x 49 cm), 14 1/4 x 19 1/4 inches unframed. Derek Johns, London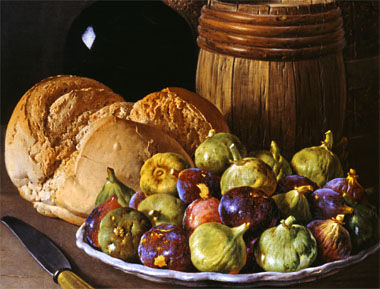 Luis Meléndez, "Still Life with Figs and Bread" (detail), 1760s, oil on canvas, National Gallery of Art, Washington, Patrons' Permanent Fund 2000.6.1