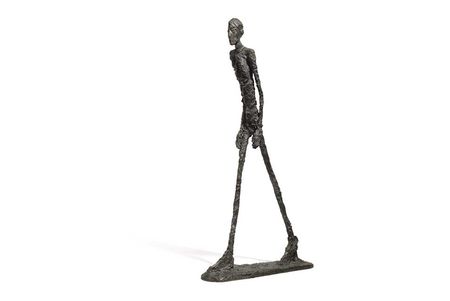 Alberto Giacometti, "L'Homme qui marche I". Bronze, 183 cm. Est: £12-18 million. Photo: Sotheby's
LONDON.- On Wednesday, February 3, 2010, Sotheby's will offer for sale one of the most important sculptures by Alberto Giacometti ever to have come to the auction market: "L'Homme qui marche I", a life-size work that ranks among the most arresting and iconic of the artist's bronzes. Its appearance at auction in February will mark the first time a Giacometti figure of a walking man in this monumental size has come to auction in over 20 years. More than that, this particular piece has the distinction of being a life-time cast. No life-time cast of the subject has ever been seen at auction before. Formerly part of the corporate collection of Dresdner Bank AG (by whom it was acquired circa 1980), the work came into the possession of Commerzbank AG after the latter's takeover of Dresdner Bank in 2009. Cast in 1961, "L'Homme qui marche I" is estimated to sell for a sum in excess of £12 million. Proceeds from the sale will be entirely put towards supporting Commerzbank's foundations as well as selected museums. The work will be one of the centerpieces of Sotheby's forthcoming Evening sale of Impressionist & Modern Art.

The market for 20th century sculpture and Giacometti has developed considerably over the last few years. Helena Newman, Co-Chairman of Sotheby's Impressionist and Modern Art Department Worldwide, said: "Following on from the exceptional price achieved with the sale of L'Homme qui chavire which made $19.3 million against an estimate of $8-12 million at Sotheby's New York in November 2009, we are delighted to have the rare opportunity to offer a monumental and lifetime cast of this iconic work."

With the acquisition of Dresdner Bank, Commerzbank acquired works of modern and contemporary art. From among these, the Giacometti sculpture has been selected for sale in London, and a further 100 or so works will be placed on permanent loan with museums in Frankfurt (Museum für Moderne Kunst, Städel Museum) Dresden (Staatliche Kunstsammlungen Dresden and Städtische Galerie), and Berlin. The aim of the donations is to help enhance the existing collections of these outstanding museums, and also to allow for greater public access to many of the works from the former Dresdner bank collection.

Martin Blessing, CEO of Commerzbank, said: "We obtained a well-known corporate collection of modern and contemporary art when we acquired Dresdner Bank. We have now decided to allocate outstanding artworks to German museums and have selected one of the most valuable works in the collection for sale in London in February. In accordance with the high priority we place on cultural and social responsibility, we plan to donate the proceeds to our foundations and to the museums."

"L'Homme qui marche I" was executed at the highpoint of Giacometti's mature period. By this time, the image of a standing or walking human figure was established as pivotal to the artist's iconography. In the years after the Second World War his figures were reduced to their bare essential form, displaying an austerity that embodies the artist's existentialist concerns, and reflecting the lonely and vulnerable human condition. "L'Homme qui marche I" represents the pinnacle of Giacometti's experimentation with the human form, combining a monumental, imposing size with a rich rendering of the surface. Capturing a moment in the figure's movement, Giacometti created both a humble image of an ordinary man, and a potent symbol of humanity.

The sculpture originated as part of the public project that Giacometti was commissioned to do for the Chase Manhattan Plaza in New York. In 1956, a committee consisting of curators and major figures from principal public museums in New York and Boston selected Giacometti over Alexander Calder and Isamu Noguchi for the scheme which was planned as the first modernist outdoor project in the city's financial district. In preparation for the project, Giacometti executed a number of sculptures only a few of which remain today, among them L'Homme qui marche I and II. Realising that it would take him many years to complete, Giacometti eventually abandoned the scheme. "L'Homme qui marche I", however, became an iconic work in its own right: evidently pleased with the versions of the walking man he had produced for the purpose, Giacometti had them cast in bronze. A cast of "L'Homme qui marche I" was subsequently exhibited at the Venice Biennale in 1962.

Giacometti paid significant attention to the modelling of his works, and "L'Homme qui marche I" exhibits a vibrancy and vitality unique to his sculpture. The rich treatment of the bronze, its recesses and moulds, create a dynamic surface, and invite a play of light and shadow in such a way that they become a part of the work itself.

Other examples of this sculpture are in major museum collections, such as the Carnegie Institute, Pittsburgh and the Albright-Knox Art Gallery, Buffalo. The cast belonging to the Fondation Maeght, St. Paul-de-Vence was recently on view at the Royal Academy of Arts in London, in the exhibition "Behind the Mirror: Aimé Maeght and his Artists" held in 2008-09.
About "L'homme qui marche" sold at Sotheby's Impressionist & Modern Art Evening Sale, 04 Nov 09, New York.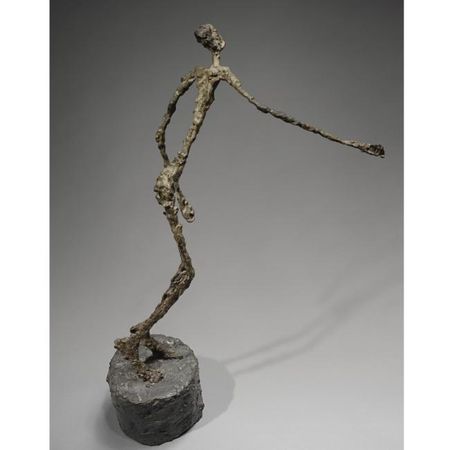 Alberto Giacometti, "L'homme qui chavire'. photo courtesy Sotheby's
Conceived in 1950 and cast in 1951. Inscribed with the signature A. Giacometti and with foundry mark Alexis. Rudier Fondeur. Paris, and numbered 5/6. Painted bronze. height: 23 3/8 in.. Est. 8,000,000—12,000,000 USD - Lot Sold. Hammer Price with Buyer's Premium: 19,346,500 USD
PROVENANCE: Galerie Maeght, Paris
Count d'Arschot, Belgium
Thomas Gibson Fine Art, London
Private Collection, Switzerland
Thomas Gibson Fine Art, London
Acquired by the present owner from the above
EXHIBITED: New York, Gagosian Gallery, Isabel and Other Intimate Strangers, Portraits by Alberto Giacometti and Francis Bacon, 2008, illustrated in color in the catalogue
LITERATURE AND REFERENCES: A. Giacometti (exhibition catalogue), Pierre Matisse Gallery, New York, 1950, illustration of another cast p. 22
Jacques Dupin, Alberto Giacometti, Paris, 1962, illustration of another cast p. 249
Raoul-Jean Moulin, Giacometti Sculpture, London, 1964, illustration of another cast pl. 7 and on the cover
Reinhold Hohl, Alberto Giacometti, New York, 1971, illustration of another cast p. 253
Alberto Giacometti (exhibition catalogue), Fondation Maeght, Saint-Paul-de-Vence, 1978, no. 60, illustration of another cast p. 92
Charles Juliet, Giacometti, New York, 1986, illustration of another cast p. 69
Andre Kuenzi, Alberto Giacometti, Lausanne, 1986, no. 102, illustration of another cast p. 270
Alberto Giacometti Skulpturen-Gemälde (exhibition catalogue), Nationalgalerie, Staatliche Museen Preussischer Kulturbesitz, Berlin, 1987-88, no. 96, illustration of another cast p. 215
Mercedes Matter, Alberto Giacometti, New York, 1987, illustration of another cast p. 77
Herbert and Mercedes Matter, Giacometti, New York, 1988, pp. 90-91, illustration of another cast
Tahar Ben Jelloun, Alberto Giacometti, Paris, 1990, illustration of another cast p. 77
Alberto Giacometti (exhibition catalogue), Galerie Beyeler, Basel, 1990, cat. no. 19, p. 46, illustrated in color and p. 47, illustration of another cast
Yves Bonnefoy, Alberto Giacometti, A Biography of His Work, Paris, 1991, illustration of another cast p. 327
Alberto Giacometti (exhibition catalogue), Musée d'Art Moderne de la Ville de Paris, 1991-92, no. 122, illustration of another cast p. 219
Angela Schneider, ed., Alberto Giacometti, Sculpture, Paintings, Drawings, Munich, 1994, illustration of another cast pl. 62
Alberto Giacometti, 1901-1966 (exhibition catalogue), Kunsthalle, Vienna & Scottish National Gallery of Modern Art, Edinburgh, 1996, no. 134, illustration of another cast p. 166
Alberto Giacometti (exhibition catalogue), The Museum of Modern Art, New York & Kunsthaus, Zurich, 2001-02, no. 126, illustration of another cast p. 186
Ángel González, Alberto Giacometti: Works, Writings, Interviews, Barcelona, 2006, illustrated p. 111
Giacometti (exhibition catalogue), Fondation Beyeler, Riehen, 2009, no. 92, illustration of another cast p. 109
NOTE: Giacometti's extraordinary Homme qui chavire is an instantly recognizable emblem of its era. Caught in the instant he loses his balance, the legendary Falling Man, as he is known in translation, exists in a state of perpetual instability and in a moment of transcendence as he hurls towards the future. His arms flail wildly, his head snaps backwards and his knees buckle just as he is about to drop from his cylindrical pedestal to whatever it is that awaits him. The figure's shock and lack of control are exceedingly palpable in this dramatic image. Giacometti's creation of this sculpture in 1950 coincided with his production of other career-defining bronzes, all featuring his signature attenuated figures, either standing like sentinels or in mid-stride across a plaza. But the image of the man stumbling on the unsteady terrain of the modern world is perhaps Giacometti's most literal attempt to personify his own existential preoccupations in the years following the war. And to the Existentialist philosophers themselves, this very image became the clear and undisputed signifier of the maddening uncertainty that defined an entire generation.
The image of the falling man first appeared in a 1947 sketch of the artist's studio; the sculpture came about only three years later. Evidently, the idea for this work had occupied Giacometti's thoughts for some time, even long before he conceived of the image itself. Yves Bonnefoy claims that Giacometti's Staggering Man, as he titles the work, is the most direct reference to the artist's wounded physical state following a car accident some years before, when he was struck down as he walked along the street by an intoxicated driver. The incident shattered his foot and left him with a limp, and the lingering memory of the experience must have helped in the animation of this sculpture. But for contemporary Existentialist writers such as Jean Genet, Samuel Beckett and Jean-Paul Sartre, Homme qui chavire was a very physical manifestation of their prose: "There I was, motionless and icy, plunged in a horrible ecstasy" (J.P. Sartre, La Nausée, 1938, translated from the French by L. Alexander, New York, 2007, p. 131).
In the catalogue for the retrospective on the artist's work, Christian Klemm explains the significance of Homme qui chavire to the leading French intellectuals of the post-war age: "Giacometti's Man Falling was in fact to become a central icon in the Existentialist view of his work. This sculpture, one of his slenderest, most fragile figures, seems about to topple from its small, cylindrical pedestal. Yet it holds its position by throwing the head back ecstatically; it seems to emerge straight out of Sartre's Nausea or Camus' The Stranger in an extreme moment when the ground seems to open to the choice of life or death. Man Falling is a human being in precisely the situation in which his transcendental destiny becomes apparent" (C. Klemm, Alberto Giacometti (exhibition catalogue), The Museum of Modern Art, op. cit., p. 184).
The solitary man, in his many incarnations throughout Giacometti's production, was understood to be the artist's self-portrait. Archival photographs commonly show Giacometti as a lanky, often laconic-looking figure, with his shoulders slumped and walking down a rainy Parisian street. We can see this likeness readily in Homme traversant une place par un matin de soleil and Homme qui marche, which the artist even admitted were representations of himself. These sculptures were created at the end of the 1940s, around the same time as the figure in the present work, which has the incinerated appearance and bodily proportions as these other sculptures. In all of their various forms, the lone man was the embodiment of the isolation and anxiety symptomatic of post-war Europe, and Homme qui chavire in particular proved to be a fertile source of inspiration for artists for many years after its creation. Frozen in time yet in motion towards the future, alone yet unable to escape the obstacles of the urban throng, this solitary figure has come to symbolize the great existential dilemma of the 20th century.
The present sculpture is numbered 5 from a bronze edition of 6, and, according to Mary Lisa Palmer, it is the only painted cast from the edition. Occasionally Giacometti would enhance the patinas of select casts by applying paint directly onto the bronze, and we can see how this technique highlights the surface of the present work. The practice was also an allusion to the polychrome, empyreal funerary figures of ancient Egypt, whose elongated proportions Giacometti also reinterprets in the present sculpture. Although allusions to the past were common in Giacometti's work, his aesthetic was undeniably modern. The figure itself is a simple assemblage of a few connected lines, yet Giacometti is able to portray the kinetic physicality of his 'man' with just a few simple gestures. With the support of a small armature, Giacometti first created this work in clay, molding and pinching his form to achieve a highly tactile final figure. Next, he relied on his brother Diego to cast the work in bronze, preserving every nick and impression that he had created in the original clay. This splendid cast, which was made in 1951, bares all the markings and fine details of this hands-on process. www.sothebys.com