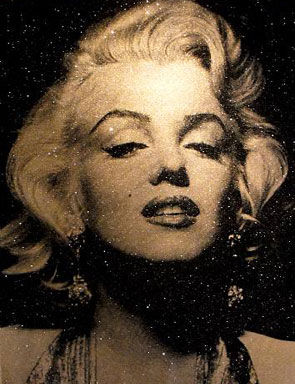 "Young's use of diamond dust mixed in with his paint, pays opulent reverence to the celebrities." - Los Angeles Times
LONDON.- Scream Gallery will present a major solo exhibition of internationally acclaimed artist Russell Young. Fresh from his exhibition of 'Diamond Dust Paintings' in Palm Beach, Florida, Young will sprinkle a bit of fairy dust over the Scream Gallery in Mayfair.

Key works in the show are Young's 'Diamond Dust' works on linen, including new screen prints of a triptych Goddess of the Hollywood Golden Age Marilyn Monroe, and musical icon Kurt Cobain, both historical figures who met premature and tragic ends. Familiar faces from contemporary culture will populate the gallery walls including; a youthful Mick Jagger with strawberry-coloured pout; a glittering Elizabeth Taylor; a 70's era Keith Richards striding towards his limo in "I've never had a problem with drugs. I've had problems with the police"; and the young Ronnie Woods captured in "When I'm left on my own I'm my own worst enemy". Young has also created a unique limited edition 'Dirty Pretty Things; screen-print of Jagger for the Scream exhibition.

The process of creating Young's Diamond Dust screenprints is a closely guarded secret, although it has been revealed that all the works are 'hand pulled' on the 'sister press' of the very printing press used by Andy Warhol, the original creator of the celebrity screenprint.

Don't be fooled into thinking these are merely a candy-coloured homage to Young's favourite actors and musicians, there is also a more menacing edge to his oeuvre. The exhibition will also feature the dark side of the high life, with images such as "If you die you're completely happy and your soul somewhere lives on", showing the scene of Cobain's suicide; and the moment in 1974 when heiress turned bank robber Patty Hearst, was caught on camera mid-heist.

At last year's Miami Art Basel, the artist explored the negative side of our culture in a live performance. Young - soaked in sweat and tears - demonstrated his unique screen-printing style, using his blood to create screen prints of guns.

"I am fascinated by the way light bounces off the three-dimensional surface of my Diamond Dust paintings. In this series light and the way it is reflected is as important as the subject matter. I have hung these paintings from trees in my garden at night under a full moon, where the surface of the bible black paintings are touched by the cool blue hue of the moonlight," said Russell Young.

Young created the iconic image of George Michael for his 'Faith' album cover over 20 years ago, and photographed other legendary musicians including Springsteen, Dylan and Morrissey, before going on to direct 100 music videos during MTV's golden age.

It was a natural progression to painting, and Young's first exhibition 'Pig Portraits' was a sell out, his imposing silkscreen paintings quickly becoming highly sought after by major collectors. A contemporary Pop artist, in the vein of Andy Warhol, Young finds his inspiration in popular culture, newspaper cuttings, the Internet, correspondence with various police departments and celebrities, and his own deep well of experience. What was initially a mission to create anti-celebrity portraits, ended up in a body of work that is hauntingly beautiful and desirable. Young lives and works in New York and California, and is married to actress/ TV presenter Finola Hughes.

The exhibition opens February 4 and runs through March 13, 2010.
"Young's use of diamond dust mixed in with his paint, pays opulent reverence to the celebrities." - Los Angeles Times