A very rare pair of verte-imari candelabra. Circa 1725. Photo: Christie's Images Ltd., 2010
In European silver form, the knopped standards rising from a scalloped, dished base, a bracketed platform supporting the central nozzle above three elaborately scrolled arms, all decorated with a formal arrangement of flower sprigs, spearhead, scrolling vine and palm leaves in blue, green, iron-red and gilt - 15 1/8 in. (38.4 cm.) high (2). Est. $80,000 - $120,000
Provenance: With Cohen & Pearce, London.
Notes: While candlesticks inspired by European metalwork were made in pairs and sets of four for the China trade, and are, indeed, very desirable forms among the Chinese export repertoire, this pair of candelabra may well be unique. D.S. Howard, writing in The Choice of the Private Trader, points out that "...candlesticks...did not survive the 18th century in any quantity" and also that "Candlesticks were comparatively rare in the later 18th century..."

The shape of the present pair is a fascinating mixture of Queen Anne period silver, as seen in the knopped standards and shaped, square, dished bases, and Baroque ornament, reflected in the scrolling candle arms and the unusual bracketed bobeches. The enameling on the candelabra is highly reminiscent in palette, painting style and motif of high quality French market Chinese export of the 1725-35 period, like the well-known French royal service (see lot 20). Very likely these candelabra were a special commission for a very highly placed East Indies Company director or investor.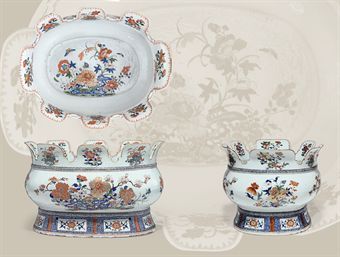 A rare massive verte-imari monteith. Circa 1720. Photo: Christie's Images Ltd., 2010
Enameled with lush peony and magnolia growing from blue rocks, small butterflies hovering above, the splayed foot with floral panels bordered in bright blue cloud pattern - 20½ in. (52 cm.) wide. Est. $40,000 - $60,000
Provenance: Anonymous sale; Sotheby's, Monaco, 5 March 1989, lot 331.
With Spink & Son Ltd. at Grosvenor House, London.
Notes: This monumental basin must have been intended for the chilling of whole bottles, while the more familiar, smaller, round form was used for icing glasses. The crenellated rims first appear in English silver of the 1680s, named after an eccentric Scot, Lord Monteith, who wore his cloak hem notched in this fashion. By about 1710 the Dutch were producing monteith bowls in Delftware.
The only other related examples published may have been a set, made to stand around a great dining room. One pair, from the collection of a European noble family, was sold Christie's, London, 16 December 1996, lot 293. A single is in the collection of the Metropolitan Museum of Art and illustrated in Oriental Ceramics, The World's Great Collections, vol. 11, pl. 25. Another single, from the collection of M. Serge Blazy, is illustrated by Beurdeley, op. cit., cat. 52. All these monteiths are among the most monumental and impressive porcelains ever made for the China trade.
Christie's. The Collection of Benjamin F. Edwards III. 26 January 2010. New York, Rockefeller Plaza www.christies.com