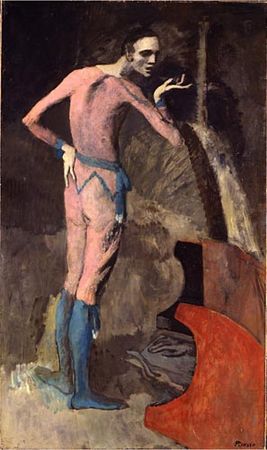 Pablo Picasso - L'acteur (1905) - Metropolitan Museum of Art - New York
NEW YORK (ETATS-UNIS) [26.01.10] – Le 22 janvier, au Metropolitan Museum de New York, une visiteuse a malencontreusement déchiré une toile de Picasso en tombant dessus. « L'acteur », un tableau datant de 1904, est estimé à environ 130 millions de dollars selon les experts. Le musée a annoncé que la toile devrait être restaurée d'ici à avril 2010.
La scène s'est déroulée le 22 janvier au Metropolitan Museum de New York : une étudiante en histoire de l'art, qui assistait à un cours dans les salles du musée, a accidentellement trébuché sur une toile, la déchirant sur une longueur de plus de 15 centimètre.
Malheureusement pour la maladroite, le tableau est une œuvre maîtresse de Pablo Picasso, intitulé « L'acteur » et peint entre 1904 et 1905. Il a été acquis par le musée en 1952.

Issue de la période rose du peintre espagnol, l'œuvre est une des rares toiles de grand format (196 x 115 cm) que Picasso a exécuté durant cette période. Le tableau est estimé, selon les experts, entre 100 et 130 millions de dollars.

Selon un communiqué du MET, « la peinture a immédiatement été envoyée à l'atelier de restauration du musée, pour une évaluation et un traitement [des dommages] ». Le musée précise que « le dégât ne se situe pas dans un point focal de la composition ».
Le Met espère présenter la toile lors d'une exposition sur Picasso en avril 2010.

Mais selon le New York Times, la restauration pourrait prendre du temps, afin de choisir la meilleure technique de réparation de la toile déchirée. La particularité des œuvres de la période rose de Picasso est la présence de nombreux repentirs sous les couches picturales de la toile.
En effet, le peintre ne vivait pas dans l'opulence durant les premières années du XXe siècle, et réutilisait souvent les toiles, dont l'achat était très onéreux. Ainsi, la plupart de ses toiles ont fait l'objet de repeints successifs.

On ne sait pas encore si la visiteuse ou son assurance devront indemniser le MET.

Cet accident en rappelle un autre datant de 2006. Le patron d'un casino de Las Vegas avait enfoncé son coude dans « Le rêve », un tableau de Picasso peint en 1932, qu'il s'apprêtait à vendre pour plus de 40 millions de dollars. www.artclair.com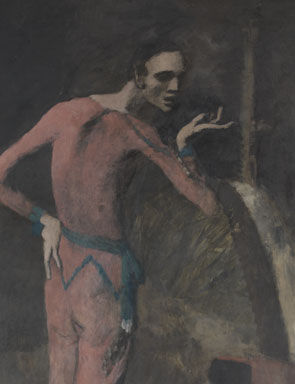 Pablo Picasso, "The Actor", 1904–05. Oil on canvas, (194 x 112.1 cm) 76 3/8 x 44 1/8 inches. The Metropolitan Museum of Art, Gift of Thelma Chrysler Foy, 1952 (52.175). ©Estate of Pablo Picasso/Artists Rights Society (ARS), New York
NEW YORK, NY (AP).- An important Picasso painting accidentally damaged by a visitor last week will be repaired in time for a large exhibition of the artist's works at the Metropolitan Museum of Art in April.

"The Actor," a painting from Picasso's rose period, will be restored at the museum's onsite conservation laboratory, the Met said Monday.

The museum described the damage as an irregular 6-inch tear to the lower right-hand corner of the painting, Conservation and curatorial experts "fully expect" that the restoration "will be unobtrusive," the museum said in a statement released Sunday.

The artwork is nearly 6 feet by 4 feet, and depicts a standing acrobat in a pink costume and blue knee-high boots striking a pose against an abstracted backdrop.

The restoration will be done in the coming weeks and the piece will be displayed as planned in an exhibition of 250 Picasso works drawn from the museum's collection, from April 27 to Aug. 1, the museum said.

The accident occurred in a second-floor gallery of early Picasso works when a patron participating in one of the museum's art classes lost her balance and fell on the canvas, the museum said.

It happened during regular visiting hours when other visitors were in the gallery. People who attend the art classes typically roam through the museum in a group stopping in front of works of interest.

"The Actor" was donated to the Met in 1952 by art patron Thelma Chrysler Foy, the elder daughter of auto magnate Walter Chrysler. The museum said it had been included in many major exhibitions of Picasso's works both in the United States and in Europe.

Picasso painted the work in the winter of 1904-05. It marked a transition from his blue period of tattered beggars and blind musicians to his more optimistic and brighter-colored rose period of itinerant acrobats in costume. Copyright 2010 The Associated Press.