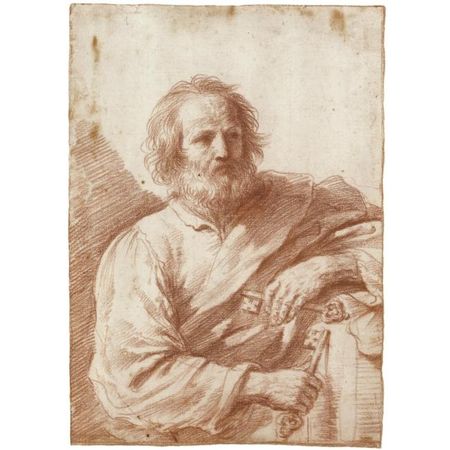 Giovanni Francesco Barbieri, called Il Guercino (Cento 1591 - 1666 Bologna), Saint Peter. photo Sotheby's
Red chalk within red chalk framing lines, on paper laid down on canvas; bears ink numbering on the backing: III. 10 5/8 by 8 in; 270 by 204 mm. Est. 18,000—22,000 USD. Lot Sold 95,500 USD
PROVENANCE: Possibly Casa Gennari
NOTE: This impressive study of St. Peter is one of a number of bust- or half-length representations of saints which were made by Guercino throughout his career. See, for example, the series of Four Evangelists in the Staatliche Gemäldegalerie, painted by Guercino circa 1615, or the 1650 Saint Peter weeping in the Cassa di Risparmio, Bologna.1 Guercino's use of such apparently simple compositions created powerful devotional images, in which the contemplation of the saint became more personal and direct.
Nicholas Turner dates the drawing to the 1640s or 1650s and notes that the high degree of finish and contained composition indicate that it was made for its own sake, rather than being preparatory for a painting. Two comparable presentation drawings by Guercino, in red chalk and from the same period, are Diana Burning the Instruments of Love, in a private collection, New Haven, Connecticut, and a study of the Magdalen Praying in a Landscape, in the Morgan Library, New York.2
The fact that the sheet is laid down on canvas suggests that it may originate from Casa Gennari, where many of Guercino's drawings, as well as those by other artists from his collection and by his nephews Benedetto and Cesare Gennari, were similarly laid down in order to be hung on the walls. For further information on the Guercino drawings that passed to Casa Gennari, see D. Mahon and N. Turner, The Drawings of Guercino in the Collection of Her Majesty the Queen at Windsor Castle, Cambridge 1989, pp. XVII- XXII.
1. See D. M. Stone, Guercino Catalogo completo dei dipinti, Florence 1991, pp. 28-29, 264-5, cat. nos. 10-13, 256
2. See D.M. Stone, Guercino Master Draughtsman, Cambridge, Mass. 1991, nos. 60, supplement no. 136, pp. 138-9, 220, plate A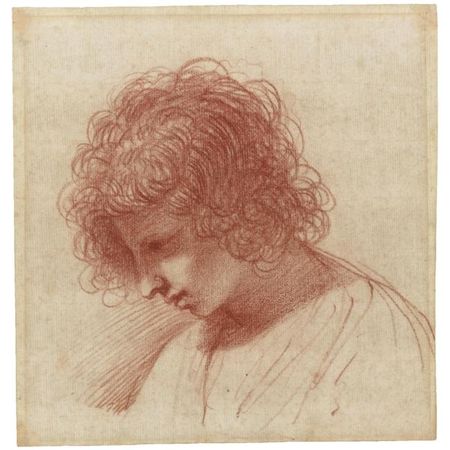 Giovanni Francesco Barbieri, called Il Guercino (Cento 1591 - 1666 Bologna), Head of a young man in profile, looking down to the left. photo Sotheby's
Red chalk. 8 1/2 by 8 3/8 in; 217 by 213 mm. Est. 20,000—30,000 USD. Lot Sold 47,500 USD
PROVENANCE: Dan Fellows Platt (L.750a)
NOTE: This very attractive study does not seem to be connected to any known painting by Guercino. Nicholas Turner has kindly endorsed the attribution and has pointed out that similar youths seen in dramatic lighting can be found in Guercino's oeuvre. One in profile appears in the Concert with Four Youths singing, Watched by an Old Man, at Windsor Castle.1 An equivalent study in pen and ink, with a similar dramatic effect of light and shade playing across the face, is a study of a girl looking down, also at Windsor Castle.2 On stylistic grounds, Turner suggests a possible date for the present drawing of around 1630.
1. See D. Mahon and N. Turner, The Drawings of Guercino in the collection of Her Majesty the Queen at Windsor Castle, Cambridge 1989, no. 280, reproduced pl. 257
2. Ibid., no. 313, pl. 282
Giovanni Francesco Barbieri, called Il Guercino (Cento 1591 - 1666 Bologna), Queen Esther supported by her attendants. photo Sotheby's
Pen and brown ink. 7 1/4 by 6 1/2 in; 163 by 183 mm; the corners cut. Est. 20,000—30,000 USD. Lot Sold 34,375 USD
PROVENANCE: From an album of drawings and prints assembled around the middle of the 19th century by Susan Neill,
thence by descent to the present owners
NOTE: The young and beautiful Esther was chosen by the Persian King Ahasuerus to be his new Queen, without realizing that she was Jewish. When his chief minister, Haman, ordered the massacre of all Jews in the Persian Empire, Esther defied protocol and entered the King's presence without his summons to plead with him on behalf of her people. As Ahasuerus raised his golden sceptre to signify that he would receive her, the Queen fainted with relief, as we see in the present drawing.
The drawing is one of a number made by Guercino in preparation for his painting of the subject (fig. 1) which was commissioned by Cardinal Lorenzo Magliotti, Bishop of Ferrara in 1637, before passing to Pope Urban VIII.1 Six other sheets have been connected to the painting: in the Royal Collection, Windsor Castle, Christ Church, Oxford, The University of Michigan Museum of Art, The Arkansas Arts Center, one formerly in the collection of Curtis O. Baer and another in a private collection.2 The series reveals Guercino's meticulous formulation of the composition and the relationships between the central figures, each of them serving a slightly different purpose and drawn with a different approach.
Nicolas Turner, who has kindly confirmed the attribution, noted how comparable the Windsor sheet (now thought by him to be autograph) is in style to the present sheet, albeit more heavily worked. Both are executed in fine pen lines, with close hatching and freer, calligraphic lines as well as Guercino's distinctive technique of lines and dots to articulate Esther's face. Our drawing must, however, date from a later stage in the creative process, as the positioning of the figures, with the Queen swooning forwards (towards Ahasuerus) and the attendant to the left supporting her with her hand across her chest, is closer to that of the finished painting.
1. Now in The University of Michigan Museum of Art, Ann Arbor, see D. M. Stone, Guercino Master Draftsman, exhib. cat., Harvard 1991, pp. 96-101, fig. 40a
2. Ibid.
Sotheby's. Old Master Drawings. 27 Jan 10. New York www.sothebys.com