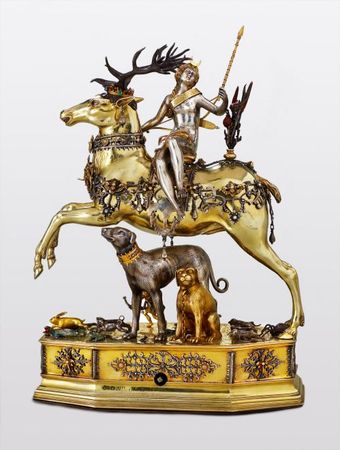 Joachim Fries, Clockwork drinking vessel with Diana mounted on a stag. Kunstmuseum Liechtenstein.
Silver, cast, embossed, chased, engraved parcel-gilt, partial coloured cold-enamel decoration fully functional original spring-driven mechanism. height 34 cm, width 24,2 cm, depth 10,6 cm. Inv.-No. SI261.
This sculpture is not only a masterpiece of the goldsmith's art but also an ingenious object of stately display and courtly banqueting ceremonial: it belongs to a group of automata featuring Diana, goddess of the chase, the bases of which concealed a clockwork mechanism that propelled the object across the dining table in a series of controlled movements. The guest in front of whom it came to a stop would then have to lift the stag with its rider from the base, remove the head of the animal with its antlers and drink from its body. As long as the animal's body was still full, it was still relatively easy to drink from it, but the emptier it became, the greater the risk of spilling the remaining contents over one's face and clothing – to the amusement of one's dining companions.
It was in these automata that superb gold craftsmanship, a long sculptural tradition and well-developed clockwork technology came together in a felicitous synthesis. These small sculptures from Augsburg combine influences from very different quarters. While a great number of artworks imported from Italy arrived in the city, artists from Augsburg or master craftsmen working there also made the journey to Italy themselves, where they worked in some of the most important studios. Adrian de Fries (Adriaen de Vries) and Hans Reichle, for example, gained experience in the studio of Giambologna in Florence.
The "invention" of the composition of Diana mounted on a stag is attributed to the Augsburg goldsmith Matthias Walbaum (b. c. 1555 in Kiel, master goldsmith in Augsburg c. 1590, d. Augsburg), who d the first examples of such groups around the turn of the 17th century. Jakob I. Miller (b. c. 1550, master goldsmith in Augsburg before 1583, d. Augsburg 1618) and Joachim Fries produced their own variations of this type from around 1610.
Acquired in 2009 for the Princely Collections, this Diana automaton is notable for its original clockwork mechanism which is still in perfect working order: once the spring mechanism is wound and a release mechanism is actuated the object moves across the table after covering approximately 60 cm a swivelling steering wheel manoeuvres it into a right-angled turn, so that after changing direction four times the automaton has more or less covered a square.