© Christie's Images Limited 2010
South Kensington – Christie's is proud to announce the first auction from the calendar of Sunday sales for 2010 – the sale of the Property from the Collection of The Baroness Dunn, to be held at Christie's South Kensington on Sunday, 14 March 2010. The sale will consist of property from the former Cotswold home of Lydia, Baroness Dunn, comprising approximately 160 lots and with estimates ranging from £200 to £30,000.
The Baroness Dunn
Lydia, Baroness Dunn has led a distinguished and highly celebrated career in both business and politics, culminating in her being created a Dame of the Order of the British Empire in 1989 and in 1990 becoming a life peer as Baroness Dunn of Hong Kong Island and of Knightsbridge in the Royal Borough of Kensington and Chelsea. Currently an Executive Director of John Swire & Sons Limited, London and a Director of Swire Pacific Limited, until 2008 Baroness Dunn was Deputy Chairman of the HSBC. During her time as Senior Member of Hong Kong's Executive and Legislative Councils, she worked alongside former Governors David Wilson, Edward Youde and Chris Patten as well as advising Margaret Thatcher, John Major, Geoffrey Howe and other ministers on Hong Kong issues.
© Christie's Images Limited 2010
The Collection
The Collection of Lydia, Baroness Dunn reflects her passion and interest for Asian Porcelain, Ceramics, Works of Art, Furniture and Pictures amassed over the years with a discerning eye and aesthetic flair. Highlights from the sale include a large pair of William IV upright giltwood pier glasses, circa 1830 (estimate: £20,000-30,000), a large Chinese carved wood figure of Manjusri, the Bodhisat, Yuan/Ming dynasty (1279-1644) (estimate: £12,000-18,000) and a group of nine Chinese pottery figures of processional attendants, Ming dynasty (1368-1644) (estimate: £1,500-2,000).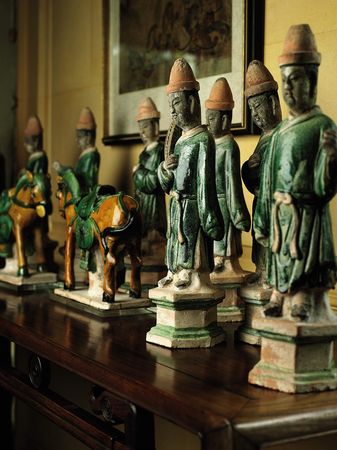 © Christie's Images Limited 2010
Lydia, Baroness Dunn paid great attention to detail in the design and layout of her Cotswoldian home, with the help of some highly-reputed names in the worlds of design and interiors. The schematic in the dining room of the house was designed by architecturally-educated Edward Tuttle, as well as some of the furniture and fittings within, such as a pair of wall lights, and an impressive nineteen foot-long mahogany, walnut and burr-walnut cross-banded six pedestal dining table (estimate: £2,000-3,000) and set of thirty-four Italian painted and parcel-gilt stained mahogany dining chairs (estimate: £2,000-3,000). Four sets of pale gold silk curtains were designed by Victoria Weymouth, circa 1995 (estimate: £1,000-1,500).
© Christie's Images Limited 2010