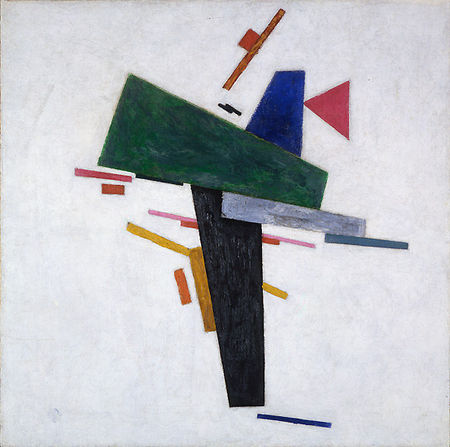 Kazimir Malevich, Untitled, ca. 1916. Oil on canvas, 53 x 53 cm. Peggy Guggenheim Collection, Venice. Acquisition confirmed in 2009 by agreement with the Heirs of Kazimir Malevich. 76.2553 PG 42
NEW YORK [10.02.10] – Richard Armstrong, directeur de la fondation et du musée Solomon R. Guggenheim et les héritiers du grand artiste russe, Kazimir Malevitch (1878-1935) ont annoncé, lundi 8 février 2010, la conclusion d'un accord à l'amiable concernant la propriété d'une œuvre abstraite du peintre.
Mettant fin à un différend qui remonte à plus de 80 ans, la convention garantit, selon Mr. Armstrong « que ce chef-d'œuvre restera dans la collection Peggy Guggenheim de Venise de sorte que le public puisse continuer à la voir ». Philip Rylands, directeur de cette collection a ajouté qu' « il était heureux que grâce à cet accord, la fondation puisse s'acquitter de sa mission de conserver la collection intacte ».

Un représentant des Malevitch a déclaré dans un communiqué que la famille « se félicite que cette question ait été résolue d'une manière qui reconnaît l'héritage de Malevitch et ses contributions à l'histoire de l'art du XXe siècle et qui garde ses œuvres accessibles au public ».

L'œuvre abstraite qui a pour titre « Untitled » datée de 1916 et acquise par Peggy Guggenheim en 1942 appartient à un groupe d'environ 70 tableaux, dessins et modèles d'architecture présentés lors d'une rétrospective consacrée à Malevitch à Berlin en 1927. Lorsque ce dernier a dû quitter l'Union Soviétique, il laissa les œuvres à son entourage, mais omit de les réclamer avant sa mort en 1935.

Bon nombre de ces tableaux ont fait partie depuis lors des collections des musées ou de celles de propriétaires privés. Mais en raison de la situation politique en Union Soviétique, les questions concernant leur propriété ne pouvaient être résolues.

Les héritiers du peintre ont depuis la chute de l'URSS revendiqué énergiquement la propriété de certains tableaux. Un travail de collaboration avec les musées a été mis en place par ces derniers pour résoudre les questions de propriété. Cet effort a abouti à des accords en vertu desquels un certain nombre d'œuvres ont été restitué à la famille tandis que d'autres sont restés dans les collections des musées.

A partir du 19 février 2010, le musée Guggenheim présentera une exposition intitulée « Malevitch in focus : 1912-22 » qui réunit des œuvres importantes de la rétrospective de 1927 dont fait partie le « Untitled » de la collection Peggy Guggenheim. www.artclair.com
(NEW YORK, NY – February 8, 2010)—Richard Armstrong, Director, Solomon R. Guggenheim Foundation and Museum, and the heirs of the great Russian Suprematist artist, Kazimir Malevich (1878–1935), announced today an amicable settlement agreement regarding the ownership of the artist's work Untitled (ca. 1916), a painting that Peggy Guggenheim acquired in 1942. The terms of the settlement are confidential.
Mr. Armstrong noted, "The foundation is pleased to have reached an agreement with the heirs of Kazimir Malevich concerning the painting Untitled, a work that is a cornerstone of the Peggy Guggenheim Collection in Venice. The settlement ensures that this masterpiece will remain in the Peggy Guggenheim Collection so that the public will continue to have the opportunity to see it." Philip Rylands, Director, Peggy Guggenheim Collection, added, "Peggy Guggenheim's collection, thanks to her foresight and the Guggenheim Foundation's stewardship, continues to be a major document of the history of twentieth-century collecting. It is gratifying that the foundation has been able, thanks to this agreement, to fulfill its mission to keep the collection fully intact." A Malevich spokesperson said, "It is a tribute to all of the parties that we were able to find a fair solution to such a complicated problem. The Malevich family is gratified that this matter has been resolved in a way that acknowledges Malevich's legacy and his contributions to the history of twentieth-century art and keeps his artwork on public display for all to see and cherish at the Peggy Guggenheim Collection in Venice."
The Malevich work in question was one of a group of approximately seventy paintings, drawings, and architectural models that comprised a retrospective of the artist's work held in Berlin in 1927. Just one month into the exhibition, Malevich was compelled to return to the Soviet Union and was subsequently unable to return to Germany. Malevich died in Leningrad in May 1935. Many of the paintings from the 1927 Berlin exhibition consequently spent the greater part of the twentieth century in museums closely associated with the artist's legacy, but due to the political circumstances in the Soviet Union, questions regarding their ownership could not be resolved until after the fall of the Iron Curtain. Through their publication and exhibition, these works became a main source of information about Malevich's oeuvre. Ownership questions have arisen in recent years with regard to certain works by Malevich, and the artist's family has worked with several museums, including the Guggenheim, to resolve these issues. This effort has resulted in agreements between Malevich's heirs and the museums pursuant to which a number of works have been returned to the heirs, while others have remained in the collections of the museums for the enjoyment of the public.
Beginning February 19, 2010, the Guggenheim will present Malevich in Focus: 1912–1922, an exhibition that reunites six important works by Malevich last exhibited together in the 1927 retrospective in Berlin. The exhibition includes Untitled, from the Peggy Guggenheim Collection, and Morning in the Village after Snowstorm (1912), a Cubo-Futurist work that entered the collection of the Solomon R. Guggenheim Museum in 1952. The other four paintings, Desk and Room (1913), Painterly Realism of a Football Player (Football Match) (1915), Suprematism, 18th Construction (1915), and Suprematist Painting (Black Cross and Red Oval) (1920–22) were received by the heirs of Kazimir Malevich from Amsterdam following a settlement between the heirs and the city in 2008, which resolved claims asserted by the heirs.