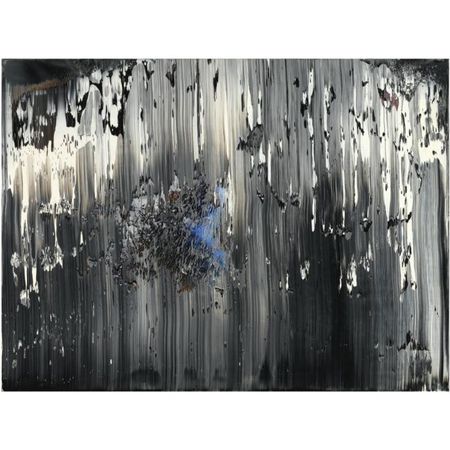 Gerhard Richter (B.1932), Grat 2. photo Sotheby's
oil on canvas. signed, titled, dated 1989 and numbered 689-2 on the reverse. 61.8 by 83cm.; 24 3/8 by 32 3/8 in. Est. 300,000—400,000 GBP. Lot Sold 481,250 GBP
PROVENANCE: Gallery Ham / Jinno Collection, Tokyo
Sale: Christie's, London, Post War & Contemporary Art, 23 June 2006, Lot 234
Acquired directly from the above by the present owner
EXHIBITED: Tokyo, National Museum of Modern Art, Gerhard Richter, 1989
Paris, Musée d'Art Moderne de la Ville de Paris; Bonn, Kunst- und Ausstellungshalle der Bundesrepublik Deutschland; Stockholm, Moderna Museet; Madrid, Museo Nacional Centro de Arte Reina Sofiá, Gerhard Richter, 1993
LITERATURE AND REFERENCES: Angelika Thill, et al., Gerhard Richter, Catalogue Raisonné: 1962-1993, Vol. III, Osternfildern-Ruit 1993, no. 689-2, illustrated in colour
NOTE: "I want to end up with a picture that I haven't planned. This method of arbitrary choice, chance, inspiration and destruction may produce a specific type of picture, but it never produces a predetermined picture... I just want to get something more interesting out of it than those things I can think out for myself." (the artist interviewed in 1990 in: Huburtus Butin, Stefan Gronert, & the Dallas Museum of Art, Eds., Gerhard Richter: Editions 1965-2004, Catalogue Raisonné, Ostfildern-Ruit 2004, p. 36)

Executed in 1989, the powerful colour harmony and lyrical resonance of Grat 2 projects an atmosphere of density, chaos and romance. The interplay of hues and the complex coating of malleable oil are deliberately ambiguous, seeming both to reveal and conceal at the same time: the viewer is invited both to look at and through the laminas of material due to the hues being simultaneously unveiled and hidden. In an elegantly reduced palette of black and ivory with highlights of electric blue and crimson, the colours seem to glide across the surface, enshrouding the background in a beautiful layer of tromp-l'oeil which lends the painting an intriguing sense of depth.
Richter's working practice for his Abstract Paintings has been described as remarkably methodical: he begins by placing a number of white primed canvases around the walls of his studio, eventually working on several of them simultaneously and re-working them until they are completely harmonised. Tracts of colour are dragged across the canvas using a squeegee, so that the various strains of malleable, semi-liquid pigment suspended in oil are fused together and smudged first into the canvas, and then layered on top of each other as the paint strata accumulate. The painting under goes multiple variations in which each new accretion brings colour and textural juxtapositions until they are completed, as Richter himself declares, "there is no more that I can do to them, when they exceed me, or they have something that I can no longer keep up with' (the artist in: Exhibition Catalogue, Chicago, Museum of Contemporary Art, Gerhard Richter: Paintings, 1988, p. 108).
The result of Richter's phenomenal technical aptitude has led to his reputation as one of the outstanding painters of our era. Grat 2 lays testament to his relentless technical explorations in the field of abstract art and to the painterly and intellectual elasticity unique in his work. With its sumptuous layers of colour and deliberate negation of symmetry and constructive unity, Grat 2 embodies the ultimate painterly experience.
Sotheby's. Contemporary Art Day Auction. 11 Feb 10. London www.sotheby's.com