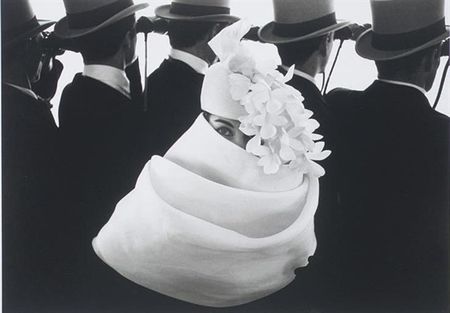 Frank Horvat, Givenchy Hat A, Paris, 1958.
Printed later. Gelatin silver print, 32 x 48 inches, 81.3 x 121.9 cm. Edition 1/AP. Signed, titled, and dated in ink on label on verso. Estimate: from $14,000 to $18,000

This is a fine, rare and very large print of one of Horvat's most famous images.
Frank Horvat, 1989 L'Officiel Evening Dress, 1989.
Pigment print, 23.5 x 16.5 inches, 59.7 x 41.9 centimeters. Edition 13/30. Signed on recto. Estimate: from $6,000 to $7,000.

Frank Horvat was born in 1928 in what was then Italy and is now Croatia. He studied art in Milan and a meeting in 1951 with Henri Cartier-Bresson decided his fate as a photojournalist. He traveled the world in the early 50s and sent his work back to Paris Match, Life and Realities among other magazines. In 1956 he settled in Paris and began to photograph fashion with a reportage style: real life situations, ambient lighting and 35mm cameras.

During his long career, Frank Horvat has contributed to every major magazine and his work has been exhibited in Paris, London, Prague, Berlin and New York.
Artnet auctions. Thursday, February 18, 2010, 1:00 PM EST www.artnet.com