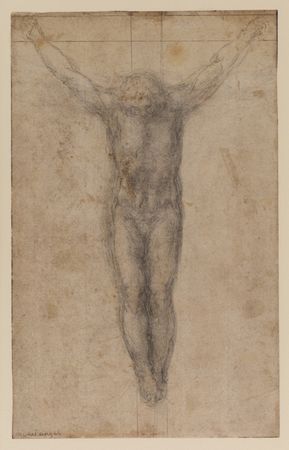 Michelangelo (1475-1564) Christ on the Cross, c. 1555-60. Black chalk on paper, 27.5 cm x 23.4 cm. The Courtauld Gallery, London
A special display of rare Italian sixteenth century drawings and prints from The Courtauld Gallery's outstanding permanent collection will complement the exhibition Michelangelo's Dream, on view from 18 February to 16 May 2010. Highlights of this rich group will be three autograph drawings by Michelangelo Buonarroti (1475-1564), ranging from his early period in Florence to his very last years in Rome and covering both religious and pagan subjects.
Whilst the vigorously drawn early pen and ink study of Christ before Pilate shows Michelangelo's extraordinary powers as a narrator of dramatic scenes, his Christ on the Cross (fig. A) gives insight into the profound spirituality of the almost ninety year old master. This haunting black chalk drawing is one of a group of highly personal late works showing the Crucifixion and it powerfully communicates Michelangelo's profound reflection on Christ's death.
Michelangelo never had an organised workshop, preferring to work alone with just a few pupils and assistants. Nevertheless, his work was immensely influential in his own lifetime. The display explores how contemporary artists responded to Michelangelo's creations. Two drawings by the famous Venetian painter Jacopo Tintoretto (1519-1594) provide an example of an artist studying Michelangelo through direct copying, whereas Jacopo Pontormo's (1494-1557) great study of a seated youth (fig. B) shows the inspirational influence of Michelangelo in the development of an exceptional new work.
The display will also include a remarkable large composite print of Michelangelo's Last Judgement. Made up of ten separate numbered sheets of paper, the print is reassembled and displayed here for the first time.
18 February-16 May 2010. The Courtauld Gallery, Somerset House, Strand, London, WC2R 1LA, UNITED KINGDOM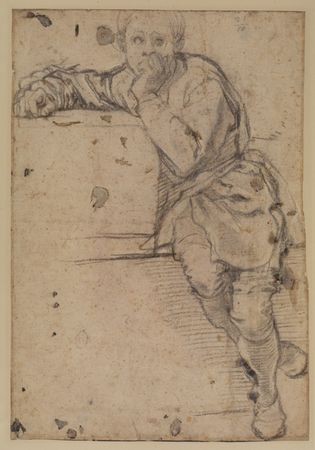 Jacopo Pontormo (1494-1557) Seated youth (recto), c. 1525. Black chalk on paper, 40.4 x 28 cm. The Courtauld Gallery, London