Caravaggio, Canestro di frutta (la fiscella), Milano, Pinacoteca Ambrosiana © 2009. Foto Scala, Firenze
An exhibition that adopts a radically innovative and up-to-date approach to this extremely famous and enormously celebrated "Lombard genius".

A large amount of recent research and scholarship, along with numerous exhibitions and papers probing the life and career of Michelangelo Merisi, alias Caravaggio, have confirmed growing worldwide interest in this artist's painting and the pivotal role that painting has played in the history of art over the past four centuries. This is the backdrop and the mood that has spawned the idea for a new and ambitiously "simple" exhibition - an exciting and straightforward display devised on the basis of a stringent criterion and presented to the public in a tight rather than an anthological exhibit focusing exclusively on the artist's "capital" works; in other words, including only those works historically ascertained to be by the master's own hand.
Caravaggio, I musici. New York, Metropolitan Museum of Art. Rogers Fund, 1952. © 2009. Image copyright The Metropolitan Museum of Art/Art Resource/Scala, Firenze
The decision to focus only on paintings known to be by Caravaggio himself has meant that we have excluded any works attributed to his "school" and have set aside, almost in a kind of temporary suspension, the "additional versions" and all of the questionable works debated by critics with often differing opinions throughout the 20th century. The end result is a consistent and stringent exhibition that sheds new light on the various stages in the development of Caravaggio's tortured artistic career - an exciting, crystal-clear display that distills and enhances the exceptional, indeed the unique, quality of his output.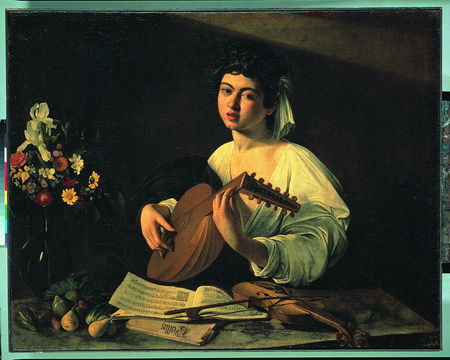 Caravaggio, Suonatore di Liuto 1595. The State Hermitage Museum, St Petersburg. Photograph © The State Hermitage Museum. Photo by Natalia Antonova, Inessa Regentova
The exhibition will include many of Caravaggio's most representative works, including the Bacchus from Florence's Uffizi Gallery, the David With the Head of Goliath from the Borghese Gallery in Rome, the Musicians from the Metropolitan Museum in New York, the Lute Player from the Hermitage in St. Petersburg, Amor Vincit Omnia from the Staatliche Museum in Berlin, and numerous other masterpieces from many of the most important museums in Italy and around the world. The exhibition is designed in many ways to be a tribute to the unique quality of Caravaggio's work in this year in which celebrations are being held to mark the 400th anniversary of his death.
Caravaggio, Bacco. Firenze, galleria degli Uffizi. Soprintendenza Speciale per il Patrimonio Storico, Artistico ed Etnoantropologico e per il Polo Museale della città di Firenze. Istituti museali della Soprintendenza Speciale per il Polo Museale Fiorentino
The exhibition at the Scuderie del Quirinale is set to offer the public a new and stimulating opportunity to penetrate the very essence of the "terribly natural" painter, his revolutionary and astonishing naturalistic criterion, and his stubborn if questioning deference to the depiction of reality which no pattern or school could contain, which was solitary in its poetic greatness.
The project, designed to celebrate the 400th anniversary of the great artist's death and enjoying the lofty patronage of the President of the Republic, has been developed under the aegis of the Soprintendenza Speciale per il Patrimonio Storico Artistico ed Etnoantropologico e per il Polo Museale of the City of Rome.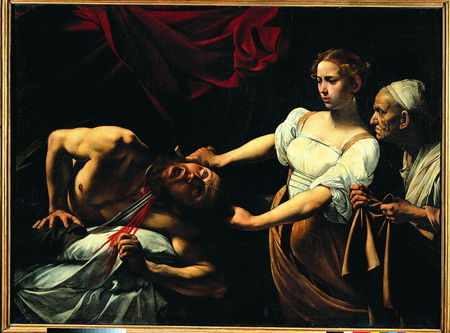 Caravaggio, Giuditta nell'atto di tagliare la testa ad Oloferne 1597. Roma, Galleria Nazionale d'Arte Antica in Palazzo Barberini. S.S.P.A.A. Polo Museale della Città di Roma
Michelangelo Merisi was born in Milan, to «highly esteemed citizens» from Caravaggio, on 29th September 1571, the feast day of the Archangel Michael for whom he was named. Long debated by art historians, his birth date was confirmed only in 2007 with the lucky discovery of his baptism certificate in the archives of S. Stefano in Brolo, a city parish. His parents, Fermo Merisi and Lucia Aratori, had moved to Milan shortly after their wedding in Caravaggio, which was attended by marchese Francesco Sforza. He lost his father at an early age, but young Michelangelo was able to rely on the good relationship between his maternal grandfather - Giovanni Giacomo Aratori, Sforza's proxy - and marchesa Costanza Colonna, sister of the powerful Cardinal Ascanio.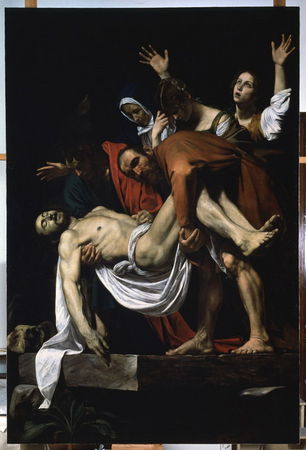 Caravaggio, Deposizione. Musei Vaticani. Città del Vaticano. Foto Archivio Fotografico Musei Vaticani. © Musei Vaticani
A notary's deed of 6th April 1584 states that Michelangelo, aged twelve, undertook to serve a four year apprenticeship in the workshop of Simone Peterzano, a painter from Bergamo, former pupil of Titian and exponent in Milan of the reform of painting inspired by Archbishop Carlo Borromeo's promotion of cultural and religious renewal.
Caravaggio, Amorino dormiente. Firenze, galleria Palatina. Soprintendenza Speciale per il Patrimonio Storico, Artistico ed Etnoantropologico e per il Polo Museale della città di Firenze. Istituti museali della Soprintendenza Speciale per il Polo Museale Fiorentino
During his early training Caravaggio had the chance to assimilate the master's Venetian-Lombard manner and probably came into contact with the devotional realism of the Bassano and Campi brothers, with the portraiture of Giovanni Girolamo Savoldo and Giovanni Battista Moroni, with the extravagances of Giuseppe Arcimboldi and the rigorous, refined painting of Ambrogio Figino.
When his mother died in 1590 and the family property had been divided up, Caravaggio moved to Rome some time after July 1592, preceded by his uncle Ludovico Merisi, who was a priest, and marchesa Colonna.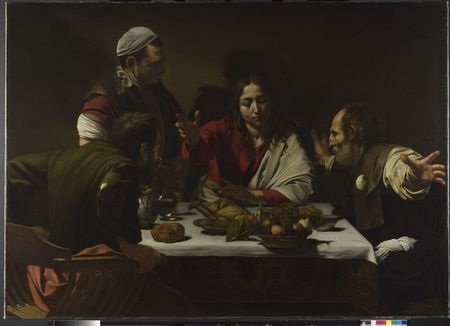 Caravaggio, Cena in Emmaus. Londra National Gallery. © 2009 Copyright The National Gallery, London/Scala, Firenze
In the capital Merisi was the guest of Pandolfo Pucci, Canon of St Peter's, for whom he made copies of devotional paintings to be sent to Recanati, the prelate's hometown. But dissatisfied by the scant hospitality received (the painter ironically nicknamed him Monsignor Salad) he found employment in Giuseppe Cesari d'Arpino's workshop for a few months. Then, for reasons unclear, he left to set up on his own, aided by the painters Lorenzo Carli, a Sicilian, and Antiveduto della Grammatica of Rome for whom he painted second-rate pictures. After a brief stay in the Roman palazzo of Monsignor Fantino Petrignani, former Archbishop of Cosenza, Caravaggio entered the service of Cardinal Francesco Maria Del Monte for whom he did easel paintings of sacred and profane genre (still lifes, musical and moralising iconographies) which introduced him to the circle of Roman art buyers.
Caravaggio, Amor vincit Omnia 1602. Copyright: Staatliche Museen zu Berlin - Gemäldegalerie sind eine Einrichtung der Stiftung Preußischer Kulturbesitz. Photo: Jörg P. Anders
His first public commissions arrived on the eve of the jubilee year. In 1599 he undertook decoration of the Contarelli Chapel in S. Luigi dei Francesi, begun by Cavalier d'Arpino, and in September 1600 two canvases were commissioned for the Cerasi Chapel in S. Maria del Popolo, in contrast with the classicism of Annibale Carracci. Between 1600 and 1605 Caravaggio was sought after by the most refined collectors (Costa, Giustiniani, Mattei, Massimo), the main religious orders (Oratorians, Augustinians, Carmelites, Capuchins) and by the confraternities. However he also suffered some celebrated rejections, clashing with restrictive conceptions of "decorum".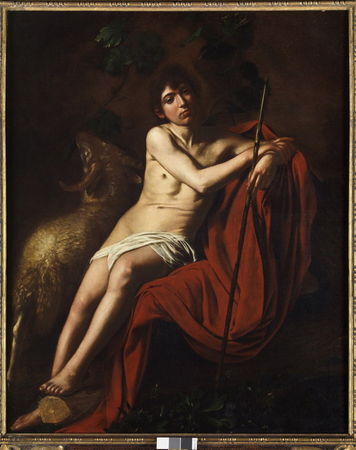 Caravaggio, San Giovanni Battista. Galleria Borghese, Roma © foto Luciano Romano
At the end of August 1603 Caravaggio, together with the architect Onorio Longhi and other painters, was taken to court and subsequently imprisoned for spreading a "defamatory libel" in verse against the painters Tommaso Salini and Giovanni Baglione. Freed at the end of September Caravaggio went to The Marches, to Tolentino and to Ascoli Piceno where he painted St Isidore the Farmer for the Oratorians of St Philip Neri, a picture now lost and known only through copies.
The artist's hot temper and quarrelsome spirit, which often led him to the law courts, increased in 1605 and, after a flight to Genoa, culminated in the murder of young Ranuccio Tomassoni (28th May 1606) following a banal challenge in a tennis match. Condemned to death, he escaped to the Colonna estates and reached Naples some months later.
Caravaggio, San Giovanni Battista. The Nelson-Atkins Museum of Art, Kansas City, Missouri. Purchase: William Rockhill Nelson Trust, 52-25. Photograph by Jamison Miller
In October 1606 he received a string of commissions for altar-pieces in that city, from private individuals and confraternities. After a few months, in July 1607, he left for Malta. On the island the Grand Master Alof de Wignacourt, of whom Caravaggio did an official portrait, negotiated with the Holy See to have a knighthood bestowed on an unspecified murderer, identifiable as the painter from Lombardy. The investiture took place on 14th July 1608. Once again involved in a fight, for which he was jailed in Forte Sant'Angelo, Caravaggio managed to escape to Syracuse. Here he met his friend of Roman days, the painter Mario Minniti, and received commissions including The Burial of St Lucy for the church of the same name. At the end of 1608 he was in Messina to carry out some works, one of which was The Raising of Lazarus in the church of the Padri Crociferi. Before leaving Sicily for Naples (autumn 1609) he painted the Palermo Nativity. The attempt made on his life during this second Neapolitan period did not prevent him from producing his last pictures, which were loaded onto a felucca but confiscated at Palo (Civitavecchia) in the course of a desperate bid to reach Rome. The precious cargo was perhaps intended for the collection of the covetous Cardinal Scipione Borghese, from whom the painter was awaiting pardon. Unable to recover his paintings Caravaggio, now alone and seriously ill, died in the S. Maria Ausiliatrice hospital, Porto Ercole, on 18th July 1610.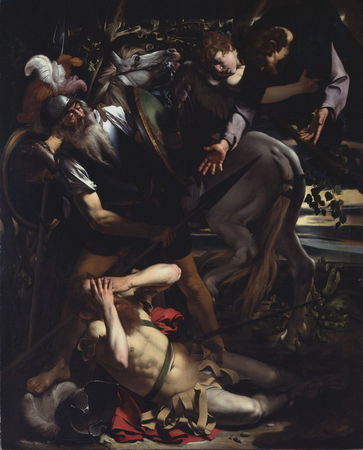 Caravaggio, Conversione di Saulo. Roma, Collezione privata
Caravaggio, Incoronazione di Cristo. Kunsthistorisches Museum, Vienna