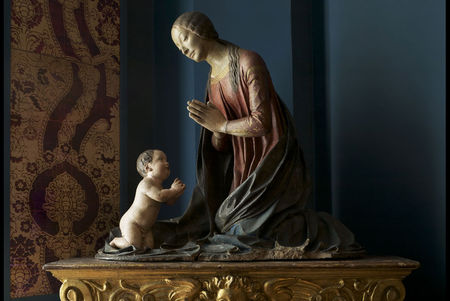 Matteo Civitali, "Virgin and Christ Child", ca. 1480. Painted terracotta, ht. 39 inches.
BOSTON, MA.- In Italy during the Renaissance (around 1400 to 1600), an innovative form of sculpture was developed using fine clay that was shaped and modeled before being fired in a kiln. Called terracotta in Italian (meaning "baked earth"), this type of sculpture often has been overlooked by scholars in favor of the more commonly known Renaissance sculptures carved in marble or cast in bronze.

"Modeling Devotion: Terracotta Sculpture of the Italian Renaissance", a new scholarly exhibition at the Isabella Stewart Gardner Museum, Boston, on view from February 25 to May 23, 2010, draws attention to this category of art through a presentation of fifteen terracotta sculptures collected by Isabella Gardner and recently conserved. Additional works of note are on view in the historic galleries.

"The beauty and significance of painted terracotta sculpture of the Italian Renaissance is only now being appreciated," says Alan Chong, the William and Lia Poorvu Curator of the Collection at the Isabella Stewart Gardner Museum and exhibition curator. "This new attention has helped us identify the maker of one of our most impressive works, the Deposition of Christ by the almost completely unknown Giovanni de Fondulis."

Rooted in new scholarship and conservation, Modeling Devotion reveals discoveries about these works and discusses their highly emotive and expressive qualities, their technique and condition, and even fakes and forgeries that were created in the late 19th century to fuel a growing market for Renaissance art.

In the 1890s, Isabella Gardner acquired several terracotta sculptures—including large multi-figured compositions of great rarity and that have survived in remarkable condition. "Unlike many collectors, who scraped off the worn paint to make the terracotta look more uniform, Isabella Gardner preserved their original coloring, even when not in perfect condition," adds Chong.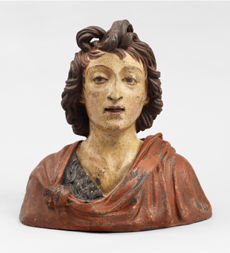 Painted terracotta sculpture, especially large compositions of multiple figures, are rare in American museums. The Gardner Museum's objects preserve much of their original paint. "We are pleased to shine fresh light on this unexplored aspect of Gardner's collection," says Anne Hawley, the Norma Jean Calderwood Director of the Isabella Stewart Gardner Museum. "This exhibition not only highlights beautiful objects that might be overlooked by visitors to our galleries, but it focuses on materials and processes that are not usually associated with the Italian Renaissance. This exhibition truly uncovers new scholarship through our collection of historical art." (photo: Benedetto da Maiano, John the Baptist, ca. 1480, painted terracotta, height 17-3/4 in.)

Modeling Devotion highlights works by Renaissance artists Matteo Civitali, Giovanni de Fondulis, Benedetto da Maiano, the Workshop of Andrea della Robbia and Giovanni della Robbia. In preparation for the exhibition, extensive technical investigation and conservation treatment of several works was undertaken, revealing important information about their construction and composition. "The generous support of the Sherman Fairchild Foundation allowed our conservators to study and treat several of our most important works," adds Hawley. Furtherexamples of terracotta sculptures are on view on the third floor of the museum.

The title of the exhibition, Modeling Devotion, refers to the technique of shaping these sculptures in clay, as well as to their importance as an example for devotional behavior in Renaissance Italy. Terracotta sculptures of the Renaissance inspired prayer and served as models for happy family life. Terracotta sculptures were almost always colored, whether in paint or fired glazes, and because they were often three-dimensional and life-sized, they possessed a remarkable immediacy and realism. Clay can be handled easily, enabling the artist to add, remove, and shape the material as required. This freedom allowed artists not only to capture fine textures and details, but also to give their works powerful emotions. The most common subjects of such works were religious scenes meant to inspire the devotion of the faithful, or portraits that recorded individual likeness.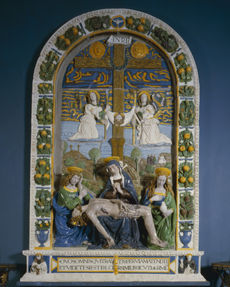 Modeling Devotion presents examples of the various processes employed by terracotta sculptors. For the larger works consisting of several figures, the artist would sculpt the entire ensemble in wet clay. The figures could be continually worked and even material added, a freedom not possible when carving stone or wood. When the clay had partially dried, the sculpture would be cut into pieces between the figures. Bulky areas of clay were hollowed out to create roughly uniform thickness. During firing, these smaller pieces would be less likely to crack. (photo: Giovanni della Robbia, Lamentation of Christ, ca. 1515, glazed terracotta, height 98 in. Long Gallery)

Highlights among Gardner's fifteen terracotta sculptures in the exhibition include:

Matteo Civitali, Virgin and Christ Child, ca. 1480 • Painted terracotta, height 99 cm (39 in) • In the Virgin and Child, the subject is an unusual presentation of reciprocal love. The Christ Child kneels on the folds of the Virgin's mantle. He looks up at her in prayer, as she gazes cast down on him in the same gesture. The composition is a striking example of Civitali's ability to create highly evocative poses and interaction among sculptural figures. The dynamic relationship between the mother and child is conveyed through their bodies which lean into each other, while also opening up to the viewer in an almost impossibly balanced arrangement.

"The work is a wonderful gesture of mutual adoration—a rare element in art at this time," says Chong.

Giovanni de Fondulis, Deposition of Christ and Carlotta of Lusignano, ca. 1480 • Painted terracotta, height 104 cm (49.9 in) • In contrast to the adoration seen in the Civitali, this large work further illustrates the extraordinary emotional intensity of terracotta sculpture—and of artist Giovanni de Fondulis in particular. The near life-size figures of Christ, the Virgin, and Saint John intertwine in a sinuous movement that is enhanced by an intensity of the figures' facial expressions and gestures.
These two works provide a glimpse into the extreme emotions conveyed in terracotta sculpture. The contrast between the Virgin and Christ Child's stillness and quietude is entirely different from the anguish and despair palpably seen in the Deposition of Christ. However, the two works were made at almost exactly the same time, using the same materials.

The exhibition further showcases a few examples of glazed terracotta sculptures collected by Isabella Gardner: Tabernacle by Andrea della Robbia; and Giovanni della Robbia's monumental Lamentation of Christ, on view in the historic Long Gallery of the museum.


GIOVANNI DE FONDULIS • In its presentation of the Deposition, Modeling Devotion also affirms the attribution of the Gardner's Deposition to a previously obscure Renaissance sculptor based in Padua, Giovanni de Fondulis. Specializing in highly emotional painted terracottas, de Fondulis' importance has only recently been reconstructed by art scholars. One of twenty known examples of de Fondulis' work, the Deposition of Christ and Carlotta of Lusignano in the Gardner Museum illustrates the extraordinary emotional intensity of terracotta sculptures. Several terracotta sculptures by de Fondulis have sold recently through Sotheby's in New York. Recent research has uncovered new information about the artist and can confirm the attribution of the museum's Deposition to him. The re-emergence of this innovative Renaissance sculptor is an important discovery. (Photo: Giovanni de Fondulis, Deposition of Christ and Carlotta of Lusignano, ca. 1480 (details of the Virgin and Christ), painted terracotta, height 49 in.)

FAKES AND FORGERIES • Collectors of the late 19th century craved Renaissance art of all types, terracotta sculpture being no exception. Because genuine works were rare and often in damaged condition, unscrupulous artists made objects in the style of the Renaissance to deceive unsuspecting buyers. Some of these works are in Isabella Gardner's collection, including a Bust of a Woman by a French imitator of Renaissance work, made in painted and gilded wood and plaster, and another with the same title made of glazed terracotta. That Isabella Gardner kept two of these works that were later proven to be forgeries in her world-class collection also reveals much about her as a collector and museum founder. "To our eyes, these two portraits of beautiful young women look extremely graceful and rather modern," adds Chong. "Even after the forgeries were revealed, Gardner left the objects in place; her initial fondness for them apparently undiminished by scholarship."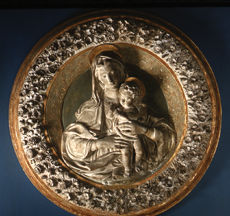 SCHOLARSHIP AND CONSERVATION • In preparation for the exhibition, detailed study and conservation of three of Gardner's terracotta sculptures—Matteo Civitali, Virgin and Child, ca. 1480; Benedetto da Maiano, Bust of John the Baptist, ca. 1480; and Giovanni de Fondulis, Deposition of Christ and Carlotta of Lusignano (details of the Virgin and Christ), ca. 1480—was undertaken. Funded by the Sherman Fairchild Foundation, this work focused on analysis of paint and the elemental constituents of terracotta from different regions of Italy, providing new insight into their composition and condition. This research reveals that the works by Civitali and de Fondulis preserve much of their original 15th-century paint. Benedetto da Maiano's Bust of John the Baptist has been over-painted several times, including with a layer of black paint applied to make it appear as though it were made of bronze. (photo: Benedetto da Maiano, Virgin and Child, ca. 1495, painted terracotta, diameter 41 in.)

"What is most remarkable about these terracotta sculptures—beautiful in their own right—is that they are in such an extraordinary state of preservation," says Valentine Talland, Objects Conservator at the Gardner Museum. "Terracotta and wood sculpture this old rarely survive to our generation with so much of their original paint. To have so many of our terracotta works presenting the majority of their original surface and paint is really unusual."

Analysis also revealed new information about the method of modeling the figures, which were all done by hand, as indicated by the visible tool marks, the selective massing of the clay, and the individual expressiveness of the sculpture, and hollowed out with walls of uniform thickness. Methods of evaluation focused on X radiography and paint cross-sections and terracotta analysis using Scanning Electron Microscopy-Energy Dispersive Spectroscopy (SEM-EDS), Raman spectroscopy, thermoluminescence, and other methods of evaluation conducted by the Isabella Stewart Gardner Museum and the Museum of Fine Arts, Boston.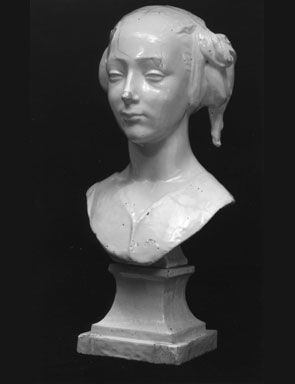 Giovanni Bastianini (19th-century imitator of a Renaissance work), "Bust of a Woman", ca. 1860. Glazed terracotta, height 22 ½ inches