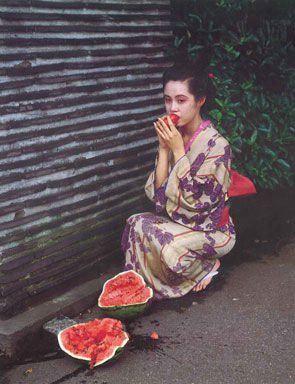 Nobuyoshi Araki, Colorscapes, 1991. C print, 40 x 30 inches (101.6 x 76.2 cm). Photo: Courtesy Prism.
WEST HOLLYWOOD, CA.- PRISM, LA's exciting new addition to the art landscape, is pleased to present it's sophomore show, "Araki: A Perspective," a collection of works by world renowned Japanese photographer, Nobuyoshi Araki. The exhibition will feature approximately 70 works by Araki, whose thought provoking photography has garnered international acclaim and stirred up controversy around the globe. Guests are invited to PRISM for a private preview of "Araki: A Perspective" on March 6th at 6:00PM. Nobuyoshi Araki's works will be on display from March 6th – May 9th.

Nobuyoshi Araki is Japan's most notable & controversial photographer. Based primarily in Tokyo, Araki documents what he sees in the streets, exploring the various themes that exist in the city. With over 450 photography books to his name, Araki has explored a wide variety of topics, most notably the love of his wife, Yoko in his most recognizable series, "Yoko, My Love." This raw and intimate work features his wife in prolific and compromising positions. Araki has also done commercial work, recently photographing music sensation Lady Gaga for Vogue Hommes Japan, in his signature "bondage style" poses. On his technique, Araki explains, "what's important in my work is always the relationship between me and the object - - it's a kind of love story. I don't concern myself with why a relationship starts or where it goes. The most important thing is just the relationship between the two of us at that moment. This world becomes our world."

PRISM, located on Sunset Boulevard, is housed in a three story architectural space on the western end of the Sunset Strip. The mission of the project space is to become a cornerstone of artistic experimentation, carving a new niche for the arts here in Southern California. The long-term exhibition program, featuring national and international artists, promises to be vibrant and thought-provoking as it works with creative minds to cultivate a challenging and diverse aesthetic experience for the public. The space will also look to integrate lectures and film viewings to create a well-rounded multidisciplinary venue. Alongside the exhibition space, the project space will also house a bookshop with a curated selection of texts and products.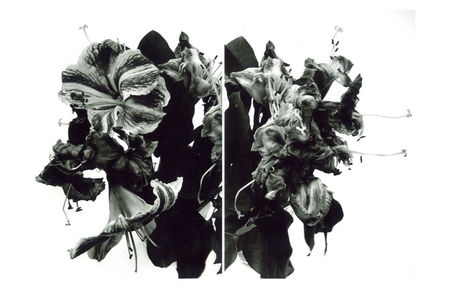 Nobuyoshi Araki, From Close to Range (diptych), 1991/2007, Black and White print. Each image 60 x 40 inches (152.4 x 101.5 cm). Photo: Courtesy Prism.