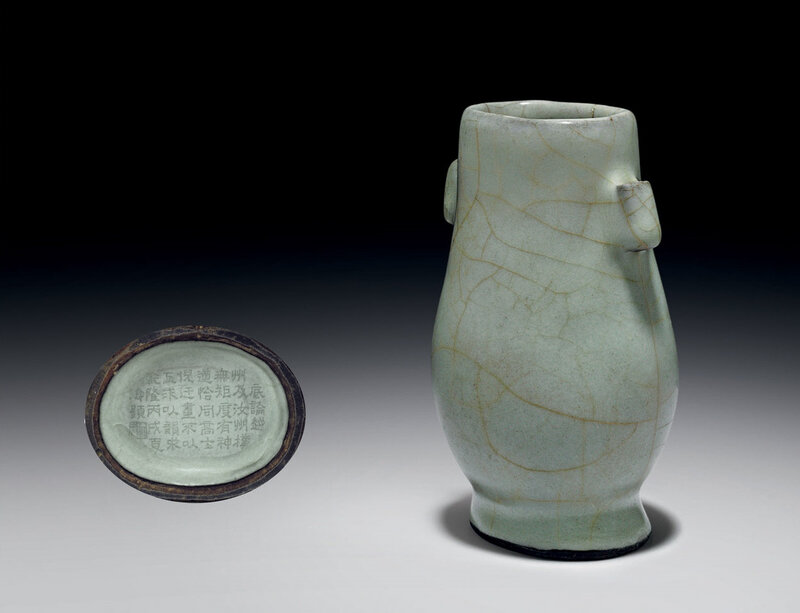 Lot 1337. A very rare imperially inscribed small guanyao vase, Southern Song-Yuan dynasty, 13th century; 3 7/8 in. (9.8 cm.) high. Estimate USD 120,000 - USD 200,000. Price realised USD 362,500. © Christie's Image Ltd 2010.
Of tapering pear shape raised on a tall foot, covered overall with a thick crackled glaze of bluish-grey tone thinning on the edges of the lug handles, the foot rim left unglazed revealing the dark greyish-brown ware, the base finely inscribed with an imperial poem praising its charm and essence, followed by a Qianlong cyclical bingxu date, corresponding to the summer of 1766, and one seal reading guxiang (ancient fragrance).
Provenance: Stephen Junkunc, III.
Note: This charming small hu vase is of exactly the type that appealed to the Chinese taste for miniature pieces. This taste found its greatest imperial expression in the Qianlong reign when selected small antique items from the imperial collections were put into ingeniously constructed 'treasure boxes', duobaoge, literally box of many treasures. Some of these boxes were specially made for the purpose, while others were adapted from antique boxes in the palace. A small Guan ware hu vase very similar to the current vessel is amongst the forty-seven precious items from Qianlong's collection, which were kept in specially constructed separate compartments within a square zitan box carved with dragons, preserved in the National Palace Museum, Taipei, and illustrated in Emperor Ch'ien-lung's Grand Cultural Enterprise, Taipei, 2002, pp. 52-3, no. I-41. These treasure boxes were organized in three different ways. One type was made to contain items that belonged to a single category, such as the round black lacquer box decorated with gold in the Palace Museum, Beijing, which held forty small jade items, illustrated in Qing Legacies: The Sumptuous Art of Imperial Packaging, Macau, 2000, p. 118, no. 40, or the carved zitan box made to hold sixteen snuff bottles in the same collection, illustrated ibid., p. 162, no. 65. Other treasure boxes opened to reveal groups of small display shelves and stands holding miniature items in a variety of materials. The current small vase might have been displayed in a box of this sort, or in a box of the third sort with individual compartments, like the zitan dragon box in the National Palace Museum, mentioned above, which contained a similar vase.

On the base of the current vase is a poetic inscription which is also recorded in Qing Gaozong yuzhi shiwen quanji (Anthology of Imperial Poetry and Prose Composed by Gaozong [Qianlong] of the Qing Dynasty), Beijing, 1993, p. 208. It is recorded with the title 'Ode [literally 'chant' in Chinese] to a Guan ware two-eared hu vase'. The inscription may be translated as reading:

'Appraising this vase as if looking at Yue ware or Ru ware
It is not classically beautiful or perfect but it has great charm.
Like the paintings of the great masters Ni and Huang
It is not made simply in the pursuit of beauty but of capturing an essence.
Imperial poem, composed in the summer of the bingxu year of the Qianlong reign [AD 1766]'.
The inscription on the vase is followed by a seal, guxiang.
The Ni and Huang referred to in this inscription are artists, regarded as two of the four great Yuan masters - Ni Zan (AD 1301-74) and Huang Gongwang (AD 1269-1354).

Larger vases of this hu form tend to have two encircling raised lines indicating a band at the height of the tubular handles. However, this feature is absent from the current vase and from the small Guan ware hu in Qianlong's treasure box, mentioned above. Two more small vases of this form without any indicated band are published. One of these, now in the Zhejiang Provincial Museum where it is classified as imperial Guan ware, is illustrated in Green Wares from Zhejiang, Fung Ping Shan Museum, Hong Kong, 1993, no. 65. The other is illustrated by Yamanaka & Co. in Grand Exhibition of Ancient Chinese and Corean Works of Art, Tokyo, 1934, fig. 19, where it is designated Ge ware. Both of these latter vases are just a little larger than the current vessel and the small vase in the National Palace Museum, and have the vestiges of a raised line running vertically from mouth to foot.

Even with its small size, the current vase is notable for the thickness, translucency and pleasing color of its glaze, as well as control of the glaze crackle. This is exactly the sort of skillfully made miniature vase, with a form inspired by antique bronzes, that would have appealed to the Qianlong emperor.
Christie's. Fine Chinese Ceramics and Works of Art Including Property from the Arthur M. Sackler Collections. 26 March 2010. New York, Rockefeller Plaza