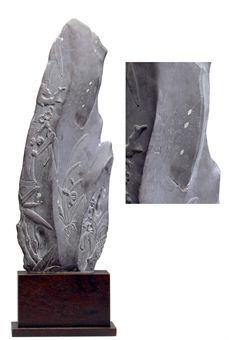 A rare large inscribed duan stone scholar's rock. 18th/19th century. Photo Christie's Image Ltd 2010
The vertical 'rock' well carved in low relief on one side with a vignette of bamboo, plum blossom, orchid and chrysanthemum, and inscribed with a poetic inscription signed Liqi Yu, with two seals shanxing (prunus) and shizhai, the purplish-brown stone with numerous pale grey-green eyes - 21 in. (53.5 cm.) high, wood stand - Est. $60,000 - $80,000
Provenance: E & J Frankel, Ltd., New York, late 1970s - early 1980s.
Notes: The poetic inscription refers to the four elements of the decoration - bamboo (symbol of the scholar), orchid (symbol of filial piety), chrysanthemum (symbol of fidelity), plum blossom (symbol of renewal) - and may be translated:
'Praise to the good official who bends but does not shatter.
Wild orchid fragrance, mysterious as love between brothers.
Held by deep autumn frost the chrysanthemum blooms through snow.
As the plum blossom opens winter closes and spring begins.'
This rare scholar's rock is a very unusual use of duan stone, which is usually used to make inkstones. The combination of the stone, the size, the attempt at a naturalistic shape, and the carved decoration all make this piece unique among scholar's rocks.
Christie's. For the Enjoyment of Scholars: Selections from the Robert H. Blumenfield Collection. 25 March 2010. New York, Rockefeller Plaza www.christies.com