Buddha Shakyamuni, India, Bihar. Pala period, late 9th–early 10th century. Schist. Asia Society, New York: Mr. and Mrs. John D. Rockefeller 3rd Collection, 1979.37. © Asia Society, New York
Pilgrimage and Buddhist Art is the first major exhibition of its kind devoted to the impact of Buddhist pilgrimage on Asia's artistic production. It highlights approximately 120 objects of importance and extraordinary quality, including sculptures, paintings, prints, ritual implements, photographs, and maps.
The objects, dating from the first to the twentieth century, will be on loan from museums and private collections in North America, and a number of the pieces have never been displayed publicly before. Pilgrims and pilgrimage inspired centuries of artistic production and its patronage influenced the development of visual culture in Asia.

Buddhist pilgrimage began in South Asia in the first century with journeys to sites of the major events in the Buddha's life: the places of his birth, his enlightenment, his first teaching, and his death are all pilgrimage destinations and testify to the importance of his life story.
Using exceptional and visually stunning examples, Pilgrimage and Buddhist Art explores the ways in which the act of pilgrimage influenced artistic production across Asia, considering both the necessity of art objects for particular spiritual journeys and the rise of commissions to create sacred objects, such as painted mandalas, scrolls, screens, sculptures, reliquaries, prayer wheels, traveling shrines, textiles, and maps. Examples of these objects introduce the concepts of pilgrimage motivation, ritual preparation, and movement and worship at the sacred destination, as well as highlight the regional variety of Buddhist pilgrimage practices and art production due to the influences of preexisting or coexisting religious practice.
Pilgrimage and Buddhist Art is organized by Asia Society Museum and presented in conjunction with The Buddha, a film by David Grubin for PBS. New York Premiere at the Asia Society, March 23, 2010; the film airs on PBS April 7, 2010.
The historical Buddha, often called Shakyamuni ("Sage of the Shakyas") in later times, was born into an elite family of the Shakya clan, whose territory lay on what is now the border between northeastern India and Nepal. Traditionally, the date of his birth was believed to be 563 BCE, but he may have been born as much as a century later. After renouncing his princely life for spiritual pursuits, he began a long physical and spiritual journey that ultimately led to his enlightenment under the Bodhi Tree in Bodh Gaya. After his enlightenment, he went on to teach the Four Noble Truths. According to this doctrine, suffering exists in all life; suffering is caused by desire or attachment; to end suffering, one must transcend desire or attachment; and to transcend desire and attachment, one must follow a path of righteous living, known as the Noble Eightfold Path.
Prior to his death, the Buddha instructed his disciple Ananda that followers could continue to seek and venerate him in places that resonated with important events in his life: the sites of his birth at Lumbini, his enlightenment at Bodh Gaya, his first sermon at Sarnath, and his death at Kushinagara. Many representations of the Buddha produced across Asia reference these and other sacred sites associated with him. For example, the tenth-century stone sculpture of Shakyamuni on view in the center of this room has several elements that identify the enlightenment site at Bodh Gaya. These include the Bodhi Tree, carved here as a leafy branch, and the Buddha's hand gesture, which signifies calling the earth to witness his right to enlightenment. Similar sculptural examples from Myanmar/Burma and Tibet attest to the wide dissemination of this imagery. Buddhists from all over the world continue to make pilgrimages to these powerful sacred sites.
A glance at the large Japanese Buddhist world map in this room shows the spread of Buddhist sites across Asia. Many of these are places where relics or purported relics of the Buddha were buried. Relics imbue sites with sacred power, and the proliferation of Buddhist relics across Asia is closely associated with the spread of pilgrimage practice. Eventually relics of other Buddhist figures, such as major teachers or those associated with important Buddhist actions or miraculous events, were also interred. These burial places either became new pilgrimage destinations or contributed to the spiritual power of existing pilgrimage sites.
March 16 – June 20, 2010
Buddha in the Gesture of Preaching. India, Gupta period, 6th century. Copper alloy with copper and silver inlay. Asia Society, New York: Mr. and Mrs. John D. Rockefeller 3rd Collection, 1979.7. © Asia Society, New York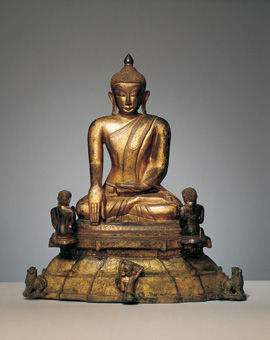 Buddha Shakyamuni with Kneeling Worshippers. Myanmar/Burma, 14th - 15th century. Gilt copper alloy. Asia Society, New York: Mr. and Mrs. John D. Rockefeller 3rd Collection, 1979.91a–c. © Asia Society, New York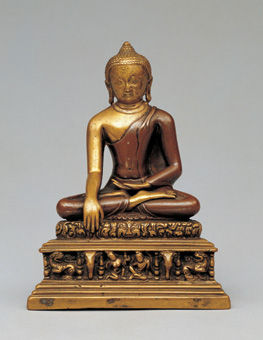 Buddha Shakyamuni, Tibet, 11th century, Copper alloy with copper overlay and inlays of silver. Asia Society, New York: Mr. and Mrs. John D. Rockefeller 3rd Collection, 1979.89 © Asia Society, New York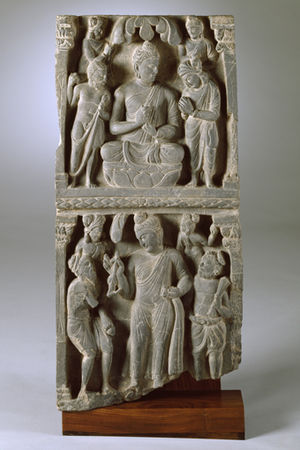 Narrative Panels with Scenes from the Buddha's Life, Pakistan (ancient Gandhara), 2nd century. Gray schist. The Walters Art Museum, Baltimore, Maryland, Gift of John and Berthe Ford, 25.259. © The Walters Art Museum, Baltimore, Maryland
Buddha's First Sermon at Sarnath, Pakistan (ancient Gandhara), Kushan period, ca. 2nd century. Gray schist. The Metropolitan Museum of Art, Gift of Daniel Slott, 1980, 1980.527.4. © The Metropolitan Museum of Art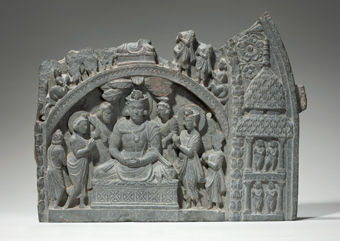 False Dormer Stele with Scene of Life of the Buddha, Pakistan (ancient Gandhara), Kushan period, 100–300. Schist. Asian Art Museum of San Francisco, The Avery Brundage Collection, B60S255. © Asian Art Museum Foundation, San Francisco. Used by permission
Portion of a Disassembled Stupa, India, Bihar, Bodh Gaya region, 9th century. Basalt. Philadelphia Museum of Art: Purchased with the George W. B. Taylor Fund, 1921, 1921-36-1. © Graydon Wood, courtesy Philadelphia Museum of Art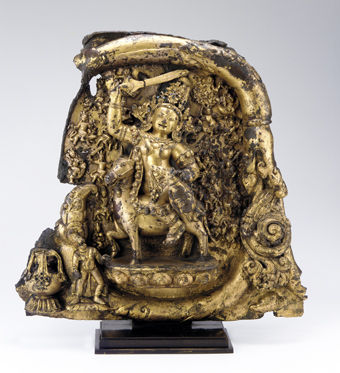 Goddess Palden Lhamo, Central Tibet, Densatil Monastery, 15th century. Gilt copper alloy, color, and semiprecious stones. Arthur M. Sackler Gallery, Smithsonian Institution, Washington, D.C.: Purchase Friends of Asian Arts in honor of the 10th Anniversary of the Arthur M. Sackler Gallery, S1997.27. © Arthur M. Sackler Gallery, Smithsonian Institution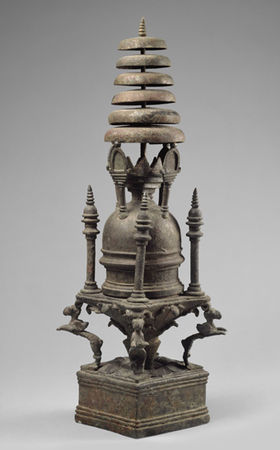 Reliquary in the Shape of a Stupa (Relic Mound), Pakistan (ancient Gandhara), Kushan period, ca. 4th–5th century. Bronze. The Metropolitan Museum of Art, Gift of Mr. and Mrs. Donald J. Bruckmann, 1985, 1985.387a,b. © The Metropolitan Museum of Art
Stupa Reliquary, Sri Lanka, Anuradhapura period, ca. 200. Crystal and gold. The James W. and Marilynn Alsdorf Collection. © Michael Tropea
Miniature Stupa with Illustrations of Jataka Tales, China, Five Dynasties period, 955. Bronze. Harvard Art Museum, Arthur M. Sackler Museum, Gift of Nasli M. Heeramaneck, 1930.105. © Imaging Department © President and Fellows of Harvard College
Covered Stupa-Form Buddhist Reliquary with Knob in the Shape of a Stupa Finial , Korea, Unified Silla period, 8th–9th century, Bronze. Harvard Art Museum, Arthur M. Sackler Museum, Anonymous Gift, 1944.57.29.A–C. © Imaging Department © President and Fellows of Harvard College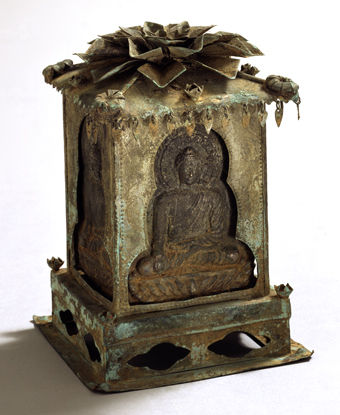 Reliquary, Korea, Unified Silla period, late 9th–early 10th century. Bronze and copper alloy. Royal Ontario Museum, Toronto, Dr. Herman Herzog Levy Bequest Fund, 992.124.1 © With permission of the Royal Ontario Museum © ROM. Photo: Brian Boyle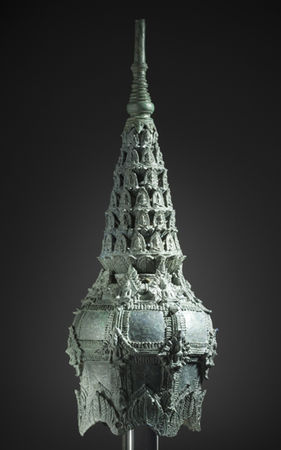 Model of a Stupa, Thailand or Cambodia, 12th–14th century. Copper alloy. Los Angeles County Museum of Art, Gift of Anna Bing Arnold, M.87.243 © 2009 Museum Associates/ Los Angeles County Museum of Art