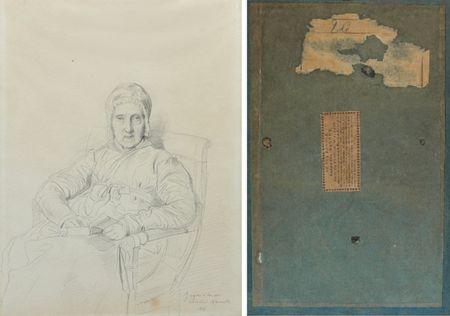 Jean Auguste Dominique INGRES (Montauban 1780 - Paris 1867), Portrait de Madame Louise Antoinette Marcotte. photo courtesy De Maigret Thierry
Mine de plomb, sur son montage d'origine, signée, dédicacée, et datée en bas à droite Ingres à Son ami / monsieur marcotte / 1825 31 x 22, 7 cm - Estimation : 60 000 - 80 000 €
Provenance : Collection Charles Marcotte d'Argenteuil, son fils, Paris, jusqu'en 1864 ; Collection Madame Alexandre Legentil, née Marie Marcotte, Paris, jusqu'en 1920 ; Collection Madame Marcel Pougin de la Maisonneuve, née Elisabeth Marcotte, fille de Joseph, frère de Marie Marcotte, Paris, jusqu'en 1939 ; Collection Monsieur et Madame de ..., Mme née de La Maisonneuve, Paris.
Expositions : Ingres, Paris, Ecole des Beaux - Arts, 1867, n° 372 ; Ingres et Marcotte, Lettres, documents, dessins et gravures, Paris, Institut néerlandais, 2001, n° 20, reproduit fig. 12.
Bibliographie : Catalogue de la vente Madame P [ancouke], Paris, Hôtel Drouot, 16 juin 1893 n° 11, (Portrait de Madame Marcotte signé et daté 1825 avec dédicace) ; H. Naef, Ingres,... Portraits of the Marcotte Familly..., The Art Bulletin, New York, décembre 1958, pp. 336 - 345, reproduit fig. 2 ; H. Naef, Die Bildniszeichnungen von J. A. D. Ingres, vol. V, Berne, 1980, n° 296, reproduit ; D. Ternois, « Lettres d'Ingres à Marcotte d'Argenteuil. Dictionnaire », Archives de l'Art français. Nouvelle période, tome XXXVI, Nogent le Roi, 2001, Portraits dessinés de la famille Marcotte, reproduit fig. 11.
Louise Antoinette Ducloz - Dufresnoy est née à Toulouse le 16 octobre 1740. En 1769, elle épousa Philippe Marie Simon Marcotte (1742 - 1791), receveur des fermes en Picardie puis à Doullens. Ils eurent huit enfants qu'elle éleva en partie seule, devenue précocement veuve. En 1791, elle s'établit avec sa famille dans la maison de son frère, Charles Nicolas Ducloz - Dufresnoy (1733 - 1794), rue du Faubourg Poissonnière à Paris. Notaire et conseiller du roi, ce dernier était également un amateur d'art éclairé et un mécène. La plupart de ses enfants, dont Charles pour qui fut dessiné ce portrait, s'établirent dans cette maison de la rue du Faubourg Poissonnière après leurs mariages. Louise y mourut le 13 janvier 1830. La maison fut vendue en 1834. Une autre version, plus petite (25,6 x 19,3 cm) de ce dessin est conservée dans une collection particulière (voir H. Naef, Die Bildniszeichnungen von J. A. D. Ingres, vol. V, Berne, 1980, n° 295, reproduit).
Certificat de libre circulation n°115441 en date du 8 février 2010
De Maigret Thierry. DESSINS ANCIENS et du XIXème siècle. Mercredi 24 mars à 14h30. HOTEL DROUOT SALLE 7. EMail : contact@thierrydemaigret.com - Tél. : 01 44 83 95 20