A 'peachbloom' beehive waterpot. Kangxi mark and period. photo Sotheby's
finely incised around the exterior with three archaistic dragon roundels, covered overall in a peachbloom glaze of varying mottled red tones, ivory stand (2) - diameter 4 7/8 in., 12.5 cm - Estimate 8,000 - 10,000 USD
PROVENANCE: Sotheby's New York, 11th September 2005, lot 771.
Roger Keverne, London, 2006.
NOTES: Waterpots of this form, which are known as Taibo zun after the Tang dynasty poet Li Taibo, who is often depicted leaning against a large wine jar, or as qizhao zun because their shape resembles that of a chicken coop, can be found in many important museum collections, for example, in the Shanghai Museum, see Kangxi Porcelain Wares from the Shanghai Museum Collection, Hong Kong, 1998, pl. 206; in the National Gallery of Art, Washington D.C., included in Systematic Catalogue Decorative Arts, part II, Washington, 1998, pp.69-71.
These waterpots represent one of the eight peachbloom wares for the scholars' table. A complete set can be found in the Metropolitan Museum of Art, New York, as illustrated in Suzanne G. Valenstein, A Handbook of Chinese Ceramics, New York, 1989, nos.231-238
A 'sang-de-boeuf'-glazed saucer dish. Kangxi mark and period. photo Sotheby's
finely potted with rounded flaring sides, the exterior and interior covered with a rich red glaze. diameter 6 1/4 in., 15.9 cm. Estimate 4,000 - 6,000 USD
PROVENANCE : The Tectus Collection.
Sotheby's Paris, 12th June 2008, lot 195.
LITERATURE: Engel, Erik and Leif Petzäll, The Tectus Collection: Chinese Ceramics, Boras, 1991, p. 222, no. 88.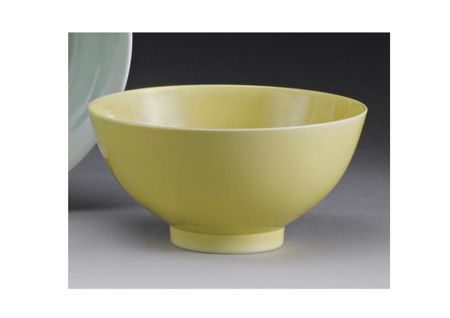 A fine yellow-glazed bowl. Kangxi mark and period. photo Sotheby's
the interior and exterior covered in a glossy pale yellow glaze of even tone. diameter 5 in., 12.7 cm. Estimate 6,000 - 8,000 USD
PROVENANCE: Roger Keverne, London, 2004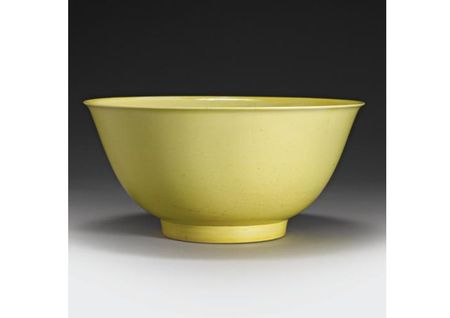 A large yellow-glazed bowl. Kangxi mark and period. photo Sotheby's
well potted with deep rounded sides supported on a short foot and rising to a flared rim, applied overall with a rich intense 'egg-yolk' yellow glaze turning to a darker tone around the footring, the base glazed white and inscribed with the six-character mark in underglaze-blue within a double-circle - diameter 12 1/4 in., 31.1 cm - Estimate 10,000 - 15,000 USD
PROVENANCE: Collection of Mr. and Mrs. Winston F. C. Guest.
NOTES: A similar Kangxi bowl is illustrated in Ayers, The Baur Collection, Geneva. Chinese Ceramics, vol. III, 1972, no. A446. Two bowls of slightly larger size are in the Percival David Foundation, London, included in the Foundation's Illustrated Catalogue of Ming and Ch'ing Monochrome, 1973, nos. A522 a and b; and another is in Taipei, published in Illustrated Catalogue of Ch'ing Dynasty Porcelain in the National Palace Museum (vol. I), 1980, pl. 63.
A carved celadon-glazed vase. Qing dynasty. Kangxi period. photo Sotheby's
the pear-shaped body carved with qilongs on a dense lingzhi and foliate scroll ground, below a keyfret diaper band and linked lingzhi collar around the neck, set on the shoulders with a pair of lion mask handles picked-out in black glaze, all supported on a 'false' tall flared foot, the base with an apocryphal Chenghua mark, covered overall in an even pale green celadon glaze - height 12 3/4 in., 32.3 cm - Estimate : 6,000 - 8,000 USD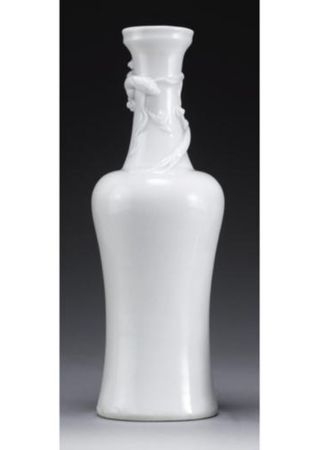 A 'dehua' mallet 'dragon' vase. Qing dynasty. Kangxi period. photo Sotheby's
the waisted cylindrical body supporting a flared neck decorated with a qilong in high relief, covered overall with a glossy milky-white glaze - height 8 5/8 in., 22 cm - Estimate 5,000 - 7,000 USD
NOTES: Compare a similar vase sold in these rooms, 20th March 2007, lot 782.
A 'peachbloom' beehive waterpot. Kangxi mark and period. photo Sotheby's
finely incised around the exterior with three stylized archaistic dragon roundels, covered overall in a peachbloom glaze of varying mottled pale pink to liver red tones, the base glazed white, the neck missing - diameter 4 7/8 in., 12.4 cm - Estimate 5,000 - 7,000 USD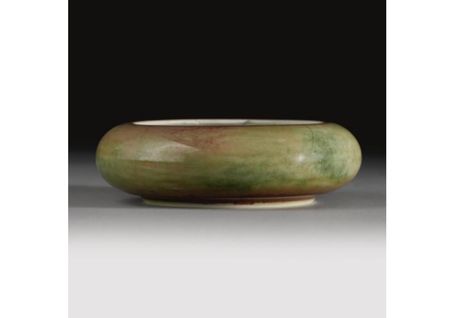 A 'peachbloom' washer. Kangxi mark and period. photo Sotheby's
of compressed circular form, the incurved rounded sides covered with a mottled red 'unripe peach' glaze with areas of white and pale lime green flecks, thinning slightly at the rims, the interior and base glazed white, the base inscribed with a six-character reign mark in underglaze-blue - diameter 4 3/4 in., 12.1 cm - Estimate 7,000 - 9,000 USD
Sotheby's. Fine Chinese Ceramics & Works of Art. 23 Mar 2010. New York www.sothebys.com