A rare North European amber figural chess set. Estimate: £4,000-6,000. Photo: Christie's Images Ltd 2010
SOUTH KENSINGTON.- Christie's South Kensington's second Interiors: Style & Spirit sale of the year, to be held on 18 May 2010, includes a special section dedicated to the ancient game of chess. Twenty-five chess sets are on offer, sure to excite and intrigue chess players and aficionados, as well as those captivated by their character and workmanship. The selection on offer is of the utmost quality and condition. Made from a variety of materials, including carved and turned ivory, amber, blood stone and agate pieces, the sets offered originate from all over the world including many examples from China, Russia, India, Cambodia, Mexico, Europe and the UK. This specialised section within the popular multi-category Interiors sale builds upon Christie's past successes of collection sales dedicated to the ancient sport of chess. Although it is possible to play with the examples on offer, many are highly regarded as miniature works of art in an interior setting, and provide the perfect executive conversation piece.

One highlight from the sale is a French carved ivory figural chess set from the late 19th, early 20th century (estimate: £10,000-15,000). Originally forming part of The Allen Hofrichter Collection this detailed historical polychrome example depicts the iconic figure of Napoleon Bonaparte versus the Duke of Wellington. Another significant set included in the sale is a Staunton ivory set circa 1850 – in exceptional condition this set is offered with a carton-pierre box (estimate: £8,000-12,000). Created by Nathaniel Cook, the design of this ubiquitous set was patented in 1849 and several months later John Jaques gained the manufacturing right and started to supply retailers, such as W. Leuchars of Piccadilly. At this time a set, complete with carton-pierre box and chess handbook was priced at 5 pounds and 50 shillings.

Further examples on offer in the sale selection illustrated below, include a Russian carved walrus ivory figural chess set, probably carved in the workshops of Kholomogory during the 19th century. The set depicts the Russians versus the Ottoman Turks, with the white figures modeled as Roman centurions, based on Catherine the Great's personal Prerobazhensky guard, who a wore similar uniform (estimate: £4,000-6,000); a rare North European amber figural chess set, late 19th / early 20th century with the opposing pressed opaque and translucent sides modelled as Medieval figures (estimate: £4,000-6,000); an exceptionally delicate 'showpiece' South German turned 'Selenus' lime wood chess set (estimate: £3,000-5,000); a Chinese-export finely-carved ivory figural chess set of large proportions, 19th century, with the kings and queens modelled as Emperors and Empresses and unusual carved pawns decorated with costumes and shields (estimate: £3,000-5,000); a North European blood stone and agate lapidary chess set, probably German, 20th century (estimate: £4,000-6,000); and a French carved ivory bust chess set from Dieppe, second half 19th century (estimate: £3,000-5,000).

Offered alongside this amazing selection of chess sets will be an extensive variety of items, catering for every collector – from the seasoned connoisseur or interior decorator, to those discovering the pleasure of buying at auction for the first time. Highlights include a George III artificial stone of Minerva by Coade, Lambeth, dated 1793 (estimate: £15,000-25,000); a Chinese-Export lacquer cabinet on stand (estimate: £6,000-10,000); a Victorian novelty gimballed table lighter in the form of a diving bell (estimate: £1,400-1,600); and a George III octagonal paper-scroll tea caddy (estimate: £1,800-2,500).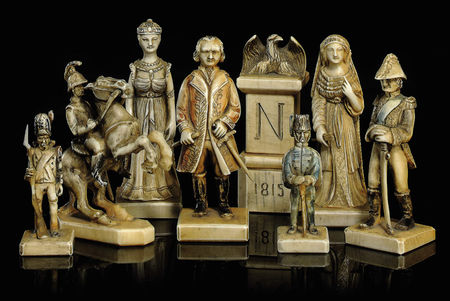 A French carved ivory figural chess set from the late 19th, early 20th century. Estimate: £10,000-15,000. Photo: Christie's Images Ltd 2010