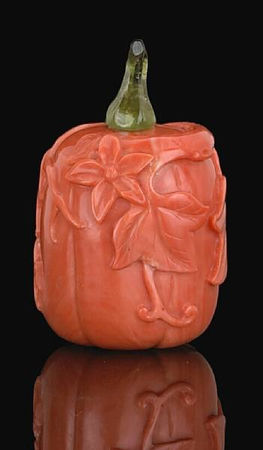 A carved coral snuff bottle 珊瑚瓜形子孫萬代鼻煙壺 Republic Period 民國 photo courtesy Bonhams
Of gourd form with small recessed shaped foot, carved in relief with leafy vines and a beetle, the tourmaline stopper carved as a branch. 2in (5.3cm) high. Sold for $7,320 inclusive of Buyer's Premium

Provenance 來源: Wing Hing, purchased October, 1991

Exhibited 展出: Frye Museum, Seattle, Washington, October, 1998
Chinese Culture Center, San Francisco, July, 2000

The bottle gourd (hulu 葫蘆) is a popular motif in Chinese art. As it contains hundreds of seeds, it has become synonymous with fertility and is believed to bring hundreds of sons (hulu baizi 葫蘆百子). The bottle gourd's network of vines and tendrils (mandai 蔓帶) symbolizes persistence and continuance and can be used as a rebus for wandai 萬代(ten thousand generations). For further discussion, see Bartholomew, Hidden Meanings in Chinese Art (2006), p. 61.
A carved coral snuff bottle 珊瑚刻飛龍戲珠鼻煙壺, 18th Century 十八世 photo courtesy Bonhams
Of slender ovoid form, with flat lip and oval foot, carved in relief with confronting chilong chasing a flaming pearl amid swirling clouds, coral stopper with glass collar. 2 1/4in (5.6cm) high - Sold for $6,710 inclusive of Buyer's Premium

Provenance 來源: Spink & Son, purchased April, 1987

Exhibited 展出: Gallery of New South Wales,
Sydney, Australia, 1991

Illustrated 出版圖片: Hidden Treasures of the Dragon (1991), cat. no. 14
Bonhams. Fine Snuff Bottles from the Collection of Margaret Polak, 24 Mar 2010. 580 Madison Avenue, New York www.bonhams.com
photo courtesy Bonhams