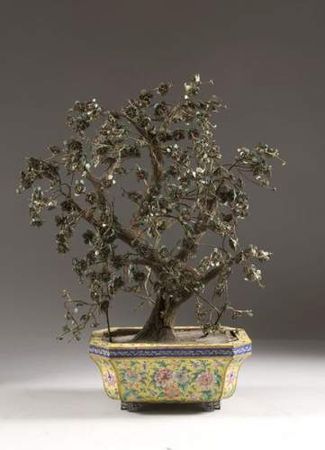 Rare jardinière rectangulaire en cuivre et émaux peints. Epoque Qing, marque Qianlong en bleu au revers de la base de la jardinière. photo courtesy Coutau-Begarie
ornée de motifs floraux sur fond jaune. Elle supporte une reproduction d'arbre miniature en matériaux divers. Les fleurs supportées par des tiges de laiton entourées de fils de soie sont en turquoises et perles de verre rouge. Petits accidents visibles. H. Totale : 53 cm ; jardinière 11 x 25 x 18 cm - Estimation : 2 000 / 3 000 €
Ce type de « paysage en pots » aurait été créé pour la cour des Qing, et nécessitait l'intervention de plusieurs corps d'artisans.
Les meilleures créations de ce type seraient originaire des ateliers de Guangzhou (Canton).
Pour d'autres pièces de ce type en divers matériaux, Cf. Le catalogue de l'exposition : « Tributes from Guangdong to the Qing Court », Palace Museum, Beijing, et Art Gallery, Chinese University of Hong Kong, 1987, fig.58 à 61.
Coutau-Begarie - Paris. Vente du Vendredi 9 avril 2010. Drouot Richelieu - Salle 4 - 9, rue Drouot - 75009 Paris. Pour tout renseignement, veuillez contacter la maison de ventes au 01 45 56 12 20