HONG KONG.- Before an overflowing saleroom and telephone bank, Sotheby's Hong Kong Contemporary Asian Art Spring Sale 2010 achieved a total of HK$144,881,000 / US$18,569,679, far exceeding the high estimate (HK$126,851,000 / US$16,342,214*). Liu Ye's highly sought-after early work Bright Road fetched an impressive HK$19,140,000 / US$2.45 million after a round of intense bidding, almost tripling its high estimate (HK$4.5-6.5 million) and achieving a World Record for the Artist at Auction.

Evelyn Lin, Head of Sotheby's Contemporary Asian Art department, discussing the sale said: "Tonight's sale demonstrated a strong return for blue chip Contemporary Chinese artists after a period of adjustment in which we experienced constricted supply. There is no question that these results show pent-up demand for great art. We set a world auction record for Liu Ye, and there was heated competition for top tier talents such as Cai Guo-Qiang, Yue Minjun, Zeng Fanzhi, Wang Guangyi and Fang Lijun. Bidding came from all over the world -- China, Indonesia, Korea, Europe, the United States and Taiwan -- through the efforts of Sotheby's international team."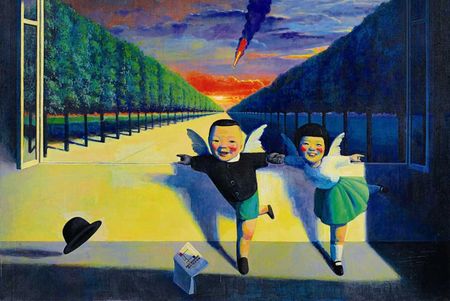 Liu Ye, "Bright Road" sells for HK$19.14 Million / US$2.45 Million - A world record for the artist at auction. Photo: Sotheby´s
acrylic and oil on canvas. Signed in Chinese, titled in Chinese and dated 1995 on a label affixed to the reverse. 170 by 200 cm.; 67 by 78 3/4 in. Est. 4,500,000—6,500,000 HKD. Lot Sold 19,140,000 HKD
PROVENANCE: Acquired directly from the artist by the present owner in 1996
EXHIBITED: China, Beijing, The Netherlands Ministry of Foreign Affairs, Art Gallery of the International Palace, Mondrian in China, 1998
LITERATURE AND REFERENCES: Liu Ye-1997, China, Mingjingdi Gallery, pp. 18, 20, illustrated in colour
Liu Ye, Kunstmuseum Bern ed., China, Timezone 8, pp. 22-23, illustrated in colour
NOTE: Liu Ye is alone among his generation of artists in China for the breadth and depth of his encounter with the Western painting tradition, and for the way this encounter has led him to develop a painterly language at once completely distinctive and infinitely varied. A Liu Ye, in other words, is immediately recognizable as a Liu Ye, not because of one or two signature motifs, but as a single manifestation of a mature and multifaceted style, much in the way of the old masters. His was not the typical Chinese encounter with European paintings, moderated and mitigated by scarce and poorly printed textbooks. He holds, after all, not only a degree from the Central Academy in Beijing, but another from the Hochschule der Kunst in Berlin.

In a recent interview, Liu Ye pinpointed his two key influences as Mondrian and Vermeer. While the former may be obvious from his frequent scenes of young girls viewing Modernist paintings—compositions in which the deStijl master seems to stand in for advanced aesthetics generally—the latter's touch comes across in the intimately structured scenes which are his staples. But a second glance reveals that for Liu Ye, the influences of these two masters are inextricably intertwined, as blocks of Mondrian-esque blue and yellow reveal a depth and sheen associated with the intricacies of Vermeer's brushwork, and splotches of bright Vermeer-like light serve also as monochromatic blocks.

Bright Road (Lot 303)is Liu Ye at his most sincerely cynical. The foreground features two figures, male and female, identically posed and complementarily attired, in green bottoms, rosy cheeks, and cherub's wings. Anyone who knows the artist can tell at first glance that the male figure is a joking self-portrait, a motif that appears rather infrequently in Liu's oeuvre. This leaves the viewer to suppose that his partner, who is conspicuously not a young girl like those who frequently inhabit Liu's canvases, may be his ex-wife, another painter. Their poses seem to be drawn from classical ballet, or perhaps more likely, from the version of ballet popularized in Socialist-era "model operas" like The Red Detachment of Women. The cheeks seem to gesture in the same direction, toward the fallen idealized world of romantic realism, where every face is red and every heart beats to the same revolutionary song. The combination of mature faces and childlike bodies is somewhat jarring, as is the unlikely scale of the overall composition.

We are led to believe that these figures pirouette before a window frame, but lighting and perspectival markings reveal a single sight line that pays little heed to the architectural intrusion of the presumably domestic space in which they appear to stand. Likewise, we soon realize, if the figures are indeed standing inside a house, it is a house located precisely in the middle of a long and grand road. A catalogue of Mondrian's paintings hangs open, infinitely suspended just above the floor. To its right a hat, evocative of those that populate René Magritte's work, levitates in the sunlight. The "bright road" which stretches out behind the figures is a fiction, its parallel rows of trees rendered on a completely different scale from the scene before them. In their symmetry, the trees evoke the "holy walks" of animal statuary that grace imperial tombs, even as they embody an abstracted notion of a road in the Chinese countryside. The view down this road is rigidly unidirectional, almost a parody of traditional Western three-point perspective as taught to beginner-level art students. The cloudy purple sky seems to allude to other works by Liu Ye, notably his 1995 canvas Sinking Ship (Sold at Sotheby's Hong Kong in October 2007), which also centers on two winged figures. A flaming airplane appears just above the vanishing point, sounding a dire and macabre note for anyone who may not have realized right away that this painting is not as happy or angelic as it seems.

The story behind this work as physical object bears repeating. Originally completed as Joyous in 1995, it revolved around only a single figure, that of the artist. Devoid of the architectural elements that enrich the ultimate composition, Joyous was a more straightforward road scene, with a man shooting a gun at right, a crashed bicycle at center, and a miniature truck running onto the berm at left. The back and top of the composition remained unchanged, as did the Mondrian catalogue. The artist has said that he felt the original work too dire and lonely, which is why he decided to give his avatar a partner and a roof over his head. The present work also contains a small slash on the trunk of the forth tree from the left by the artist in a studio accident during a long night of drinking.

With its symbolic richness, stylistic variety, compositional focus, and tonal intensity, Bright Road stands among the best of Liu Ye's works to date. It is one of those rare canvases in which an artist nearing his prime is able to convey the full range of his emerging vocabulary.
Cai Guo-Qiang, "A Certain Lunar-Eclipse - Project for Humankind No. 2" (in 7 panels). Photo: Sotheby´s
gunpowder and ink on Japanese paper mounted on wood. Signed in Pinyin and Chinese, titled in Chinese and dated 1991. Each: 200 by 80 cm.; 78 3/4 by 31 1/2 in. overall: 200 by 560 cm.; 78 3/4 by 220 1/2 in. Est. 9,000,000—15,000,000 HKD. Lot Sold 18,580,000 HKD
EXHIBITED: Japan, Tokyo, P3 Art and Environment, Primeval Fireball: The Project for Projects, 1991
Japan, Naoshima Contemporary Art Museum, Cai Guo-Qiang, 1993
Paris, Fondation Cartier pour l'art contemporain, Cai Guo-Qiang, 2000, pp. 90-91, illustrated in colour
New York, Solomon R. Guggenheim Museum; Drawings and Paintings in Cai Guo-Qiang: I Want to Believe, 2008, pp. 100-101, illustrated in colour
China, Beijing, National Art Museum of China, Drawings and Paintings in Cai Guo-Qiang: I Want to Believe, 2008, pp. 100-101, illustrated in colour
Spain, Guggenheim Museum Bilbao, Drawings and Paintings in Cai Guo-Qiang: I Want to Believe, 2009, illustrated in colour
LITERATURE AND REFERENCES: Cai Guo-Qiang, Taiwan, Artist Publishing Co., 2005, pp. 99-100, illustrated in colour
Cai Guo-Qiang - Hangout in the Museum, Taiwan, Taipei Fine Art Museum, 2009, pp. 132-133
NOTE: Shaman for Tomorrow
Cai Guo-Qiang is one of the most celebrated and inventive artists of the late twentieth and early twenty-first centuries. He is recognized internationally for his masterfully orchestrated gunpowder explosion events, many of them dramatic gestures made in the visionary spirit of a modern-day shaman. His wide-ranging accomplishments include producing one of the grandest fireworks displays of all time for the Opening Ceremony of the 2008 Beijing Olympics; winning the International Prize at the 1999 Venice Biennale; curating the first China Pavilion at the Venice Biennale; organizing a series of small innovative exhibitions, Everything Is Museum, at galleries he has established in out-of-the-way locations; and collaborating on projects with Cloud Dance Theater of Taiwan, architects Zaha Hadid and Norman Foster, fashion designer Issey Miyake, and composer Tan Dun, among others. With a subtle understanding of his varied venues, whether the audience be composed of elite art world aficionados or the more than one billion worldwide viewers who tuned their televisions to the Olympics Opening Ceremony, he deftly gears his works of art to produce maximum impact: his early education in stage design at the Shanghai Drama Institute has served him well, affording him an understanding of how best to structure and time an event. Many of his projects and works of art are ephemeral, and even his most enduring pieces, the gunpowder "drawings" or "paintings" (the term by which the artist refers to them), are framed by the short-lived performances or installations to which they refer. Furthermore, while the gunpowder drawings may resemble ink paintings or drawings, they are actually the product of small controlled explosions or burns: an understanding of their creative process and context accords them a richly complex meaning beyond their great formal beauty.

Cai Guo-Qiang's seven-panel screen A Certain Lunar Eclipse: Project for Humankind No. 2 (Lot 411)is exceptional because, first, it is one of his earliest large-scale gunpowder and Chinese ink on paper drawings; and second, it is an early explicit expression of concepts that loom large in the artist's subsequent oeuvre, namely that it is worthwhile to make an effort to communicate beyond the bounds of the earth, and that we should aim to achieve a deeper understanding of our place in the universe. He created A Certain Lunar Eclipse for his 1991 solo exhibition, Primeval Fireball: The Project for Projects, at the Tokyo gallery, P3 art and environment. An ambitious work originating from a significant moment in the artist's career, A Certain Lunar Eclipse has since been included in important solo exhibitions at the Naoshima Contemporary Art Museum, Naoshima, Japan (Cai Guo-Qiang, 1993), the Fondation Cartier pour l'art contemporain, Paris (Cai Guo-Qiang, 2000), and the artist's major mid-career exhibition at the Solomon R. Guggenheim Museum in New York (Cai Guo-Qiang: I Want to Believe, 2008), which also traveled to the Guggenheim Museum Bilbao (2009). Other seven-panel screens from the Primeval Fireball: The Project for Projects exhibition have been collected by the Fondation Cartier pour l'art contemporain in Paris, and the Museum of Contemporary Art in Tokyo, or remain with the artist.

Born in the town of Quanzhou in Fujian province, where fireworks were an inevitable component of major celebrations, and where the air often rang with the exchange of artillery fire and aerial bombardment over the strait between Taiwan and Fujian, Cai Guo-Qiang regularly witnessed both the positive and negative aspects of gunpowder. While acquiring an early nuanced appreciation of that material, he was also exposed as a child to art through his father, an amateur calligrapher and painter. His father's adherence to tradition spurred him contrarily to master oil painting, drawing, and watercolor painting, but he later came to appreciate his father's artistic steadfastness, which endured even through the anti-tradition era of the Great Proletarian Cultural Revolution (1966-1976). Further expanding the range of his interests, as a youth Cai Guo-Qiang acted in minor martial arts movies: his understanding of the movement of the body through space gained from the practice of martial arts has no doubt influenced his understanding of the body as an artistic tool, employed for example in the sometimes sweeping gestures of spreading gunpowder in preparation for his gunpowder drawings. The drama inherent in the major performances and explosive events of the artist's mature oeuvre relates to this as well as to his later study in Stage Design at the Shanghai Drama Institute (1981-1985).

In December 1986 Cai Guo-Qiang moved from his native China to Japan, where he remained for almost a decade. He emigrated to his present home, New York, in 1995. In Japan he found that artists had for decades been facing the dilemma of how to maintain their unique artistic point of view while responding effectively to the challenges of Western contemporary art. China artists were confronting the same situation, but had had a much shorter time to work through a solution, due to the cultural isolation they had experienced under leader Mao Zedong. Artists in neither China nor Japan had developed a wholly satisfactory response. Cai Guo-Qiang ostensibly skirted the dilemma by thinking on a much larger scale and directing his oeuvre towards an entirely fresh audience: extraterrestrials. The device of presenting his works of art to extraterrestrials acts as a foil, effectively bringing together all earthly residents: they, as opposed to extraterrestrials, possess a single origin and unified concerns, rendering issues of East and West trivial by comparison.

Since 1984 Cai Guo-Qiang had been experimenting with gunpowder drawings by exploding small quantities of gunpowder on the surface of paintings on canvas, and later paper. In 1989 he produced his first major explosion event, Human Abode: Project for Extraterrestrials No. 1. With this he moved from creating gunpowder drawings to the orchestration of environmental works for a distant audience: the Projects for Extraterrestrials, huge explosions designed to be visible from outer space. Gunpowder drawings then took on a role parallel to that of the explosive events, documenting the plans for the projects in the form of an idealized study or proposal. They provide a lasting artistic aspect to projects that require much preparation, or that may be impossible to realize—at least for the present—but that when they are executed, are over literally in a flash.

Representatives of the Tokyo gallery P3 art and environment had witnessed the explosive creation of Cai Guo-Qiang's 45.5 Meteorite Craters Made by Humans on Their 45.5 Hundred-Million-Year-Old Planet: Project for Extraterrestrials No. 3 (1990) in Pourrières, France, and were inspired by his new artistic direction. Accordingly, they invited him to produce a solo exhibition for the following year, with the aim of aiding the artist in his goals to whatever extent might be possible. Cai Guo-Qiang showed them butterfly fold sketchbooks filled with gunpowder drawing proposals for seven major projects. It was agreed that for his exhibition, Primeval Fireball: The Project for Projects, Cai Guo-Qiang would create a group of seven large-scale seven-fold screens representing those projects and executed through gunpowder burns and Chinese ink on Japanese paper mounted on wooden frames. Each screen was essentially a proposal for a large-scale event that would be visible across space: most were Projects for Extraterrestrials, but the artist also was working on a smaller parallel series, the Projects for Humankind, among which numbers A Certain Lunar Eclipse: Project for Humankind No. 2. Most of the works were produced at the Marutamaya Ogatsu Fireworks Company in Ibaragi prefecture on January 9th, 10th, 11th, and 16th, and completed at P3 art and environment, coinciding poignantly with the escalation of the Gulf War and thus underscoring gunpowder's dual potential as a force constructive or destructive.

In P3 art and environment Cai Guo-Qiang installed the seven screens in a starburst formation, radiating out from a central point to reflect the exhibition's core concept of the Primeval Fireball. The format of the folding screen also supports the core concept in that the screens can alternately collapse or open out into their fullest expression. Cai Guo-Qiang had become interested in astrophysics and the Big Bang theory, which posits that our universe originated in a massive momentary burst of energy—a theory that agrees with the Daoist notion of everything coming from nothing. His creative method, depending upon an explosive flash, bringing a work of art into being in an instant, is a metaphorical reflection of the Big Bang's original creative flash: at the origin there is infinite possibility. The metaphysical basis for the screens particularly suited the installation for P3 art and environment, which is housed on the grounds of a Zen temple. The seven projects illustrated on the screens arrayed in Primeval Fireball: The Project for Projects included: Inverted Pyramid on the Moon: Project for Humankind No. 3, Projects for Extraterrestrials No. 6 (Bigfoot's Footprints), No. 7 (Rebuilding the Berlin Wall), No. 8 (Reviving the Ancient Signal Towers), and No. 9 (Fetus Movement II), and The Vague Border at the Edge of Time/Space Project. Although P3 art and environment expressed a willingness to see the projects realized beyond the stage of gunpowder and ink on paper, this was not possible. Later the gallery did, however, commission the Project to Extend the Great Wall of China by 10,000 Meters: Project for Extraterrestrials No. 10, which was realized in 1993 with the burning of ten thousand meters of gunpowder fuses extending from the western-most end of the Great Wall at Jianyuguan in the Gobi Desert: if the Great Wall was supposedly the man-made construction visible from space, then the burning extension would be a work of art visible to extraterrestrials.

While the Projects for Extraterrestrials were to produce works of art on earth for the appreciation of extraterrestrials, the Projects for Humankind were to be works of art in space visible to humans. The artist inscribed his concept regarding A Certain Lunar Eclipse: Project for Humankind No. 2 in ink on the screen. A modified transcription, as published on Cai Guo-Qiang's website, reads: "One day, a luminous line will appear on the obscure disk of the moon during its eclipses. It will have been created by human beings using gunpowder fuses set up in the form of the Great Wall of China, the largest symbol of human civilization on Earth. This project, which cannot be realized for the time being, is planned for the people of the future. At the same time, its goal is to awaken the conscience of the people of today who are faced with the destruction of the environment and the imbalance of life on Earth." The idea, then, is to lay gunpowder fuses in a line resembling that of the Great Wall on the surface of the moon, igniting it when the face of the moon is temporarily darkened during a total eclipse. This explosive event would be viewable by humans and would encourage them to recognize that they are unified in their utter dependence upon an increasingly fragile planet. The powerful image seared into the paper of the screen depicts the twisting white line of the proposed pyrotechnic event meandering across the dark lunar surface. In the background, fingers of darkness radiate from the dark side of the earth, and the overall lush scorched effect suggests a future that would benefit from thoughtful nurturing in the present. While Cai Guo-Qiang has honed his technique, there inevitably remains a degree of unpredictability in working with gunpowder: in creating a gunpowder drawing the artist is negotiating with unleashed natural forces. The subtle tonal variations of the burn marks and ash that compose the drawing are reminiscent of Chinese ink painting, and the artist's calligraphy—an element forming an integral part of the composition—is deliberately understated or awkward to harmonize with the rough elegance of the drawing.

Cai Guo-Qiang's Projects for Humankind are a bold means of framing vast—and vastly important—questions, but many might assume the artist only speciously expresses the intention to realize them. Although now is not the moment, it might be possible in the future, because scientists can be visionaries too. According to the artist, NASA scientists in touch with him proposed to the United States Senate that funding should be provided for non-science projects in outer space, such as his.
Yue Minjun, "On the Lake". Photo: Sotheby´s
oil on canvas. Signed in Chinese and LY and dated 1994, 7. 182 by 250 cm.; 71 3/4 by 98 1/2 in. Est. 7,000,000—10,000,000 HKD. Lot Sold 14,660,000 HKD
PROVENANCE: Schoeni Art Gallery, Hong Kong
Klaus Littmann Gallery, Basel
Acquired directly from the above by the present owner in 1995
EXHIBITED: Hong Kong, Schoeni Art Gallery, The Magnificent Duo - Recent Works by Yue Minjun and Yang Shaobin, 1995
LITERATURE AND REFERENCES: Yue Minjun: The Lost Self, China, Hebei Education Press, 2005, p.104
Oriental Art Master 4, China Today Art Museum, August 2006, p. 9
NOTE: Very few artists have managed to bring into existence an icon as compelling as the man with the symbolic smile found populating Yue Minjun's entire oeuvre. Widely espoused by the media, the smiling man has become synonymous with the domain of Chinese contemporary art. And it is appropriate as such, for Yue Minjun's infamous icon had materialized out of feelings of helplessness and disenchantment in the face of Chinese society. The public ennui toward a modernizing nation combined with the hyper-politicization of daily life gave rise to what pioneering art critic Li Xianting has coined the movement of "Cynical Realism."

The nation saw its first surge of Chinese contemporary artists, comprising the ground-breaking 85 New Wave, awash with ideals and hopes for the new China. Having educated themselves in the philosophical theories of the West, they have made it their personal mission to reignite Chinese culture and make it relevant again. The Cynical Realists emerged soon after—having witnessed the disheartening failures of their predecessors, theirs heart were left with nothing but a disarray of doubts. The man with the symbolic smile was Yue Minjun's answer to the desperate need to express the absurdity and disorientation of the times. "The laughter holds a promise for me, a promise that everything will be better, much like the fulfillment in life that Buddhism purports to deliver."

Born in Heilongjiang in 1961, Yue Minjun can be categorized as the third generation of artists since the Cultural Revolution. Yue has lived in Beijing since 1991, in hopes of unearthing his own creative voice. Themes of earlier works have centered around his companions, and the inadvertent smiles that he paints onto these figures serve as a herald for what was to come. The artist's core ethos seemed to have taken its shape at the very beginning—the insufferable apathy, the unavoidable sarcasm and the satirical chuckle would govern his distinctive brand of art. His compositions then gradually morphed into a kind of multiple self-portrait, where iterations of Yue Minjun himself would line up while flashing their signature smiling faces, a style that congealed in 1993 and out of which the artist would continue to produce surprising variations.
On the Lake was created in 1994, briefly after the artist has settled upon his chosen style, thus it stands as an advanced specimen of his art. It was also during this time when the artist had his first solo shows at Hanart T Z Gallery and Schoeni Gallery in Hong Kong. A row of smiling men dominate the composition, the background of which is a serene vista of a lake reflecting the lush greenery of the land. The coupling of mischievous smiles with an ambiguous backdrop results in a somewhat Surrealist situation, one with vibrant colours and an unmistakable aura of peculiarity. Li Xianting has also pointed out that the repetition of smiling men configured in lines was the artist's attempt at alluding to mass reproduction of commodities. China in the 90's was an economic machine tirelessly pumping out commercial goods. The critic explained, "...he is at the same time using commercialism and his empty-headed characters to present the problem of a consumerism which has poisoned both Socialist ideals and the individual of our society."[1]

On the Lake, an extremely important work created in the early stages of the artist's career, represents a milestone in his maturation toward having become one of the most internationally renowned Cynical Realists today. In this painting one not only witnesses his trademark men with the symbolic smiles, but also Yue Minjun's art historically significant criticism of the psychological condition of China in the early 90's.
[1] Li Xianting, "The Cynical Realist Works of Yue Min Jun and Yang Shao Bin" in Faces Behind the Bamboo Curtain (Hong Kong: Schoeni Art Gallery, 1994): p. 7.
Zeng Fanzhi, "The Mask Series No. 8". Photo: Sotheby´s
oil on canvas, framed. Signed in Chinese and dated 94. 150 by 130 cm.; 59 by 51 1/8 in. Est. 4,000,000—6,000,000 HKD. Lot Sold 10,740,000 HKD
EXHIBITED: Hong Kong, Hanart TZ Gallery, Behind Masks: Zeng Fanzhi, March to April 1995, p. 26, illustrated in colour
NOTE: While the Mask Series has become the signature thread in Zeng Fanzhi's rich and varied body of work, it actually dates to a contained window in the mid- and late 1990s. This was the period when Zeng had just arrived in the capital from his native Wuhan, and was beginning to learn the social mores of the big city that he would go on to master in later years. And while the overarching symbolism of the mask may seem simple and direct, it is precisely the ambiguity thus allowed by such simplicity and directness that has endowed the series with its ongoing intrigue.
Sotheby's is pleased to offer The Mask Series No.8 (Lot 307), which dates to the artist's earliest body of Mask paintings. Highlighting a single figure against a barren background, this piece is among the first to present the hands of the masked figure as a key pictorial element. The figures arms, one raised and the other outstretched, evoke key poses from both the Buddhist and Christian imagistic traditions, but probably have a much more humble origin, in the stances of crossing guards and security personnel the artist may have encountered in his daily life. The figure's clothes baggy clothes—an ill-fitting suit and sweater, a sort of uniform of urban migrants in the 1990s—accentuate the strange awkwardness of his existence.
Interestingly, the series which we now know as Mask was originally called Behind Masks by Johnson Chang and other dealers and curators who came into contact with the work soon after its creation over a several-month stretch in late 1994. In a publication about a body of Mask paintings that included the present work, critics began to speculate on the series and its origins. Not surprisingly, it was the eminent Chinese curator Li Xianting who offered the first extended interpretation of this series, in a 1995 essay entitled "Life Masks: Symbol and Expression in the Recent Paintings of Zeng Fanzhi." His interpretation holds power still today:
"The masks become the focal point of the paintings. The qualities of detachment and rationalism are particularly achieved through a change in technique. Rather than the bold, expressionistic strokes and neurotic patterning of Zeng's first period, the artist now uses the palette knife to scrape the surface flat, blurring or even obliterating the brushstrokes. The flat background that emerges is at the same time both shadowy and insubstantial. There is a sense of suspension between reality and unreality, accentuated by the presence of unexplainable shadows and traces of light coming from nowhere, pushing the characters into an alien environment and eradicating the intimate quality of familiar reality."
Li's essay goes on to compare the early Mask series to Chinese ink painting, seeing in the way he chose to render the clothes of his new figures a reference to an earlier style of brushwork, as well as an implicit rejoinder to the more explicitly expressionist styles Zeng had embraced in his post-student days. "There is an added element of composure, and even of elegance," notes Li, claiming that the neurotic tone of works like the earlier Hospital Triptych has all but disappeared. Of course no one knew at this point in Zeng's career that these sparse background paintings would be just one phase in a trajectory that would soon move on to several other expressionist styles. At that moment, Zeng's departure from the raw scenes of his early career seemed absolute.
The dealer and scholar Johnson Chang took a different interpretation of the Mask paintings, seeing the figure's assumption of a facial covering as a way of entering the public sphere of power politics. "By assuming a public face," Chang surmised, "the self has assumed power." As opposed to the frail individual which later critics have read into the figures, Chang felt that "in forsaking the passivity of the tourture [the masked figure] is now able to act—and interact—as a social being."
Many have traced the energy of this series to the discomfort Zeng felt upon moving to the capital. Zeng himself has said that, "After I came to Beijing, I didn't have many friends with whom I could truly open myself. I had a mixture of feelings when meeting new people, and I had to interact with a lot of them...I had to learn to get along with strangers in a new environment, and these feelings stirred me deeply, so I think the paintings are a reflection of things in my heart no necessarily all people's. It's just my personal feeling."[1] As Zeng began to achieve success in his adopted city, he began to feel distance with the environment in which he had come of age. "I felt the material change in my life, but nobody [in my hometown] has changed in any way, my relatives and friends. Every year I go back to visit them. My personal change estranges me from them a bit."[2]
The mask of course is a symbol of hiding, an effect that is heightened formally by Zeng's use of a palette knife or scraper to flatten and thus accentuate the surfaces that cover his faces. His technical inspiration came from a few of the later paintings in his Meat series, where he began to experiment with the palette knife. "I got the idea of painting a person wearing a mask with these techniques, a big one so that the effect would be obvious," he notes of his earliest Mask creations, of which the present lot is a prime example. Still, the attempt to hide away feelings and put on a "poker face" comes off as incomplete. Li Xianting also noted that, "the overall effect is of people who are trying to suppress their emotions in order to appear calm—but are betrayed by their hands, which they are unable to conceal."
One thing most critics can agree on is that these early Mask works derive their power from their understatement. While later iterations of the series would employ brightly colored backgrounds and large, sometimes theatrical, configurations of individuals, these early works are explorations in simplicity. Large swaths of untouched canvas foreground figures who are left to stand alone in the gray void. And it is against this fundamental emptiness that a microdrama of individual existence plays out. And Zeng's work is nothing if not individual. He has mused in public many times about his unwillingness to continue with any particular style of painting—regardless of its popularity with critics or collectors—beyond the point at which his personal feeling for it dies out.
In the end, Zeng Fanzhi's art has assumed such power in the context of contemporary China not simply because of its considerable formal merits, but because this artist's story is that of so many of the current new elite. Born into humble circumstances, they have made their way through society with a rigid determination and tactical savvy that often calls for the kind of self-concealment that Zeng's paintings so poignantly depict. Zeng belongs to the second generation to come of age after Reform and Opening, ever so slightly distinct from the lionized "'85 New Wave" artists that came before him. As critic Pi Daojian—a professor at the Hubei Academy of Fine Arts during Zeng's student days, and among the very earliest observers of his work—has noted, "[Zeng] started his artistic activity from a higher place than the '85 Generation. He did not need to think, as they did, about how to use artistic tactics to criticize culture or society or pursue the sublime...He was never burdened with thinking about how others painted, he just followed his heart, using color and line to express the difficulties and loneliness of contemporary life."
[1] Zeng Fanzhi, Interview with Li Xianting, I/We, exhibition catalogue, 2003, p. 170.
[2] Ibid., p. 169
Wang Guangyi, ""Passport" (set of 30). Photo: Sotheby´s
oil on canvas. Each signed in Chinese, dated 96,12 and numbered 1-30 respectively on the reverse. each: 50 by 40 cm.; 19 3/4 by 15 3/4 in. Est. 3,900,000—4,500,000 HKD. Lot Sold 8,420,000 HKD
PROVENANCE: Schoeni Gallery, Hong Kong
LITERATURE AND REFERENCES: 8+8-1, Selected Paintings by 15 Contemporary Artists, Schoeni Art Gallery, Hong Kong, 1997, p.116
NOTE: Painter Wang Guangyi is the purveyor of Pop in Chinese contemporary art. Balancing nods to Cultural Revolution-era Communist propaganda posters with the very real consumerist impulse that drives many aspects of contemporary China's booming economy, he creates images that in many ways become emblematic of a society that grapples with the past as it strives for the future. By combining brand name logos as diverse as Christian Dior and Louis Vuitton with stoic portraits of laborers and farmers from decades past, Wang becomes a cultural mediator who uses the visual lexicon of China past and China present to make poignant reflections on the here and now.

It is easy to draw parallels between Wang's body of work and that of the American Pop artists active in the 1960s, a time of incredible economic growth for the United States, not unlike the never-before-seen leaps and bounds with which China's economy currently expands. Artists such as Andy Warhol and Roy Lichtenstein looked to the realms of consumerism and entertainment for their imagery, painting a Campbell's soup can in the case of Warhol, or making pixilated comic strip-like images for Lichtenstein. These artists read the pulse of the society within which they worked, culling images from their immediate environments and turning them into "high art." It was a revolutionary act in the annals of art history, something that forever changed the way society viewed the otherwise mundane objects and images found in daily life. Wang Guangyi, in much the same vein, also turns to the streets and shelves of China for his pictorial inspiration, combining the old and the new into powerful works that, like Warhol and Lichtenstein, help to change the way those that view his work react to, understand and eventually navigate contemporary Chinese society.

The work included in this sale is a massive grouping of 30 canvases, each of which measures 20 by 16 inches. Installed in three rows of 10 paintings each in a horizontal formation that extends 14 feet across, the work titled Passport (Lot 434) is from 1996 and features a grand assortment of male and female laborers, several powerful fists and eight canvasses that spell out the word "passport" in two segments in the middle and bottom rows. It is important to note that several of these powerful hands are clenching fountain pens, in the place of what we might expect to be a gun or a plowshare. By empowering these disembodied hands with mighty writing implements, Wang posits that language trumps muscles and weapons, that the written word is what ultimately emerges victorious. The term "passport" also hints at a certain sense of empowerment, in that the bearer of a passport has the ability to travel, and thus to move beyond his or her immediate surroundings onto the global stage. In many ways, this work is a perfect example of China's gradual transformation over the past four decades from a society steeped in Communist ideals and global isolation into a major world player whose reach extends to all corners of the globe.

It is that very China, international, cosmopolitan and constantly growing, yet still firmly rooted in days past that Wang Guangyi captures in his powerful works. It might be said that his paintings display the growing pains that his homeland is going through as it transitions from a once-insular society into an economic giant that the world looks to for not just cutting edge technology, architecture and artwork, but also for a sense of how the rest of the 21st-century might play out. As a Pop artist representing his generation, Wang's take on the current conditions of China might tend toward the sarcastic or critical—is capitalism truly superior to communism? In the end, are the iconographies of Maoist propaganda really that different from the logos and brand names of the consumerist present? Wang continually makes us question the power of images and language and how they define our lives. In the case of China today, we might say that a new visual language has emerged in the form of Chinese Pop, a dialectical arrangement that captures not just the immediate, but a past that proves difficult to fully depart from and move beyond.
Fang Lijun, "1999.6.1" (set of 6). Photo: Sotheby´s
woodblock print in six scrolls. Signed in Chinese, titled, dated 1999.6.1 and numbered 6/8. Each: 485 by 121.2cm.; 191 by 47 5/8 in. overall: 485 by 727.2cm.; 191 by 285 3/4 in. Est. 1,000,000—1,500,000 HKD. Lot Sold 2,900,000 HKD
EXHIBITED: Macao, Museum of Contemporary Art CACOM, Futuro, 2000, p. 25
Paris, Espace Cardin, Paris -Pékin, 2002, reproduced in Paris - Pékin, special issue Beaux-Arts Magazine and exh. cat., p. 82
São Paolo, Museum of the University of São Paolo, China 2002, pp. 80-81
Lisbon, Culturgest Foundation, Subversion and Poetry, 2003, p. 35
Taipei, Kuandu Museum of Fine Arts , Always to the Front: China Contemporary Art, April - May 2005, pp. 86-87
Beijing, White Space, Clues, September - November 2005, p. 135
LITERATURE AND REFERENCES: Li Luming, ed., Fang Lijun, Hunan, 2001, pp. 192-193
Exh. Cat., Image is Power, Shenzhen, 2002, p. 231
Catherine Buci-Glucksmann, Jean-Marc Decrop, Modernités Chinoises, France, 2003
Endlessness of Life: 25 Years Retrospect of Fang Lijun, Taiwan, Artist Publishing Co., 2009, p. 102
Living Like a Dog -1963-2008 Fang Lijun, Vision Art, Taiwan, 2009, p. 277

NOTE: Much recent attention has focused on Fang Lijun's evolution as an artist, with "documentary" solo shows devoted to his archives first at the Taipei Fine Arts Museum and more recently at the Guangdong Museum of Art. For the Guangzhou show, entitled Trace of Time and mounted in December 2009, a hefty catalogue was published that attempts to place Fang Lijun's work not just in the context of Chinese art history, but of Chinese history more generally. Photographs of Deng Xiaoping meeting Jimmy Carter are set next to images of Fang's student work from the late 1970s, arguing that this is an artistic career with deep and lasting connections to the story of contemporary China.

The selection of works on offer in the present sale does not go back quite so far, but this grouping of five works by Fang Lijun does indeed trace a key period of his artistic development, between 1997 and 2000, with a coda in 2005. To understand the work he made during these three key years, and the transition that it implied, it is necessary to go back a few years earlier, to his original "big face" paintings of the early 1990s. Echoes of Fang's key bald figure occur as far back as the early 1980s, but it was in the few months after 1989 that a style of hazy neo-pointilism gave way to the bold silhouettes and profiles that would soon be labeled "Pop." This transition originally played out in black and white, but by 1991 and 1992 he was drawing on a palette of deep blues and bright pinks. It is this initial group of works—popularized in publications ranging from the China's New Art: Post-1989 catalogue to the cover of the New York Times Magazine and a feature in Time, with which Fang initially made his name. For the Venice Biennale in 1993, he produced a group of paintings in which the blues and pinks were supplemented by a gaudy range of reds, greens, and yellows. In the following years, between 1994 and 1996, he returned to a more considered monochromatic range, and then began to experiment by transferring these now iconic figures to his old medium of woodblock print.

The first of Fang Lijun's works offered here, 1997.7 (Lot 309), marks a key moment in his maturing style. In early 1997, he painted a series of vertically organized paintings with backgrounds of brackish orange and putrid green, foregrounding a figure or figures who seemed to be swimming in the painted surface. Aside from the face of the swimmer, the sun emerges as a key compositional element, offering not just a possibility of symbolic representation but a formal gambit by which he could prove the range of his chromatic sensitivity. The jarring contrast between the abstracted sun and the often pained and always solitary expressions on the faces of his figures provides the fundamental tension in this series. Originally exhibited at his early 1998 solo exhibition at Galerie Serieuse Zaken in Amsterdam, this series proved key to his enduring encounter with European artists and collectors.

The color woodblock print 1997 B No. 4 (Lot 311) belongs to a series of works that bookend the green and orange paintings. In late 1996, Fang Lijun began to experiment with the technique of structuring a single composition from multiple woodblock panels. Confident that he had found a suitable language in works such as the well-known 1996 No. 18, he went on to inject some of these same compositions with color. One three-panel print entitled simply 1996 stands as the first example of a multicolored woodblock print of a swimming figure. In another pair of works, 1996.1 and 1996.1b, he recast the same swimming figure once in black and gray, then again in blue and orange. It is this strand which he continues in the present work, 1997 No. 4, where a single swimming figure, printed in orange on a background of watery blue, is also flecked by a series of granular, white disturbances to the printed surface. This sort of white inflection, a characteristic of the woodblock form, is achieved by a simple shaving away of the woodblock surface; this technique had been largely absent from Fang's mature prints until a brief series, 1996.11-15, in which he reverted to some of the most basic possibilities of the woodblock form. The experiments of this series seem to inform the present work.

The years 1998 and 1999 proved hugely important for Fang Lijun, both in terms of his growing international reputation and his own evolving creative practice. If 1998 was characterized by the complex compositions in which his signature figures are paired with looming clouds, blooming flowers, and smaller figures with arms raised or heads titled skyward, 1999 was for Fang the year of the multi-panel woodblock print. In a short period during the spring and early summer of that year, he created at least four woodblock compositions based on the six-scroll format. 1999.6.1 (Lot 310) is perhaps the most moving of these, with arms raised in protest and mouths open in anguish. The group of eighteen figures—the number of Arhats in traditional Buddhist iconography—is arrayed in a descending triangle from the left of the canvas, making for a contrasting triangle of negative space at upper right. A wide range of details, from dimples to teeth to patterns on clothing, is accomplished using the same simple tool of the awl. It is also perhaps worth noting that the date on this work corresponds closely to the U.S. bombing of the Chinese embassy in Belgrade during the Kosovo campaign, an incident which unleashed protesting masses not unlike the ones Fang here depicts.

From here it was a natural step for Fang to begin to explore these same figures in smaller groupings, as he does in the 2000.5 (Lot 470) grouping. This is the point at which painting and printmaking become equally established as significant strands in Fang's practice, a primacy which they would maintain until he became interested in other media later in the decade. This series of smaller prints, created in an unusually large edition of 65, has been collected by major museums around the world, including New York's Museum of Modern Art, a testament to the originality and viability of Fang Lijun's unique artistic language.

The final work in this collection, a bronze mask from 2005 (Lot 469), belongs to a much larger series in which the artist sought to portray his friends and associates using a new medium. The resulting sculptures were a highlight of his 2006 opening exhibition for the Today Art Museum in Beijing, and have been exhibited internationally including as part of the 2007 Moscow Biennale. The series was remarkable in that Fang revealed the objects of his portraiture in a way that he had never done with earlier works, placing their names on the bases of his pedestals. Seen five years later, after a period in which Fang has begun to experiment with a wide variety of painting styles and three-dimensional media, this mask grouping seems almost like a "death mask" for the first long face-based phase of his career.

Taken together, this grouping of works presents an astute collective image of Fang Lijun's development during what was perhaps the most important phase of his still evolving career. The variety of technique is matched only by the thematic and stylistic unity of an artist with an established and singular vision of art and its role in a changing Chinese society.