Kitagawa Utamaro I, Japanese, (?)–1806, Onitsutaya Azamino and Gontarô, a Man of the World (Onitsutaya Azamino, isami-tsû Gontarô), from the series True Feelings Compared: The Founts of Love (Jitsu kurabe iro no minakami) 「実競色乃美名家見 鬼蔦屋薊野 いさみ通権太四良」Vertical ôban; 38.7 x 25 cm (15 1/4 x 9 13/16 in. Woodblock print (nishiki-e); ink and color on paper. Gift of Mr. and Mrs. Frederic Langenbach in memory of Charles Hovey Pepper, 1954. Accession number: 54.1519. Museum of Fine Arts, Boston © 2010 Museum of Fine Arts, Boston
BOSTON, MA.- The first tattoo-themed exhibition at the Museum of Fine Arts, Boston (MFA), Under the Skin: Tattoos in Japanese Prints, explores the social significance, iconography, and intricacy of Japanese tattoos. The exhibition, which runs April 3, 2010, through January 2, 2011, includes approximately 70 objects, ranging from prints and postcards to manuscripts and printed books, depicting figures with tattoos in diverse contexts. These images were captured by artists of Edo-period (1615–1868) Japan, who reproduced distinctive tattoo motifs and bold designs of the day, designs which are still used in 21st -century tattoo shops all over the world.

Under the Skin showcases the popular print medium of the day, ukiyo-e ("pictures of the floating world"), featuring works by more than 16 artists that show the spectacular imagery of Japanese tattoos, as worn by a variety of people. The exhibition explores themes of mythical and historical heroes, actors of the Kabuki theater, beautiful women, and the rich iconography found in the prints and the tattoos. Most of the works on view have never been publicly displayed.

Tattoos (most often called irezumi in Japanese) became an important feature of Japanese urban culture in the early 19th century. In previous centuries, small tattoos had been used to mark criminals or to give proof of deep devotion to a lover or patron deity. Large-scale decorative pictorial tattoos first began to appear in cities such as Edo (modern Tokyo) and Osaka late in the Edo period.

The sudden surge in the popularity of tattooing was strongly influenced by a series of woodblock prints featuring Chinese martial arts heroes with spectacular tattoos, vividly imagined by the artist Kuniyoshi (1797-1861). It is thought that many of the early tattoo artists were originally trained as blockcutters, who converted designs drawn on paper into carved wooden blocks for mass-producing prints.

Elaborate, full-body tattoos were traditionally worn by working men whose professions often revealed large areas of skin. Another popular showcase for flashy tattoo designs was the kabuki stage, where actors appeared in painted bodysuits simulating tattoos appropriate to their roles.

During the Meiji era (1868-1912), the government's desire to modernize Japanese life led to an official prohibition of tattooing in Japan that lasted until the mid-20th century. The ban on tattooing temporarily pushed the practice underground and created strong associations with organized crime that linger even today. At the same time, an influx of tourists from around the world brought an entirely new audience to see and appreciate Japanese tattoos. Foreigners not only returned home with photographs, postcards, and woodblock prints as souvenirs, but in some cases even had themselves tattooed. The distinctive style and rich tradition of Japanese tattooing continues to be influential. The very same designs developed by Kuniyoshi, Hokusai (1760–1849), Kunisada (1786–1864), and others, are still being etched into skin around the world in the present day.
Utagawa Kuniyoshi, Japanese, 1797–1861, Du Xing, the Devil-faced (Kirenji Tokô), from the series One Hundred and Eight Heroes of the Popular Shuihuzhuan (Tsûzoku Suikoden gôketsu hyakuhachinin no hitori) 「通俗水滸伝豪傑百八人之一個 鬼臉兒杜興」Vertical ôban; 36.3 x 25.3 cm (14 5/16 x 9 15/16 in.). Woodblock print (nishiki-e); ink and color on paper. Bequest of Maxim Karolik, 1964. Accession number: 64.809. Museum of Fine Arts, Boston © 2010 Museum of Fine Arts, Boston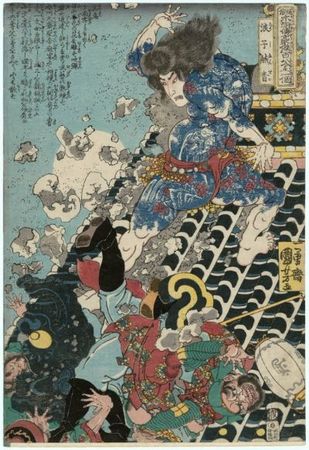 Utagawa Kuniyoshi, Japanese, 1797–1861, Yan Qing, the Graceful (Rôshi Ensei), from the series One Hundred and Eight Heroes of the Popular Shuihuzhuan (Tsûzoku Suikoden gôketsu hyakuhachinin no hitori) 「通俗水滸伝豪傑百八人之一個 浪子燕青」Vertical ôban; 36.3 x 25.3 cm (14 5/16 x 9 15/16 in.) Woodblock print (nishiki-e); ink and color on paper. Bequest of Maxim Karolik, 1964. Accession number: 64.801. Museum of Fine Arts, Boston © 2010 Museum of Fine Arts, Boston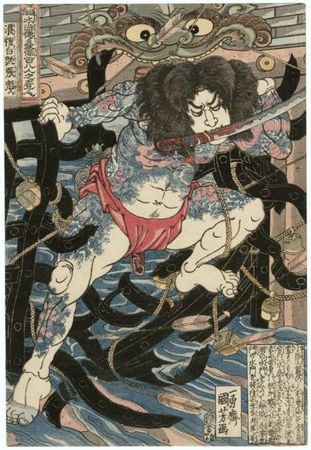 Utagawa Kuniyoshi, Japanese, 1797–1861, Zhang Shun, the White Streak in the Waves (Rôrihakuchô Chôjun), from the series One Hundred and Eight Heroes of the Popular Shuihuzhuan (Tsûzoku Suikoden gôketsu hyakuhachinin no hitori)「通俗水滸伝豪傑百八人之一個 浪裡白跳張順人」Vertical ôban; 36.3 x 25.3 cm (14 5/16 x 9 15/16 in.) Woodblock print (nishiki-e); ink and color on paper. Bequest of Maxim Karolik, 1964. Accession number: 64.834. Museum of Fine Arts, Boston © 2010 Museum of Fine Arts, Boston
Utagawa Kuniyoshi, Japanese, 1797–1861, Ruan Xiaowu, the Short-lived Second Son (Tanmeijirô Genshôgo), from the series One Hundred and Eight Heroes of the Popular Shuihuzhuan (Tsûzoku Suikoden gôketsu hyakuhachinin no hitori)「通俗水滸伝豪傑百八人之一個 短冥次郎阮小吾」Vertical ôban; 36.3 x 25.3 cm (14 5/16 x 9 15/16 in.). Woodblock print (nishiki-e); ink and color on paper. Bequest of Maxim Karolik, 1964. Accession number: 64.800. Museum of Fine Arts, Boston © 2010 Museum of Fine Arts, Boston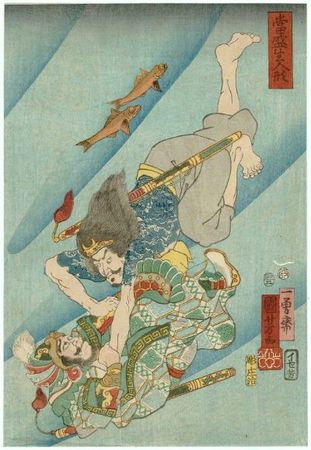 Utagawa Kuniyoshi, Japanese, 1797–1861, The Shuihuzhuan Hero Ruan Xiaowu Fighting Underwater, from the series Modern Lifesized Dolls (Tôsei iki ningyô) 「当世生人形」 水滸伝の短冥次郎阮小吾. Vertical ôban; 35.5 x 24.4 cm (14 x 9 5/8 in.) Woodblock print (nishiki-e); ink and color on paper. William Sturgis Bigelow Collection, 1911. Accession number: 11.36641. Museum of Fine Arts, Boston © 2010 Museum of Fine Arts, Boston
Utagawa Kuniyoshi, Japanese, 1797–1861, The Tattooed Priest Lu Zhishen (Kaoshô Rochishin) 「花和尚魯智染」Vertical ôban; 36.3 x 25.3 cm (14 5/16 x 9 15/16 in.) Woodblock print (nishiki-e); ink and color on paper. Bequest of Maxim Karolik, 1964. Accession number: 64.795. Museum of Fine Arts, Boston © 2010 Museum of Fine Arts, Boston
Utagawa Kunisada I (Toyokuni III), Japanese, 1786–1864, Lu Zhishen, the Tattooed Priest (Kaoshô Rochishin) 花和尚魯智染. Shikishiban; 21.7 x 18.7 cm (8 9/16 x 7 3/8 in.) Woodblock print (surimono); ink and color on paper. William Sturgis Bigelow Collection, 1911. Accession number: 11.25969. Museum of Fine Arts, Boston © 2010 Museum of Fine Arts, Boston
Totoya Hokkei, Japanese, 1780–1850, Shi Jin, the Nine Dragoned (Kyûmonryû Shishin), from the series One Hundred and Eight Heroes of the Shuihuzhuan (Suikoden hyakuhachinin no uchi) 「水滸伝百八人之内 九紋龍史進」Woodblock print (nishiki-e); ink and color on paper. William Sturgis Bigelow Collection, 1911. Accession number: 11.39658. Museum of Fine Arts, Boston © 2010 Museum of Fine Arts, Boston
Sekkôtei Hokumyô, Japanese, active 1830–1837, Yori of Iseshima as Kumonryû [Shih Jin], from the series Costume Parade of the Kita-Shinchi Quarter in Osaka (Ôsaka Kita-Shinchi nerimono) 「大阪北新地ねりもの 九文龍 伊勢島 より」Vertical ôban. Woodblock print (nishiki-e); ink and color on paper. Denman Waldo Ross Collection, 1906. Accession number: 06.824.24. Museum of Fine Arts, Boston © 2010 Museum of Fine Arts, Boston
Utagawa Kuniyoshi, Japanese, 1797–1861, Hayakawa Ayunosuke, from the series Eight Hundred Heroes of the Japanese Shuihuzhuan (Honchô Suikoden gôyû happyakunin no hitori) 「本朝水滸伝剛勇八百人一個 早川鮎之助」Vertical ôban; 36.3 x 25.3 cm (14 5/16 x 9 15/16 in.) Woodblock print (nishiki-e); ink and color on paper. Bequest of Maxim Karolik, 1964. Accession number: 64.848. Museum of Fine Arts, Boston © 2010 Museum of Fine Arts, Boston
Tsukioka Yoshitoshi, Japanese, 1839–1892, Konjin Chôgorô, from the series Sagas of Beauty and Bravery (Biyû Suikoden)「美勇水滸伝 金神長五郎」Vertical chûban; 24.4 x 17.9 cm (9 5/8 x 7 1/16 in.). Woodblock print (nishiki-e); ink and color on paper. William Sturgis Bigelow Collection, 1911. Accession number: 11.35892. Museum of Fine Arts, Boston © 2010 Museum of Fine Arts, Boston
Tsukioka Yoshitoshi, Japanese, 1839–1892, Madaramaru, from the series Sagas of Beauty and Bravery (Biyû Suikoden) 「美勇水滸伝 魔陀羅丸」Vertical chûban; 24.4 x 17.9 cm (9 5/8 x 7 1/16 in.). Woodblock print (nishiki-e); ink and color on paper. William Sturgis Bigelow Collection, 1911. Accession number: 11.35897. Museum of Fine Arts, Boston © 2010 Museum of Fine Arts, Boston
Utagawa Kunisada I (Toyokuni III), Japanese, 1786–1864, Actor Nakamura Shikan IV as the Wrestler (Keiriki) Tomigorô, from the series A Modern Shuihuzhuan (Kinsei suikoden)「近世水滸伝 競力富五郎(けいりきとみごらう) 中村芝翫」(四代目)Vertical ôban. Woodblock print (nishiki-e); ink and color on paper. William Sturgis Bigelow Collection, 1911. Accession number: 11.29906. Museum of Fine Arts, Boston © 2010 Museum of Fine Arts, Boston
Utagawa Kunisada I (Toyokuni III), Japanese, 1786–1864, Actor Ichimura Uzaemon XIII as Takemon no Toramatsu「竹門の虎松 市村羽左衛門」(十三代目)Vertical ôban; 35.8 x 24.2 cm (14 1/8 x 9 1/2 in.). Woodblock print (nishiki-e); ink and color on paper. William Sturgis Bigelow Collection, 1911. Accession number: 11.40338. Museum of Fine Arts, Boston © 2010 Museum of Fine Arts, Boston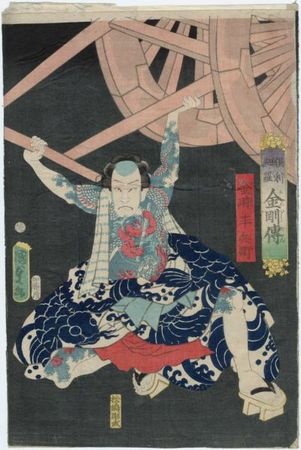 Utagawa Kunisada II (Toyokuni IV), Japanese, 1823–1880, Kintoki Hanbei, from the series Legends of the Dragon Sword and the Thunderbolt of Absolute Truth (Kurikara kongô den)「倶利伽羅金剛伝 金時半兵衛」Vertical ôban. Woodblock print (nishiki-e); ink and color on paper. William Sturgis Bigelow Collection, 1911. Accession number: 11.39079. Museum of Fine Arts, Boston © 2010 Museum of Fine Arts, Boston