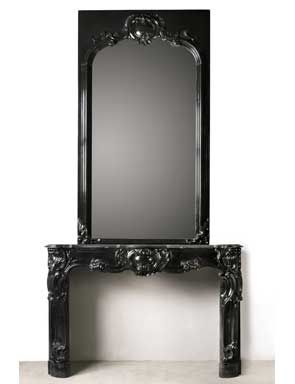 Black marmer mantelpiece by Jan Peter Baurscheidt de Jonge (1699 – 1768), estimate €.50,000 – 70,000. Photo: Sotheby's
AMSTERDAM.- Sotheby's Amsterdam will auction impressive garden sculptures and architectural ornaments from the Piet Jonker collection on Wednesday 26th May, 2010. The auction will have 350 high quality lots that have been selected personally by Piet Jonker and Sotheby's specialists. Numerous sculptures, fountains, benches, tables, vases, flower pots and other works of art will be presented during the biggest garden auction to be held in the Netherlands in 2010.

The discovery of this collection consists of two Rococo marble mantelpieces that were designed in the 18th century by the famous architect Johan Peter van Baurscheidt de Jonge (1699 – 1768). The masterpieces come from the royal palace of Antwerp, where they functioned as welcoming sculptural works for guests of the Belgian Royal Family. The two mantelpieces were true eye catchers in the grand rooms that were used primarily for (business) functions. The black marble mantelpiece has a particularly businesslike look, impressive with its height of 4 meters (Est. €50,000 – 70,000). The piece is unique precisely because it is still in its original and complete form. The white and grey marble underlines the quality of the architect's extensive oeuvre. In addition the piece has beautiful details such as decorative curls and it still has its original cover as well, accompanied by the typical frame (Est. €30,000 – 50,000).

Mrs Dr. I.M. Breedveldt Boer, who wrote her dissertation about Baurscheidt de Jonge, has stated the following: 'The quality of the mantelpieces was discovered immediately by art lovers during the 18th century according to "le bon gout". His style was what defined Baurscheidt de Jonge and this in turn allowed him to gain popularity throughout Belgium and the Netherlands.'

Another prime piece of the collection is the marble sculpture from Leda en de Zwaan. It is almost life-size and stems from the Art Nouveau period. The sculpture was made from two kinds of marble, white and en vert d'estour marble. The elegant piece has an estimated value of €80,000 – 100,000. In addition to beautiful sculptures there will be an impressive architectural ornament at the auction as well, consisting of two Venetian marble lions on pillars, as displayed on page 3. The lions are approximately 2,5 meters and have an estimated value of €10,000 – 15,000.

Besides these valuable objects, there will also be various decorative pieces and more affordable garden ornaments at the auction, such as sundials, garden vases, benches and tables, fountains and sculptures. This will allow the Piet Jonker Collection to reach a broader public.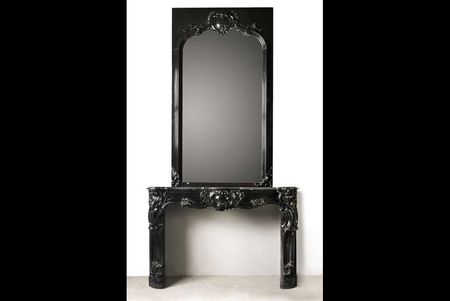 Black marmer mantelpiece by Jan Peter Baurscheidt de Jonge (1699 – 1768), estimate €.50,000 – 70,000. Photo: Sotheby's