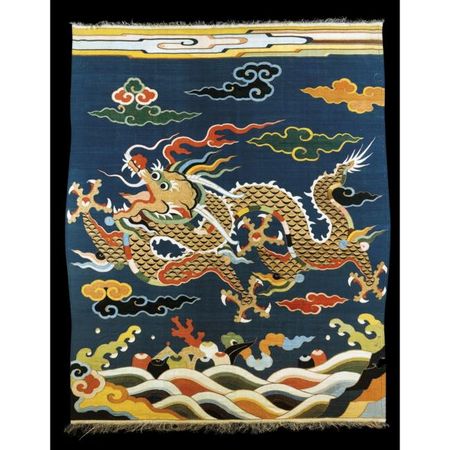 A rare imperial 'dragon' kesi textile. Ming dynasty, Wanli period. photo Sotheby's
colourfully woven with a golden four-clawed dragon striding above turbulent waves floating with auspicious emblems, amidst wispy clouds, all below a band of irregular multi-coloured stripes at the top, and reserved on a bright blue silk ground - 100 by 80 cm., 39 3/8 by 31 1/2 in. Est. 1,000,000—1,500,000 HKD. Lot Sold 1,220,000 HKD
PROVENANCE: The Steinhardt Collection, New York.
The Textile Gallery, London, 2007.
NOTE: This vibrant and playfully rendered scene is an excellent example of kesi embroidery. Kesi is a type of silk tapestry which entails the intricate handweaving of decorative designs and brocades, sacred iconography or calligraphy often employed for the production of imperial textiles. Compare two similar panels but of smaller vertical format, from the collection of Carl Schuster in the Philadelphia Museum of Art, Philadelphia, included in the exhibition Chinese Silk Tapestry: K'o-ssu, China House Gallery, New York, 1971, cat. no. 17; and a panel depicting a qilin sold in our New York rooms, 27th March 2003, lot 97. For a later more elaborate version of two dragons on a blue-ground amidst clouds, see one sold in our London rooms, 14th May 2008, lot 679.
Sotheby's. FINE CHINESE CERAMICS & WORKS OF ART. 08 Apr 10. Hong Kong www.sothebys.com