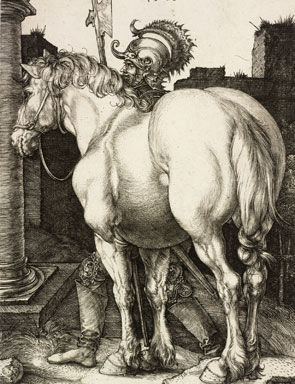 Albrecht Dürer, "The Large Horse", 1505, engraving. Museum of Art, Rhode Island School of Design, Providence, Gift of Mrs. Murray S. Danforth.
EVANSTON, IL.- Composed entirely of lines, engravings are works of exquisite beauty and incomparable intricacy.

Northwestern University's Mary and Leigh Block Museum of Art will focus on the engraved line from April 9 through June 20 with two exhibitions highlighting the technical virtuosity and innovativeness of European engravers of the 15th, 16th and 17th centuries. Both exhibitions are free and open to the public.

The Block Museum is located at 40 Arts Circle Drive, on the University's Evanston campus.

"The Brilliant Line: Following the Early Modern Engraver, 1480-1650," in the Block's Main Gallery, traces the development and proliferation of the art form across Europe with rarely-seen prints from the Renaissance and Baroque periods by master engravers, including Albrecht Dürer and Hendrick Goltzius.

An in-gallery and online interactive component lets visitors explore selected prints in detail and examine the complex layers of lines that make up engravings. For more information and to view images of prints in the exhibition, visit http://www.blockmuseum.northwestern.edu/exhibitions/current/brilliant.html.

A companion exhibition, drawn primarily from the Block Museum's own collection, "Engraving the Ephemeral," in the Ellen Philips Katz and Howard C. Katz Gallery, explores some of the methods used to represent atmospheric and transitory conditions in engravings. Artists developed a rich visual vocabulary of dots, dashes and lines to convey the effects of fire, light, clouds and wind.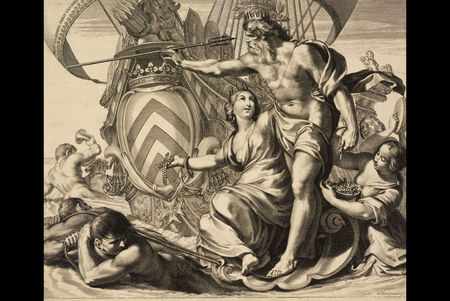 Grégoire Huret, "Neptune and Thetis Carrying the Riches of the Empire to Cardinal Richelieu", ca. 1626–1642. Engraving. Museum of Art, Rhode Island School of Design, Providence, Walter H. Kimball Fund.