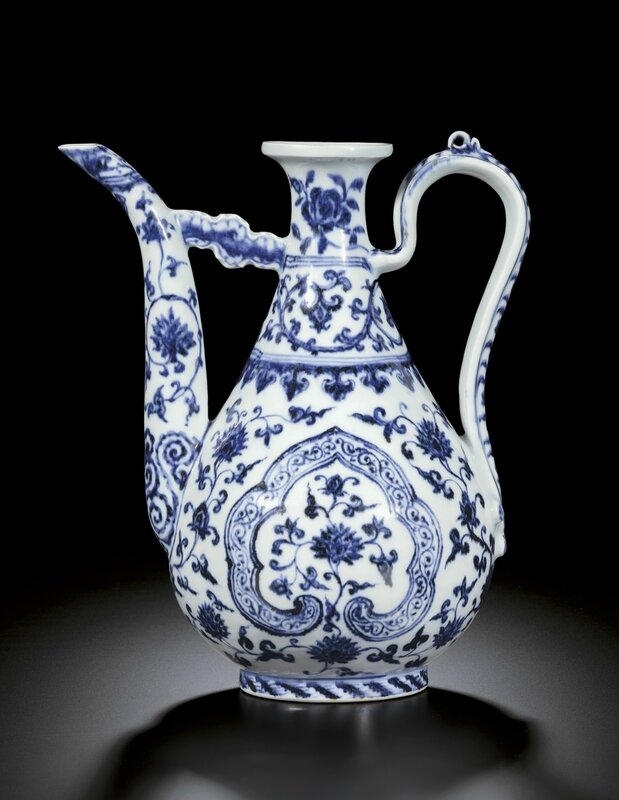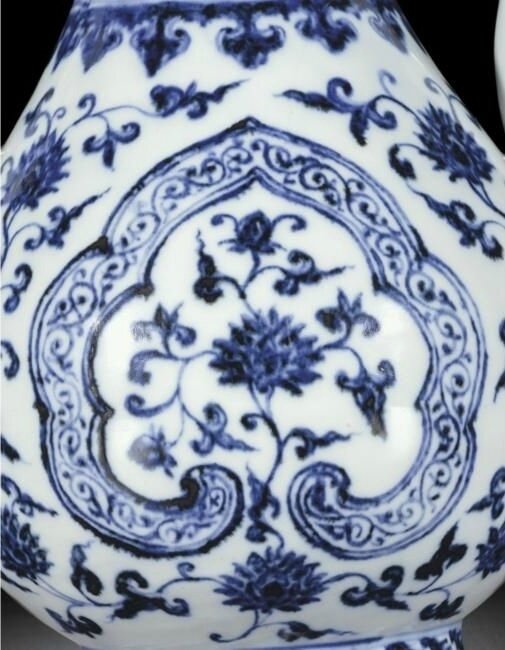 Lot 1850. A rare and magnificent blue and white ewer, Ming dynasty, Yongle period; 28 cm., 11 in. Est. 12,000,000—15,000,000 HKD. Lot Sold 18,580,000 HKD. photo Sotheby's
based on a Persian metal form, the pear-shaped body painted in vibrant colbalt tones with a continuous leafy lotus scroll, growing around and into a ruyi-head shaped cartouche on the center of each side, all below a tapering neck with a band of pomegranate scroll and a pendent ruyi-head band rising to an everted rim painted with gardenia sprays, set with an elegant curved handle surmounted by an eyelet above three moulded bosses simulating pegs, the shapely spout secured to the body by a cloud-shaped strut and decorated with scrolling clouds below a further lotus scroll, all above a slightly splayed foot with hatched design
PROVENANCE: Mayuyama & Co., Ltd.
Japanese Private Collection, Kyoto, 1920s - 1930s.
Konosuke Matsuhita (1894 - 1989).
EXHIBITED: Chugoku toji meiho ten shiri-zu [Masterpieces of Chinese ceramics series], Gotoh Art Museum, 1965 or 1966.
Shinkan kansei kinen tokubetsu tenrankai zuhan mokuroku/Illustrated Catalogues of the Special Exhibition in Memory of the New Building, Kyoto National Museum, Kyoto, 1966, cat. no. 286.
Genmatsu Minsho no sometsuke ten mokuroku [Catalogue of the exhibition of late Yuan and early Ming blue-and-white], Japan Ceramic Society, Osaka Branch, 1967, cat. no. 23.
A Rare Yongle Blue and White Ewer. by Regina Krahl
Ewers of this form come with various designs but the present one is among the rarest. Its unusual open panel in a somewhat modified ruyi form may be derived from the ruyi elements on cloud collars, where they are joined to a continuous band. It is unusual, however, for the lotus to 'grow' into the panel, which evokes the image of a flower seen through the shaped doorway of a Chinese garden.
The form of the pear-shaped ewer, which is often said to be derived from a Middle Eastern metal shape, may in fact have developed from small stumpy egg-shaped ewers produced in the Southern Song dynasty, which had shorter spouts and no separate neck and therefore lacked the joining strut. In the Yuan dynasty already a form similar to the present one had appeared (compare a celadon ewer recovered from a shipwreck sunk off Shinan in AD 1323, in Relics Salvaged from the Seabed off Sinan. Materials I, Seoul, 1985, pl. 125), which was then refined in proportions and reached its most mature, balanced form in the Yongle reign. Soon after, it completely disappeared from Jingdezhen's repertoire. In China, these ewers were used for wine, in the Middle East for water to wash hands at meal times, where they would have been accompanied by basins or deep dishes to receive the water.
A companion ewer from the royal collection of the Ottoman sultans in Istanbul is illustrated in Regina Krahl, Chinese Ceramics in the Topkapi Saray Museum, Istanbul, London, 1986, vol.II, no.621 and colour plate p. 427. Two ewers of the same design from the royal collection of the Safavid shahs, preserved in the Ardabil Shrine and today probably in the National Museum of Iran, Tehran, are recorded in John Alexander Pope, Chinese Porcelains from the Ardebil Shrine, Washington, D.C., 1956, pl. 54, nos. 29.429 and 29.430, one with broken spout and handle, the other apparently unpublished.
Only three other ewers of this design appear to have been published, one illustrated in Mayuyama: Seventy Years, Tokyo, 1976, vol. I, no. 738 and sold at Christie's Hong Kong, 27th May 2008, lot 1568; another illustrated in Jean McClure Mudge, Chinese Export Porcelain in North America, New York, 1986, pl. 88; and one was sold at auction in Paris, 16th November 1984, lot 19.
Blue-and-white ewers of this form and period, in five different patterns were preserved both in the Ardabil Shrine, Iran, and in Topkapi Saray, Istanbul; for eight ewers in Iran, including two of the present design, see Pope, pl. 54 and Misugi, vol. III, pls. A78-81 and 236; for six in Topkapi Saray, Istanbul, including one companion piece, see Regina Krahl, Chinese Ceramics in the Topkapi Saray Museum, Istanbul, London, 1986, vol.II, no. 617-21.
Fragmentary ewers with at least four different designs, including three variations on a peach-and-loquat design, but none of the present pattern, have been discovered at the waste heaps of the Ming imperial kiln site at Zhushan, Jingdezhen, three in the Yongle and one in the Xuande stratum; see Jingdezhen Zhushan chutu Yongle guanyao ciqi ('Yongle Imperial porcelain excavated at Zhushan, Jingdezhen'), Capital Museum, Beijing, 2007, cat. nos. 65-7; and Imperial Porcelain of the Yongle and Xuande Periods Excavated from the Site of the Ming Imperial Factory at Jingdezhen, Hong Kong Museum of Art, Hong Kong, 1989, cat. no. 80.
The design of peach and loquat branches in quatrefoil panels on opposite sides of the ewer became by far the most common one and at least four examples are in the Palace Museum, Beijing, including a very unusual one with a Xuande reign mark, see The Complete Collection of Treasures of the Palace Museum. Blue and White Porcelain with Underglazed Red (I), Shanghai, 2000, pls. 41, 114 and 115; and Geng Baochang, ed., Gugong Bowuyuan cang gu taoci ciliao xuancui ('Selection of ancient ceramic material from the Palace Museum'), Beijing, 2005, vol. I, pl. 97; another is in the Shanghai Museum, see Lu Minghua, Shanghai Bowuguan zangpin yanjiu daxi/Studies of the Shanghai Museum Collections : A Series of Monographs. Mingdai guanyao ciqi ('Ming imperial porcelain'), Shanghai, 2007, pl. 1 : 6.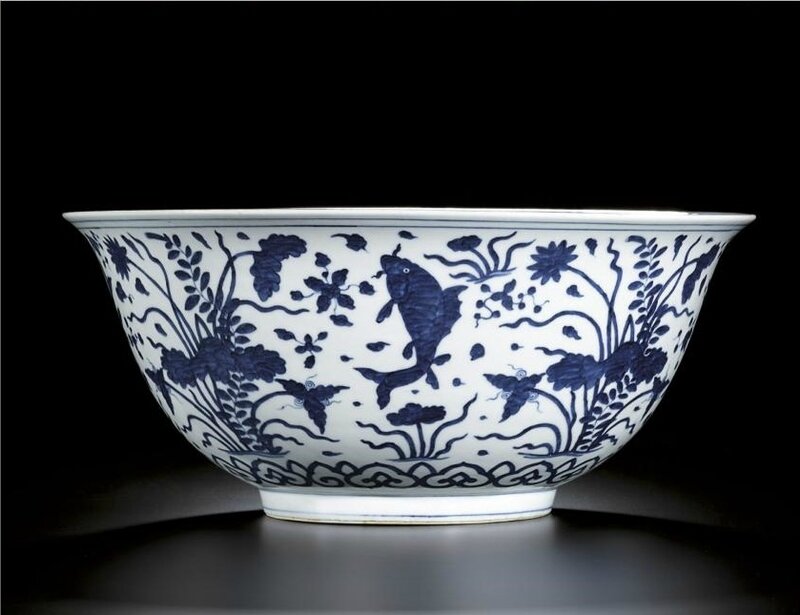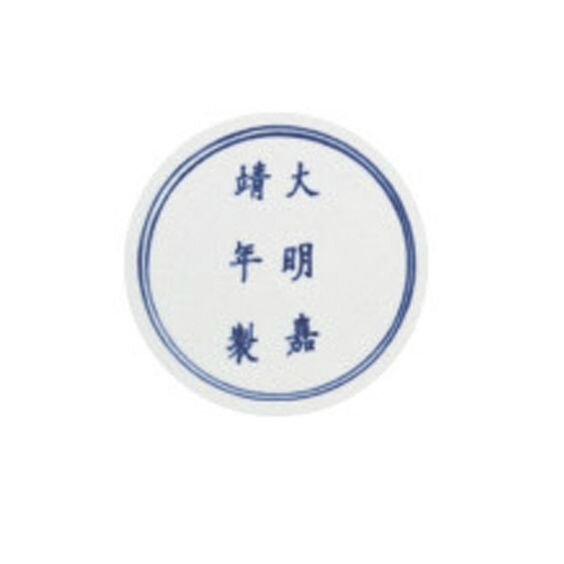 Lot 1901. A fine large blue and white 'carp' bowl, Mark and period of Jiajing; 37.5 cm., 14 3/4 in. Est. 500,000—700,000 HKD. Lot Sold 920,000 HKD. photo Sotheby's
well potted with deep rounded sides rising from a short foot to a everted rim, freely painted in vivid cobalt-blue on the exterior with four carp frolicking in a lotus pond, depicted in various poses swimming amidst water weeds and lotus, all above a band of ruyi-head border and below double-lines borders at the rim, the interior with a double-border circular medallion decorated with another carp and lotus, the base inscribed with the six-character mark within a double circle
NOTE: Two closely related examples, of slightly larger proportions, were sold at Christie's Hong Kong, 28th November 2005, lot 1424, and the other, 19th March 1991, lot 530. For a slightly smaller Wanli bowl of this form and decoration, but the interior rim decorated with a dragon and phoenix pursuing a flaming pearl, and a dragon medallion to the centre, see one sold in these rooms, 26th October 2003, lot 122.
A small Jiajing bowl of this form and similar design was sold in these rooms, 21st May 1984, lot 47; and another, but with rounded sides and a variation of the decorative scheme, was sold at Christie's Hong Kong, 27th November 2007, lot 1744.
'Fish and waterweed' designs were first employed as early as 1350 during the Yuan dynasty on blue and white dishes; for example see one illustrated in Margaret Medley, Yuan Porcelain and Stoneware, London, 1974, pp. 37-45; and a 'Guan' jar sold at Christie's London, 8th June 1987, lot 160.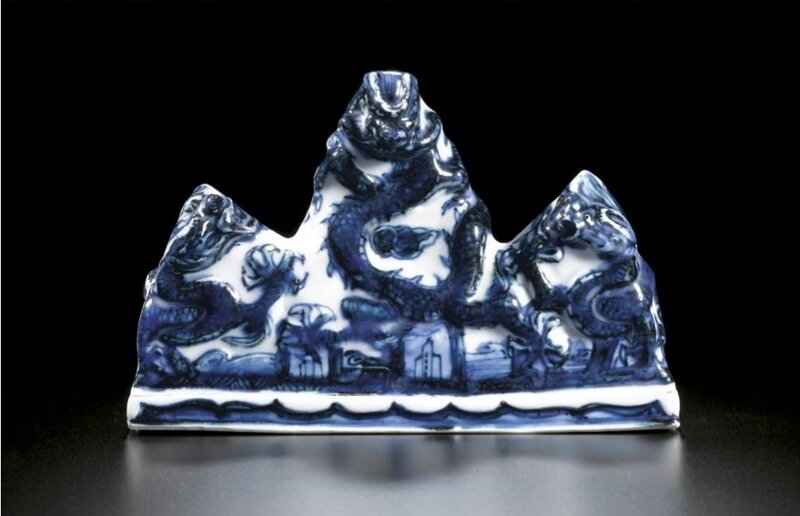 Lot 1902. A blue and white 'three-dragon' brushrest, Mark and period of Wanli; 15.2 cm., 6 in. Est. 250,000—300,000 HKD. Lot Sold 560,000 HKD. photo Sotheby's
moulded with three peaks, painted in vivid tones of cobalt blue, decorated with three dragons rising from immortal mountains, their bodies wrapped around the peaks, the narrow rectangular base inscribed with a six-character reign mark in regular script
PROVENANCE: Christie's New York, 3rd June 1988, lot 258.
Christie's Hong Kong, 31st October 2000, lot 864.
NOTE: Two brush rests with Wanli marks are collected in the Idemitsu Art Gallery, one illustrated in Toji Takei (New Heibonsha Series), no. 42, pl. 86, another included in the Stockholm Exhibition of Ming Blue and White, 1964, cat. no. 71.
Lot 1898. A large blue and white 'boys' dish, Mark and period of Wanli; 30.8 cm., 12 1/8 in. Est. 250,000—350,000 HKD. Lot Sold 325,000 HKD. photo Sotheby's
painted on the interior with a scene of a class conducted on a terrace, defined by a balustrade and water in the foreground and another balustrade and a stylised pine tree and clouds in the background, the teacher seated in front of a screen bearing a design of stylised waves and the rising sun, listening to one boy reciting, other boys studying at a side table, playing with inkstones and a ruler, and one peering from behind the screen, the cavetto painted with a continuous scene of a pond with lotus, reeds and aquatic birds, the exterior decorated with a tracery of interwined ruyi lappets
PROVENANCE: Sotheby's Hong Kong, 28th November 1979, lot 119.
NOTE: A closely related dish in the Sir Percival David collection, now in the British Museum, London, was included in the exhibition, Elegant Form and Harmonious Decoration. Four Dynasties of Jingdezhen Porcelain, Percival David Foundation, London, 1992, cat. no. 91.
The imagery of children occupied in studies is symbolic of the Confucian ideal for the education and advancement of many sons.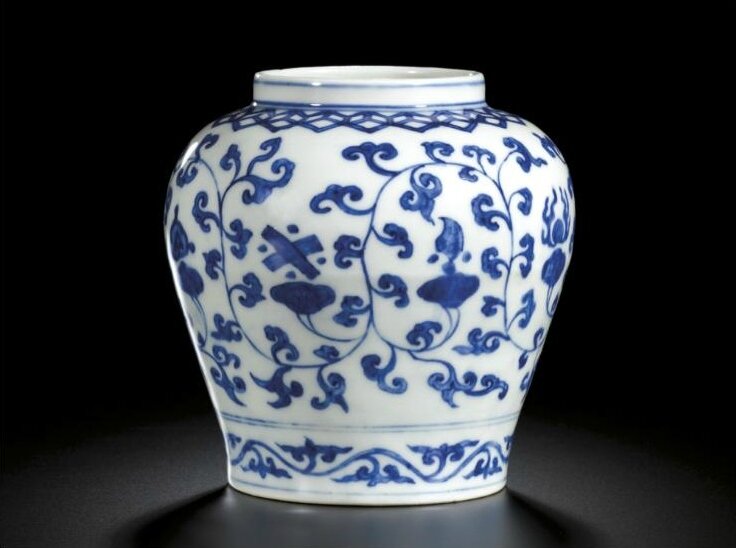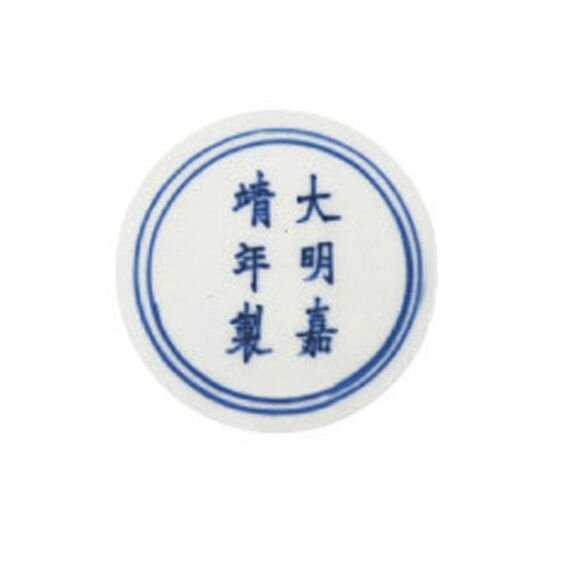 Lot 1900. A blue and white 'Eight treasures' jar, Mark and period of Jiajing; 12.7 cm., 5 in. Est. 100,000—120,000 HKD. Lot sold 212,500 HKD. photo Sotheby's
of shouldered form, the sides painted with the bajixiang supported on the heads of a continuous lingzhi fungus scroll with curling foliage, the shoulders with a collar of hexagonal latticework and the foot with a classic scroll border, between double and single line borders repeated on the short neck, the underglaze-blue of brilliant purplish colour
PROVENANCE: Sotheby's London, 23rd May 1972, lot 154.
Collection of Sir Esler Dening, G.C.M.G.
Sotheby's Hong Kong, 20th May 1981, lot 710.
NOTE: Another jar of this pattern in the Gulbenkian Museum of Oriental Art and Archaeology, Universirty of Durham, is illustrated by Legeza in the Malcolm MacDonald Collection cat., pl. LXIV, no. 185.
Sotheby's. FINE CHINESE CERAMICS & WORKS OF ART. 08 Apr 10. Hong Kong