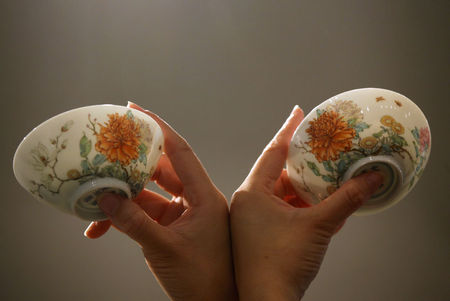 A Specialist of Chinese Ceramics and Works of Art Department of Christie's presents a pair of Famille Rose 'Peony' bowls of Yongzheng six-character marks within duble circles. EPA/YM YIK
HONG KONG (REUTERS).- Auction house Christie's expects to sell HK$ 1.5 ($193 million) worth of predominantly Chinese artwork during its spring sales in Hong Kong, buoyed by recent positive art sales in the region.

While the estimate is similar to the total achieved at Christie's previous sales series in Hong Kong last autumn, it expects positive market sentiment from last week's record Sotheby's Asia auctions to spill into its own sales in May.

"Across the board, we're feeling quietly optimistic," Jonathan Stone, regional managing director for Christie's in Asia, said on Tuesday. His firm's biannual sales of mostly Chinese and Asian art in Hong Kong are considered a market barometer.

Given current sentiment, he said the final tally might even surpass the HK$2 billion mark ($258 million), given higher valuations for objects compared with autumn, a shrinking supply of top artwork and consistently strong demand for exceptionally rare items, even during the worst of the financial crisis.

Some 2,400 objects will be put on the auction block, including diamonds, antique carved rhino horns and an exquisite Chenghua imperial stembowl worth an estimated $1 million.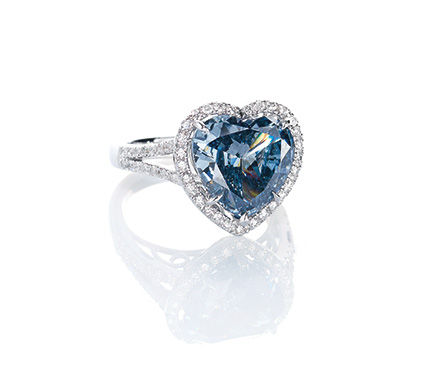 A superb 5.01-carat fancy vivid blue VS2 heart-shaped diamond ring. Estimate: HK$38,000,000 – $55,000,000. 瑰麗罕有5.01克拉心形Fancy Vivid Blue VS2彩鑽戒指. 估價: 港幣38,000,000 – 55,000,000. Photo: Christie's Images Ltd., 2010.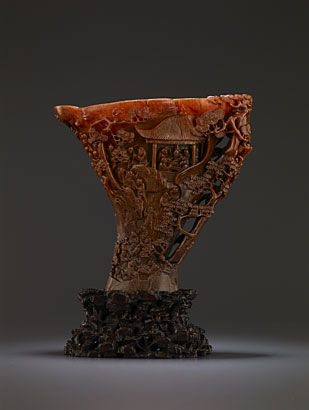 A rare and exceptionally well-carved 'hundred boys' rhinoceros horn libation cup. Late Ming/early Qing dynasty, 17th century. Estimate: HK$3,500,000 – 4,000,000. 明末 / 清初 犀角雕百子圖盃. 港幣3,500,000 – 4,000,000. 美元450,000 – 520,000. Photo: Christie's Images Ltd., 2010.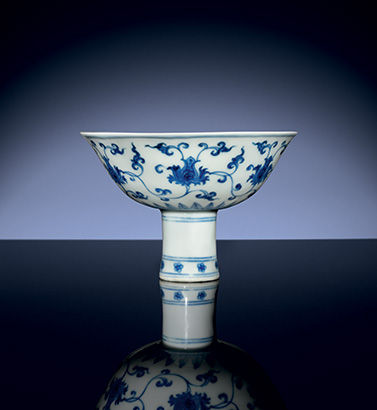 A fine and very rare Ming underglaze-blue stembowl. Chenghua period (1465-1487). Estimate: HK$6,000,000 – $8,000,000. 明成化 青花纏枝寶相花紋高足盌. 估價: 港幣6,000,000 – $8,000,000. Photo: Christie's Images Ltd., 2010.
Also included are a batch of large abstract oil paintings by 20th century Chinese master Zao Wou-ki and a minimalist canvas by deceased Chinese artist Sanyu "Vase of Lilies with Red Ground" that could fetch up to $2.3 million.
Zao Wou-ki (Zhao Wuji, B. 1920), 14-3-59. signed 'Wou-ki Zao' in Chinese & Pinyin; dated '59' (lower right); signed 'ZAO WOU-KI' in Pinyin; dated '14.3.59' (on the reverse), oil on canvas. Painted in 1959. Estimate: HK$10,000,000 – 15,000,000. Photo: Christie's Images Ltd., 2010.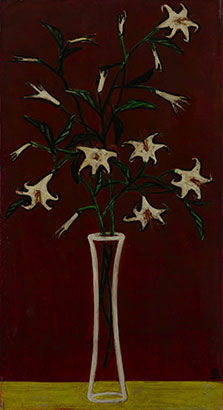 Sanyu (Chang Yu, 1901-1966), "Vase of Lilies with Red Ground", signed in Chinese; signed 'Sanyu' in French (lower right), oil on canvas. Painted in the 1940s. Estimate: HK$12,000,000 – 18,000,000. Photo: Christie's Images Ltd., 2010
Last week, rival Sotheby's racked up its highest ever tally of $256 million for a Hong Kong sales series. While Chinese contemporary art has struggled to recapture its pre-financial crisis vigor, Chinese artist Liu Ye's "Bright Road" sold for $2.4 million, a record for the artist at auction.

More established collecting categories, like 20th century Chinese paintings and ceramics, also notched up solid results, with a white jade imperial seal from the Qianlong period making $12.3 million, a world record for any jade seal at auction.

"Diminishing Supply"
While Western giants like Christie's and Sotheby's once dominated the Chinese art auction market, a spate of home-grown auction houses like Beijing's Poly International and China Guardian have steadily gained market share in recent years.

The growing flood of Chinese antiques being snapped up overseas and repatriated to China by affluent locals, has also led to a squeeze on the consigning of some artwork from abroad.

"There are fewer and fewer fresh pieces coming onto the market," said Pola Antebi, Christie's head of Chinese ceramics and works of art.

She noted the number of ceramics being offered at Christie's Hong Kong's sales had roughly halved in recent years, with the firm now largely unable to tap the ballooning supply of antiques within China, given restrictions on the export of recently acquired Chinese cultural properties from abroad.

"Because the supply is diminishing, demand is increasing," Antebi added. By: James Pomfre (Reporting by James Pomfret; Editing by Ron Popeski)