Clip danseuse espagnole, 1941 © DR Van Cleef and Arpels
Réalisée en 1941, cette danseuse en platine serti de diamants, d'émeraudes, de rubis et de saphirs, fait partie des premières créations de la maison sur le thème de la danse. Pour évoquer la souplesse du tissu, son costume joue sur les tailles et les couleurs des pierres précieuses.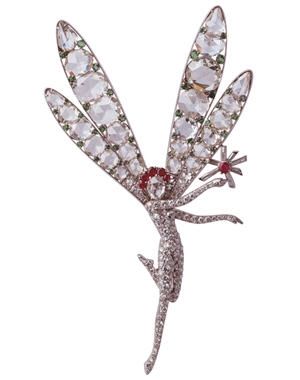 Clip Fée à la baguette magique, 1944 © DR Van Cleef and Arpels
Sur une monture en platine, le visage est composé d'un diamant taille rose, tout comme le corps et les ailes, également sertis d'émeraudes et de rubis. Ce bijou, créé à New York en 1944, fut acquis par la riche héritière Barbara Hutton.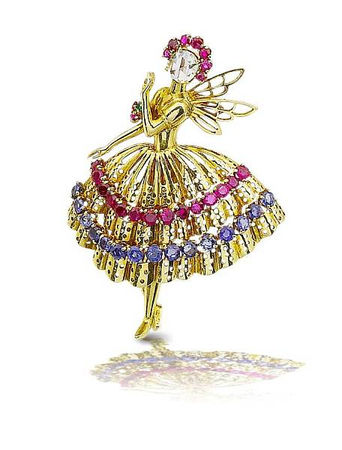 A diamond, ruby, sapphire and emerald "dancer" brooch, by Van Cleef & Arpels, circa 1945. photo Bonhams
Modelled as a stylised ballerina with pierced fairy wings, wearing a long tutu decorated with two rows of circular-cut rubies and sapphires, her rose-cut diamond head edged with similarly cut rubies, a small ruby and emerald cluster highlight applied to one arm, signed Van Cleef and Arpels, numbered, length 5.7cm. Estimate: £6,000 - 8,000

Bonhams. Fine Jewellery, 21 Apr 2010. New Bond Street www.bonhams.com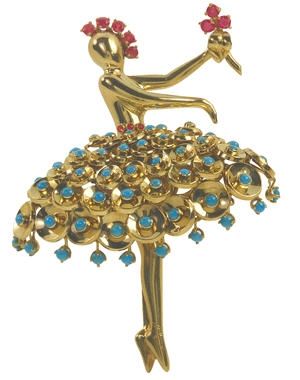 Clip danseuse, 1946 © DR Van Cleef and Arpels
En 1940, Van Cleef and Arpels crée une première collection de bijoux, composée essentiellement de clips, qui s'inspire de la danse. Elle rencontre un immense succès auprès du public américain et continue, des décennies plus tard, à être particulièrement recherchée par les collectionneurs.
Clip ballerine, non daté © DR Van Cleef and Arpels
Seules figures humaines qui trouvent place dans l'univers du joaillier, les ballerines, leur silhouette aérienne et la grâce de leurs mouvements incarnent à merveille la philosophie de la maison. Respect de la mémoire, recherche de l'harmonie et goût du beau prévalent.
Clip Gloria, 2008 © DR Van Cleef and Arpels
Ballerines, petits rats, danseuses espagnoles... Ce thème a toujours inspiré la maison joaillière. A la faveur d'une rencontre en 1967 avec le chorégraphe George Balanchine, elle a accompagné la création du ballet "Jewels" dédié à trois pierres précieuses : l'émeraude avec Fauré, le rubis avec Stravinski et le diamant avec Tchaïkovski. En 2008, Van Cleef and Arpels crée une toute nouvelle collection intitulée "Ballet précieux", dont ce clip Gloria en platine et or rouge sertis de diamants et rubis fait partie.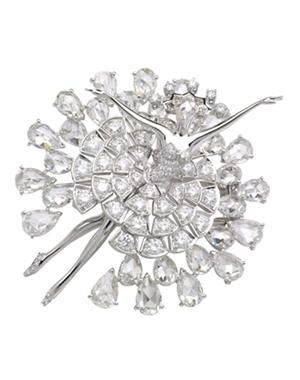 Clip Pavline, 2008 © DR Van Cleef and Arpels
Ballerine virevoltant dans les airs, cette création Pavline dévoile une robe de diamants taille rose et brillant. Symbole de lumière et de vie, d'amour éternel et de sincérité, le diamant resplendit dans la collection Ballet précieux.
Clip Isadora, 2008 © DR Van Cleef and Arpels
Egalement issue de la collection Ballet précieux, cette ballerine en or blanc est sertie de diamants de toutes les couleurs, d'une valeur de 3,61 carats. Pour célébrer le ballet, les pas, les arabesques et les envols de danseuses, Van Cleef and Arpels renoue avec la tradition du clip Ballerine : une silhouette, toujours en mouvement, en or blanc poli, un visage composé d'un diamant taille rose et les cheveux parfois ornés d'un diadème.
Clip Pulcinella, 2008 © DR Van Cleef and Arpels
Vêtue d'un costume court en diamants blancs et gris, la ballerine Pulcinella offre une silhouette épurée et scintillante, illuminée d'un diadème et de chaussons de diamants roses. Ornant le front des danseuses et retenant leurs cheveux dans un cercle de pierres, le diadème demeure l'un des emblèmes de la danse.