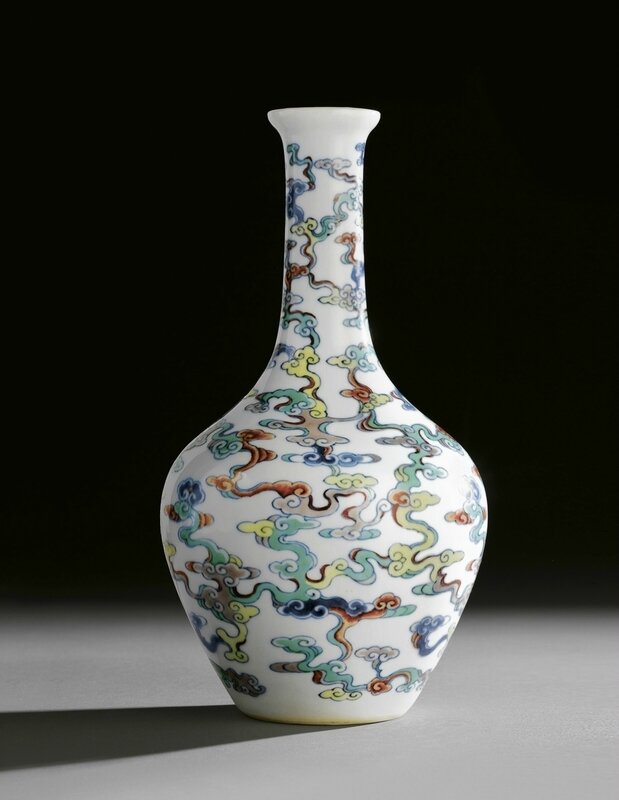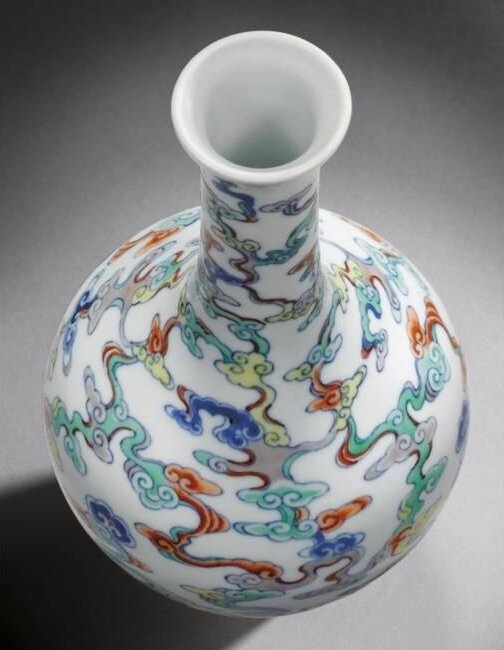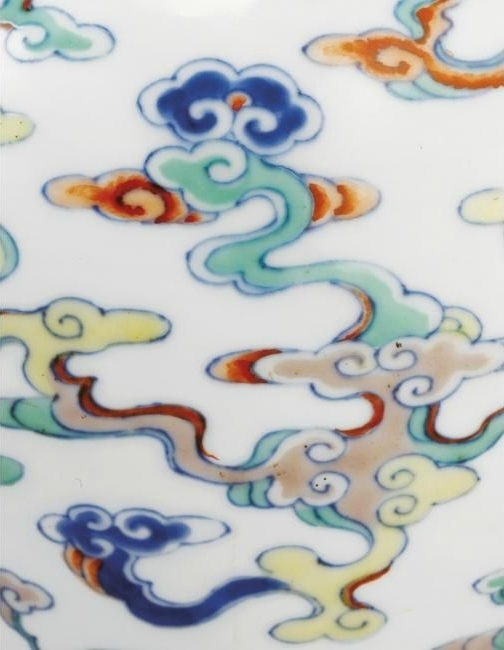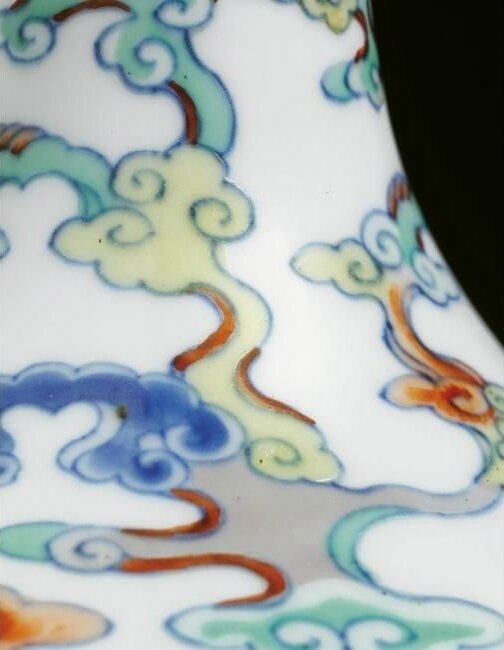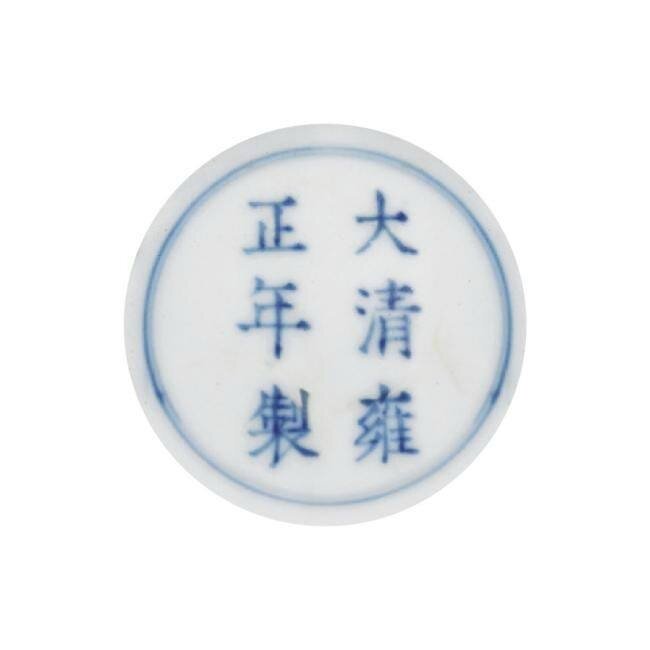 Lot 1862. A superb doucai bottle vase, Mark and period of Yongzheng (1723-1735); 25.5 cm., 10 in. Est.15,000,000—25,000,000 HKD. Lot Sold 21,940,000 HKD. Photo Sotheby's 2010
the elegantly potted ovoid body rising from a recessed base to a tall cylindrical neck with cup-shaped mouth, superbly decorated around the exterior with underglaze blue, green, yellow, aubergine and iron-red enamelled ruyi-head cloud scrolls swirling up and around the body from the base to the rim, base inscribed within double-circles with a six-character reign mark in underglaze blue.
Provenance: A French Collection.
Rainbow-coloured Clouds for the Yongzheng Emperor by Regina Krahl
This elegant vase embodies some of the Yongzheng Emperor's greatest passions: his love of classic styles of the past; his taste for exacting contemporary design; his insistence on outstanding quality; and his infatuation with portends of good luck.
Like the Kangxi Emperor (r. 1662-1722) before him, the Yongzheng Emperor (r. 1723-35) took a keen interest in the work of the various imperial manufactories in his empire and the production of the Jingdezhen imperial kilns in particular; but in addition, and unlike his father, he also brought his personal influence to bear the workshop's artistic direction. By fine-tuning shapes to ideal, harmonious proportions, developing sophisticated yet uncontrived designs, and taking the best works of the past as standards to aspire to, he achieved, together with his brilliant kiln supervisor, Tang Ying, a porcelain production of a distinctive style, subdued elegance and material refinement unmatched in any other period. His intimate knowledge of the palace collection made him appreciate ancient masterpieces and commission new products of the same rank. As can be gleaned from an official record of 1732, which lists 57 porcelain designs to be produced by the imperial kilns for the Yongzheng Emperor, the most admired wares of the past were some Song dynasty (960-1279) wares, Xuande (1426-35) blue-and-white and Chenghua (1465-87) polychrome porcelains.1Although antiques from the Song and Ming (1368-1644) sometimes served as models for direct copying, for which the emperor sent originals from the court collection in Beijing to the Jingdezhen manufactories, the most admirable Yongzheng wares – such as the present vase – are free contemporary interpretations of classic designs. Their successful creation posed for the potter not only the challenge to match the physical quality of the ancient models, but also – and more importantly – their aesthetic inspiration and artistic genius.
The present vase may thus be regarded as a distant echo of a famous but extremely rare and equally unorthodox Ming style of doucai bottles painted with stylized cloud scrolls coloured only in green. Inscribed with Chenghua reign marks, these distinctive bottles have always been – almost certainly in the Yongzheng period – accepted as Chenghua products. Recently, a date slightly later in the Ming dynasty has been suggested by Julian Thompson.2 A bottle he discusses and illustrates, from the Palace Museum, Beijing, and part of the Qing court collection, is also published in The Complete Collection of Treasures of the Palace Museum. Porcelains in Polychrome and Contrasting Colours, Hong Kong, 1999, pl. 160; other examples of this Ming design are in the Shanghai Museum, the British Museum and the Seattle Art Museum. Although the Ming prototypes are different in shape, smaller (c. 19 cm) and with a more depressed pear-shaped body, their tall slender neck terminates in a somewhat raised rim flange which may well be at the root of the everted mouth of the present form, which does not seem to be otherwise recorded.
The eccentric, almost completely abstract design of our bottle is most characteristic of the taste of the Yongzheng emperor, who was a somewhat eccentric personality himself. The courage to abstraction in design and to immaculate, stream-lined forms calculated on the drawing board, which to us today seem ultra-modern, are a trademark of Yongzheng artefacts unique in Chinese art, as no other emperor appears to have had a similarly sophisticated cultural understanding and artistic vision.
The polychrome (doucai) colour scheme, where underglaze blue is used for an outline drawing filled in with washes in underglaze blue and four different overglaze enamels, gained popularity with the Chenghua Emperor. The term doucai, which refers to the interaction of the colours (cai), is ambiguous since the term dou allows for the colours to be characterized as clashing or matching. Terms such as 'contrasting', 'contending', 'interlocking', 'joined', 'dove-tailed' have been suggested as translation, the most satisfactory rendering perhaps being 'a competition of colours', as used by Fang Chaoying.3
The doucai style, which was originally probably referred to as wucai, 'five colours', is ideally suited for rendering five-coloured clouds. 'Rainbow-coloured' or five-coloured clouds (wuse yun) are in China considered as highly auspicious portends of good omens. According to Terese Tse Bartholomew clouds (yun) are used as a pun on a word for fortune and are considered benevolent because of their power to supply water.4 Auspicious rainbow-coloured clouds are often – as here, too – depicted in lingzhi (longevity fungus) shape, and the lingzhi itself has the form of the wish-granting ruyi ('according to your wish') sceptre. As Heir Apparent, the later Yongzheng Emperor had himself portrayed in clay wearing a coat with five-coloured cloud roundels over a cloud-decorated robe.
It was the Yongzheng emperor, who in the Qing dynasty (1644-1911) refreshed the strong interest in auspicious symbols, which became ubiquitous later in the Qianlong reign (1736-95). He revived the custom of giving ruyi sceptres, and had himself often painted together with symbols of good luck. Upon his enthronement the Italian court painter Giuseppe Castiglione offered the emperor a painting of a porcelain vase containing an auspicious lotus bouquet with special double flowers.
This design of this bottle appears to be known only from one other piece, a pair to the present one, which has part of the neck missing and a whole drilled into the sides for electrification as a lamp, sold at Nagel's, Stuttgart, 8/9th May 2009, lot 278. Otherwise, only a small pair of doucai waterpots appears to bear a similar design of rainbow-coloured clouds on their own, from the collection of Paul and Helen Bernat, sold in these rooms, 15th November 1988, lot 9, and illustrated in Sotheby's Hong Kong: Twenty Years, 1973-1993, Hong Kong, 1993, pl. 252.
Related five-coloured clouds appear also on a Yongzheng stemcup, but together with a red sun; see the piece from the collections of Roger Lam, T.Y. Chao, Nancy and Ira Koger, and now in the Meiyintang collection, illustrated ibid., pl.253, in Sotheby's. Thirty Years in Hong Kong 2003, pl.185, and published in Regina Krahl, Chinese Ceramics from the Meiyintang Collection, vol. IV, London, 2010, no. 1744. The purity of the Yongzheng design was not preserved into the Qianlong period, when the clouds were interspersed with red bats, thereby losing their striking abstract quality; compare a Qianlong jar and a vase in Sotheby's Hong Kong: Twenty Years, 1973-1993, Hong Kong, 1993, pls. 235 and 236.
1 S. W. Bushell, Oriental Ceramic Art Illustrated by Examples from the Collection of W. T. Walters, New York, 1896, pp. 368-90/London, 1981, pp. 195-205.
2 Julian Thompson, 'The Message in the Mark', Art and Imitation in China, The Oriental Ceramic Society of Hong Kong, University of Hong Kong, 2006, pp. 86 and 93, and fig. 11.
3 Fang Chaoying in the biographical entry on the Chenghua Emperor in Dictionary of Ming Biography 1368-1644, New York and London, 1976, p. 302.
4 Terese Tse Bartholomew, Hidden Meanings in Chinese Art, San Francisco, 2006, p.105.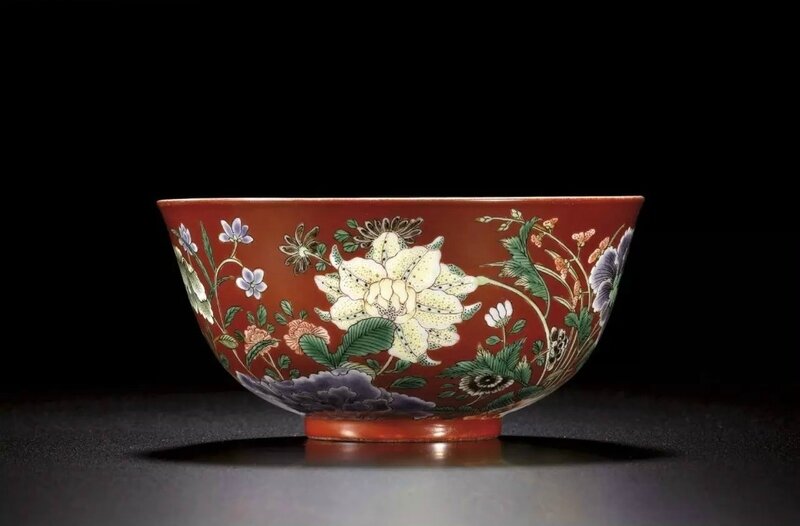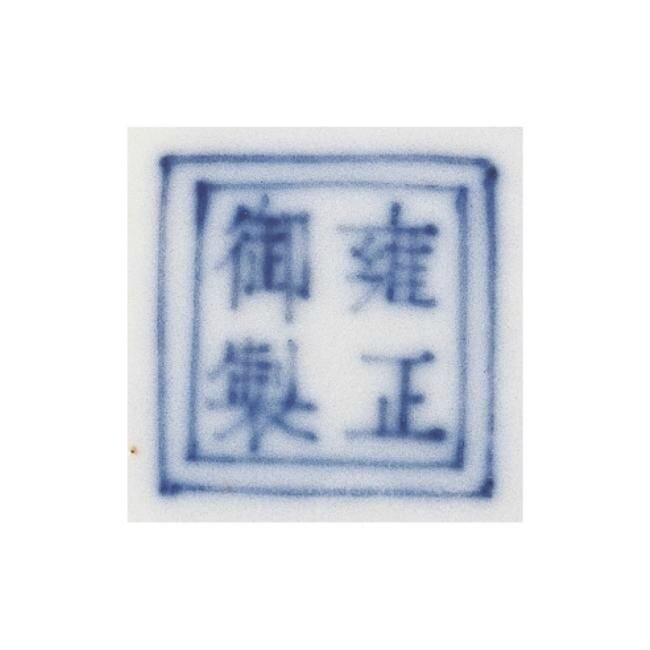 Lot 1803. A finely painted coral-ground 'famille-verte' floral bowl, Uzhi mark and period of Yongzheng (1723-1735); 11.3 cm., 4 1/2 in. Est. 2,500,000—3,000,000 HKD. Lot Sold 3,140,000 HKD. Photo Sotheby's 2010
finely potted with deep rounded sides rising to a flared rim, richly and freely decorated around the sides with flowering blooms including peony, lily, camelia and crab-apple, the luscious blooms picked-out in shaded tones of blue, pale-yellow, lime-green and lavender, encompassed by slender stems with a myriad of leaves in two shades of green interspersed with tight and opening buds, all reserved on a rich coral-red ground, the interior and base glazed white, inscribed on the base with the four-chacter mark in underglaze-blue within a double-square.
Provenance: Christie's New York, 1st June 1990, lot 319.
Sotheby's New York, 23rd March 1999, lot 398.
Christie's Hong Kong, 1st November 2004, lot 892.
Note: In the Kangxi period, dark coloured grounds were favoured to show off the new falancai enamels, which later evolved to white grounds. A few bowls, such as the present lot retained their dark ground. Both in its shape and style, this bowl reflect the Kangxi style. These bowls were made for the use of the Yongzheng emperor and bear the Yongzheng yuzhi marks.
A similar size bowl is illustrated in Hugh Moss, By Imperial Command, 1977, pl. 5, attributed to the Jingdezhen Imperial kilns between 1722 and 1728. Bowls with this decoration of a mélange of flowers in this size are found on a ruby-ground bowl with a six-character reign mark sold in these rooms 29th November 1978, lot 371 and another one from the Goldschmidt collection, 13th November 1990, lot 38. Another similar one from the E.C. Blake collection sold in our London rooms, 8th July 1958, lot 109, and again in our Hong Kong rooms 12th May 1983, lot 238 and 26th October 2003, lot 120.
Compare a two similar ruby-ground bowls of smaller size from the T.Y. Chao Family Collection: one sold in these rooms, 18th November 1986, lot 130 and another sold in our rooms 11th April 2008, lot 3022. And another related bowl with the mark Yongzheng nianzhi in the Asian Art Musem of San Francisco, is illustrated in He Li, Chinese Ceramics, London, 1996, cat.no.657.These types of bowls are found both with yuzhi marks as well as nianzhi.
Lot 863. A fine pair of small doucai 'hundred-bat' bowls, Mark and period of Yongzheng (1723-1735); 10 cm., 4 in. Est. 1,000,000—1,500,000 HKD. Lot Sold 2,180,000 HKD. Photo Sotheby's 2010
each thinly potted with rounded sides resting elegantly on a tapered foot, finely painted on the exterior with twelve bats picked out in shaded iron-red swooping amidst scrolling clouds in pale tones of aubergine, blue, green, yellow and iron-red, the countersunk base inscribed in underglaze-blue with a six-character reign mark within double circles.
Provenance: Christie's Hong Kong, 29th April 1996, lot 757.
Note: A pair of doucai bowls of the same size and design was sold in these rooms, 29th November 1979, lot 271; another from the Paul and Helen Bernat collection was sold in these rooms, 15th November 1988, lot 1; and a third pair was sold twice at Christie's Hong Kong, 29th April 2002, lot 619, and again, 27th May 2009, lot 1585. Compare also a pair of bowls of similar form and design, but decorated with iron-red bats amid underglaze-blue clouds, from the Edward T. Chow collection, sold in these rooms, 25th November 1980, lot 126.
The motif of bats and clouds represents the wish for 'vast happiness piled up to the sky', while the combination of a red bat with coloured clouds symbolise the upper limits of heaven (hongfu qitian). The clouds also form a pun, as the word for 'cloud' (yun) is homophonous with the word for 'luck'. See a Qianlong doucai jar covered with the same decorative scheme, included in the exhibition Joined Colours: Decoration and Meaning in Chinese Porcelain, Smithsonian Institution, Washington D.C., 1993, cat. no. 71.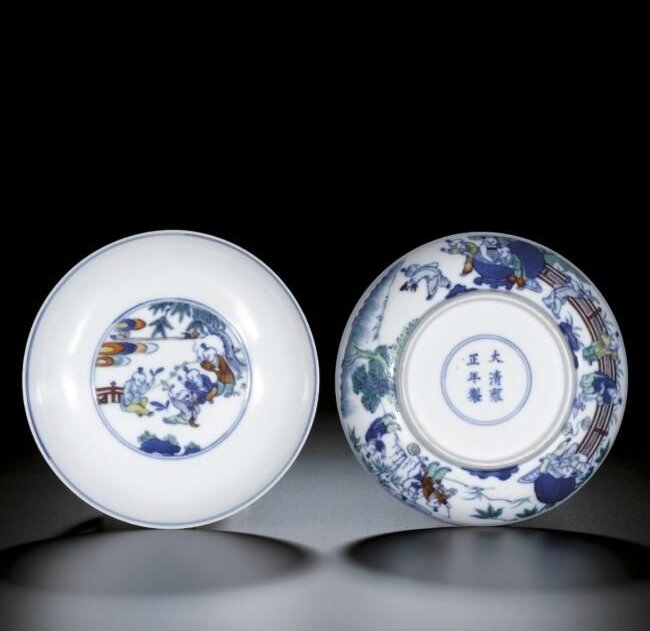 Lot 1954. A pair of doucai 'Boys' dishes, Marks and period of Yongzheng (1723-1735); 13.8 cm., 5 3/8 in. Est. 150,000—200,000 HKD. Lot Sold 187,500 HKD. Photo Sotheby's 2010
each well-potted with shallow curved sides rising from a short tapered foot, painted on the interior with a scene of boys playing with twigs in a sloped landscape, beneath multi-coloured scrolling clouds, the exterior with further children at play, one group riding a hobby horse, another group entertaining themselves with leaf sprigs and toys, and a final group of four catching goldfishes, the countersunk base inscribed with a six-character reign mark in underglaze-blue.
Sotheby's. FINE CHINESE CERAMICS & WORKS OF ART. 08 Apr 10. Hong Kong