Ce post est parti d'une côte en porcelaine que Geneviève m'a offert l'autre soir à un dîner chez elle. Nous avons tiré au sort et Philippe a eu un fémur. J'ai donc voulu savoir un peu plus sur l'artiste.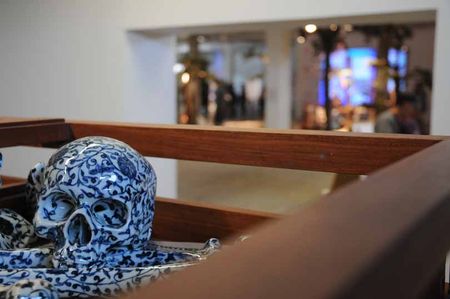 Jiechang Yang, Underground Flowers, 1989-2009. Photo : Zacharie Roy
One of Yang Jiechang's main foci is the use of "the painting and aesthetics of traditional Chinese thought in a contemporary framework and context". His work – whether painting, collage, multimedia installations, performance, sculpture or in-situ installations – combines these forcefully. Tsaoist thought, deconstructivist strategies and an iconoclastic attitude dating back to his time as a Red Guard, and especially his experiences as a transnational nomad, all enable him to achieve this fusion.
Yang Jiechang's work is made up of 3,000 painted porcelain reproductions of human bones, meticulously arranged in elaborate wooden frames. Part decorative knick-knack, part archaeological display, "Underground Flowers" is a consideration of the passing of time and the cruelty of political regimes. The artist left China at the age of thirty-three, at the time of the Tienanmen events in 1989. The dissolution of the Eastern Bloc, the end of the Cold War and the geopolitical reorganisation of the world date from this same period: they would shape Yang Jiechang's entire life and, together with the years that followed, loom large in his oeuvre. During the Biennale 991 bones will be sold to the public – one only per visitor – in return for a minimum donation of 10 euros to Entretemps, an association which provides emergency accommodation in and around Lyon.
Artwork co-produced with the Jaeger Bucher gallery, Paris, and with the help of the association Entretemps, Lyon.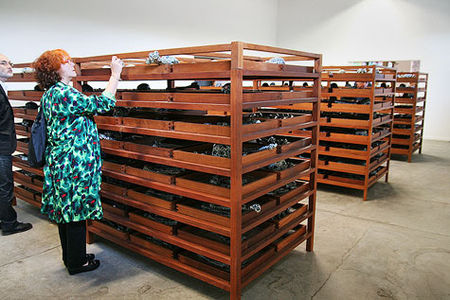 Yang Jiechang, Underground flowers. 1989 - 2009. Installation composed of wood materials (6 shelves, 300 boxes, 1 table and 1 chair) and 3,000 porcelain bones. © Photos: Haupt & Binder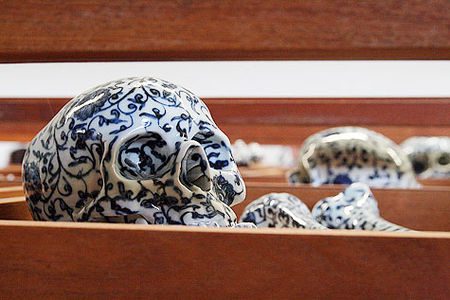 Yang Jiechang, Underground flowers. 1989 - 2009 (Detail) © Photo: Haupt & Binder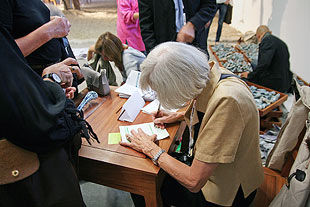 Underground flowers. 1989 - 2009. Selling of bones during the preview days of the Biennale. On the left, the artist. © Photo: Haupt & Binder
L'oeuvre de Yang Jiechang est composée de 3 000 reproductions d'os humains en porcelaine peinte, soigneusement disposées dans des cadres en bois luxuriants. à mi-chemin entre le bibelot décoratif et la salle de fouilles archéologiques, » Underground Flowers « est une réflexion sur le temps qui passe et sur la cruauté des régimes politiques.
En 1989, à l'âge de 33 ans, l'artiste quitte la Chine au moment de Tien An Men ; la dissolution du bloc de l'Est, la fin de la guerre froide et la réorganisation géopolitique du monde datent de cette même période et façonnent la vie toute entière de Yang Jiechang. Cet intervalle historique majeur et les années qui ont suivi, l'artiste en rend compte et en porte témoignage. Tout au long de la Biennale, 991 ossements sont vendus au public à raison d'un exemplaire par visiteur, en contrepartie d'un don minimum de 15 euros à l'association Entretemps, qui s'occupe d'hébergement d'urgence à Lyon et dans sa périphérie.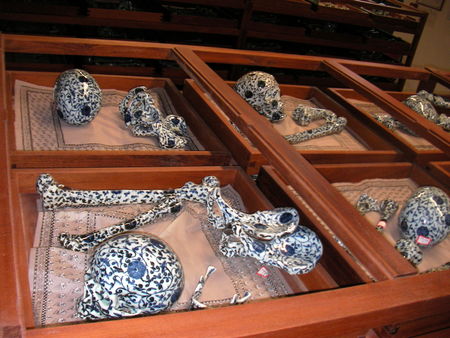 Yang Jiechang, Underground Flower @ Biennale 2009 à La Sucrière XIème édidition. photo www.lemon2jul.com
Yang Jiechang, Underground Flowers. photos from : club.doctissimo.fr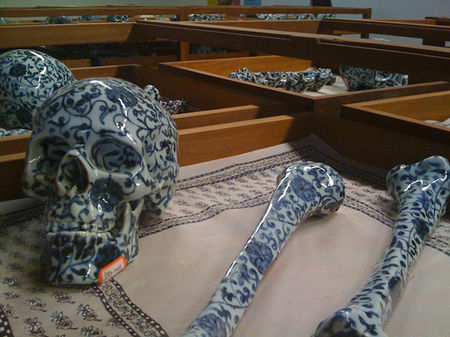 photo from www.decoration-homestaging.fr
photo from artsplastiquesbeauregard.blogspot.com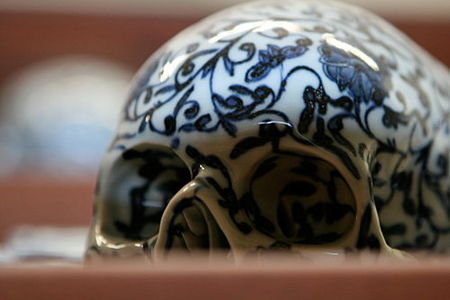 photo from morphoses.over-blog.com
Xème Biennale d'art contemporain de Lyon - La sucrière.
On peut trouver ces oeuvres en vente :
Yang Jiechang , Underground Flower, 2007, Porcelain, Unique; Set of 6 Boxes. h: 19.6 x w: 19.6 x d: 2.4 in / h: 49.8 x w: 49.8 x d: 6.1 cm. Contact Gallery for Price @ Chambers Fine Art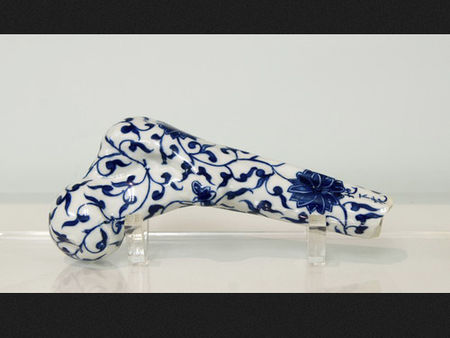 Yang Jiechang, Underground Flower, 2008. Hand-painted Porcelain, 6cm(h)×6cm(l) ×15cm(w). Edition 1000. Price: 120 USD @ blog.uccastore.com
Yang Jiechang, The skull. Price 1027 USD @ blog.uccastore.com
All pieces are produced in Jingdezhen kilns, which are renowned for some of the highest quality ceramics in China, then hand painted with traditional flower motifs.
By combining Chinese master crafts, like ceramics, with skulls and bones, inspired from vanitas iconography in Western art, Yang Jiechang creates a strong yet poetic artwork questioning the meaning of life and the importance of memory in contemporary society.
Each artwork comes in a custom box signed by the artist with a certificate of authenticity.

Yang Jiechang. b. 1956 Guangdong Province, China. Lives in Heidelberg, Germany, and Paris, France. Yang Jiechang (Guangdong 1956) is one of the best known overseas Chinese painters. The artist studied calligraphy and traditional painting and borrows on those skills to create contemporary works, like ink-dripped characters, maps and traditional landscape images with a modern feel. He also has created collages, installations and performance art. He studied in Guangzhou Academy of Fine Arts from 1978 to 1982. He lives and works in Paris and Heidelberg, Germany since 1988.