An art deco diamond, sapphire, jade and onyx bracelet. photo: Christie's Images Ltd 2010
Designed as an old European-cut diamond band, enhanced by tapered jade blossoms with black onyx stems, spaced by three pierced French-cut sapphire geometric panels, mounted in platinum, circa 1925, 7 1/8 ins., in a brown leather fitted case
Numbered 4365 - Estimate: $25,000 - $35,000 Price Realized $37,500
A single-strand jadeite bead and diamond necklace. photo: Christie's Images Ltd 2010
Comprising eighty-three graduated jadeite beads, measuring from approximately 5.82 to 10.05 mm, joined by a collet-set diamond clasp, mounted in platinum, 24 ins., with French importation mark - Estimate: $5,000 - $7,000 Price Realized $35,000
A jade, diamond and gold pendant necklace, by Henry Dunay. photo: Christie's Images Ltd 2010
Suspending a jade hoop pendant, from a circular-cut diamond and 18k gold looped bail, to the articulated textured gold link neckchain, enhanced by circular-cut diamond knotted detail, mounted in 18k gold, 20 ins., with maker's marks. Signed Dunay for Henry Dunay - Estimate: $20,000 - $30,000 Price Realized $25,000
Henry Dunay was born in Jersey City, New Jersey in 1935. He started in the jewellery field working for Rudolph Caccioli, a jeweller on Canal Street in New York City with whom he remained for seven years, learning the art of jewellery making and diamond setting. He opened his own company in 1956, specialising in pavé-set jewellery. In 1967, he won the first of his three Diamond International Awards, and, in 1982, he was inducted into the illustrious Diamonds International Academy, the only American so honoured to this date. In 1989, Dunay was invited to become a member of the Council of Fashion Designers of America. He is based in New York.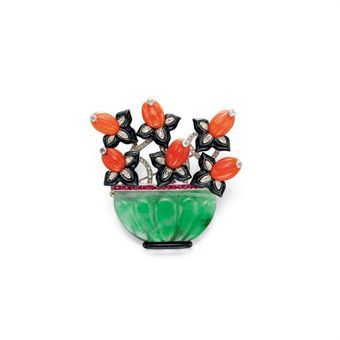 An art deco diamond, coral, jade and ruby brooch. photo: Christie's Images Ltd 2010
Designed as a carved jade basin, decorated with square-cut ruby and black enamel trim, extending a bouquet of carved coral blossoms, each topped with a collet-set diamond, the black enamel leaves set with old European and rose-cut diamonds, mounted in platinum and gold, circa 1925, in a black leather case - Estimate: $6,000 - $8,000 Price Realized $15,000
A pair of jadeite and diamond ear pendants, by Tiffany & Co. photo: Christie's Images Ltd 2010
Each suspending an oblong jadeite carved plaque, from a circular-cut diamond link, to the cabochon jade surmount, within a circular-cut diamond surround, mounted in platinum. Signed Tiffany - Estimate: $4,000 - $6,000 Price Realized $12,500
Tiffany & Co. John P. Young opened a stationery and fancy goods store known as Tiffany & Young at 259 Broadway in New York City. Within ten years, jewellery and silver items were added to their stock. By 1853, Tiffany had assumed complete ownership of the business and the name was changed to Tiffany & Co. During the 19th century, designers such as Edward C. Moore and G. Paulding Farnham, as well as renowned gemmologist George Frederick Kunz, propelled Tiffany & Co. to the forefront of the international jewellery world. From 1907, the firm manufactured and sold the jewellery designs of Louis Comfort Tiffany, son of the founder. Upon taking over the management of Tiffany & Co. in 1955, Walter Hoving invited several talented designers to join the firm. Among them were Jean Schlumberger and Donald Claflin. In 1974, they added Elsa Peretti as an exclusive designer, followed by Paloma Picasso in 1980. In 1979, Avon Products purchased Tiffany & Co. After the management-led buyout of Tiffany in 1984, headed by then chairman William R. Chaney, and a successful public offering of stock in 1987, the company has successfully expanded into key domestic and international markets. Today they comprise more than 100 locations worldwide.
Christie's. Jewels: The New York Sale, with The Catherine the Great Emerald Brooch and The Emperor Maximilian Diamond. 22 April 2010. New York, Rockefeller Plaza www.christies.com