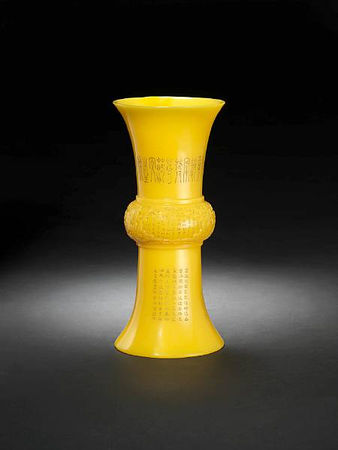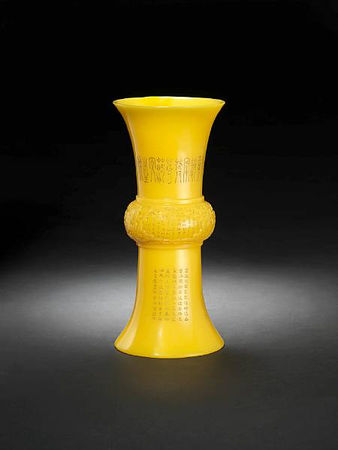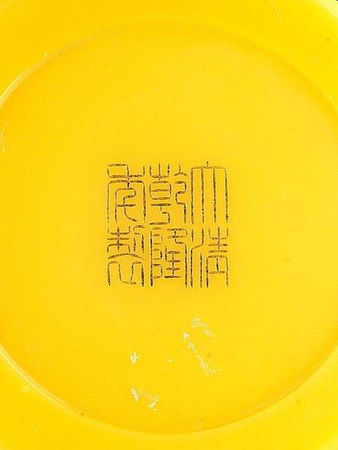 An Imperial-poem-inscribed yellow glass flaring vase, gu. Qianlong seal mark, circa 1782-1820. photo Bonhams
Of elegant archaistic gu form, rising from a splayed base with gently rounded bulbous middle section to a flared trumpet neck, inscribed around the neck with twenty-five stylised archaic characters with one seal, the middle section deeply and finely carved with two pairs of archaiistic confronted gui dragons with two panels in reserve, each enclosing two poems, one terminating Qianlong yuti, Imperial composition by the Qianlong Emperor, all above inscriptions carved around the lower body, one dated to the forty-seventh year of the Qianlong reign, corresponding to 1782 and with two seals, one reading Guxi Tianzi, and another dated to the fifty-fourth year, corresponding to 1789, the base incised with a six-character seal mark, fitted box.
20.6cm (8in) high (2). Estimate: £10,000 - 15,000, HK$120,000 - 180,000

Footnote: The seal Guxi Tianzi was originally commissioned to commemorate the Qianlong Emperor's seventieth birthday in 1782, which coincides with the date of composition of the Imperial inscription. An impression of the original seal is published in E.S.Rawski and J.R.Rawson, China. The Three Emperors, London, 2005, fig.24 and can be translated as: Son of Heaven, Rare since Antiquity. The second date, 1789, may well refer to the production of this glass vase. Studies into snuff bottles inscribed with Qianlong Imperial poems, including those made from Imperial yellow glass, have revealed that a number were actually produced during the Jiaqing period, see H.Moss, V.Graham, K.B.Tsang, A Treasury of Chinese Snuff Bottles, Vol.5, Hong Kong, 2002, Catalogue nos866 and 868, indicating that the current vase could actually date to the beginning of the 19th century.

Compare a pair of Imperial yellow glass bowls in the Andrew Lee Collection, both carved with Imperial essays dated yiwei, corresponding to 1775, framed by archaistic gui dragons and with very similar incised Qianlong seal marks to the base, which are confidently attributed to the late Qianlong period, illustrated in Elegance and Radiance. Grandeur in Qing Glass. The Andrew K.F. Lee Collection, Hong Kong, 2000, Catalogue no.69. Also compare a pair of Qianlong mark and period baluster vases, also bearing related Qianlong incised marks, and incised with poems composed by the Qianlong Emperor during one of his Southern Inspection Tours, also similarly framed by archaistic dragons, in the Phoenix Art Museum, illustrated by C.Brown and D.Rabiner, The Robert H.Clague Collection: Chinese Glass of the Qing Dynasty 1644-1911, Phoenix, 1987, Exhibition Catalogue, no.38.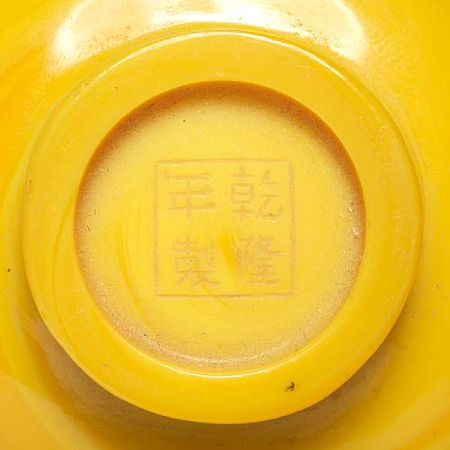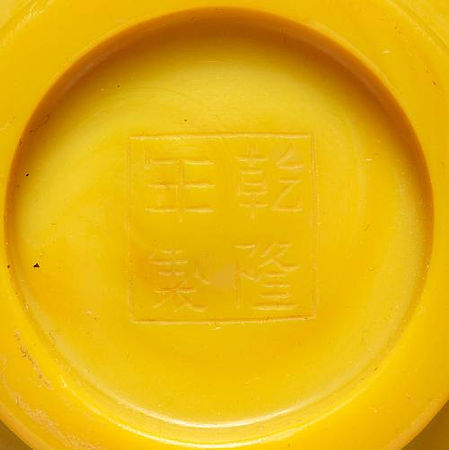 A Beijing yellow glass bowl and cover. Incised Qianlong four-character marks and probably of the period. photo Bonhams
The flared bowl rising to the slightly lipped rim, supported on a short flared foot ring, surmounted by a domed cover with a circular finial, the glass of warm yellow-amber tone with spiralling pale orange streaks. 10cm (3⅞in) diam. (2). Estimate: £3,000 - 5,000, HK$35,000 - 59,000

Provenance: purchased from Spink & Son Ltd., London, on 26 June 1979 for £675.
An English private collection.

For a pair of unmarked yellow glass bowls attributed to the 18th century Palace Workshops, see The Art Museum, The Chinese University of Hong Kong, Elegance and Radiance: Grandeur in Qing Glass. The Andrew K.F.Lee Collection, Hong Kong, 2000, pl.36.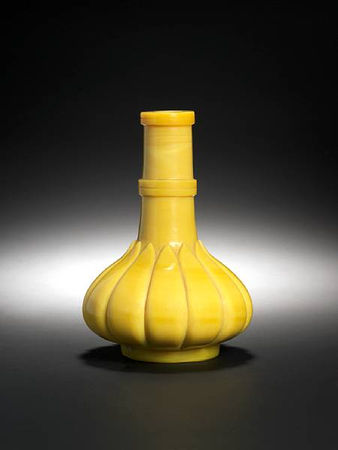 A Beijing yellow glass bottle vase, 18th century. photo Bonhams
The body of compressed globular shape, moulded with petals rising to the base of the tall neck, the neck with double rings at the centre and rim, supported on a short foot, the glass of warm yellow-amber tone with darker horizontal streaks. 15.2cm (6in) high - Estimate: £1,500 - 2,000, HK$18,000 - 24,000

Provenance: purchased from Spink & Son Ltd., London, on 26 June 1979 for £1,125. Label to base
An English private collection
Bonhams. Fine Chinese Art, 13 May 2010. New Bond Street www.bonhams.com