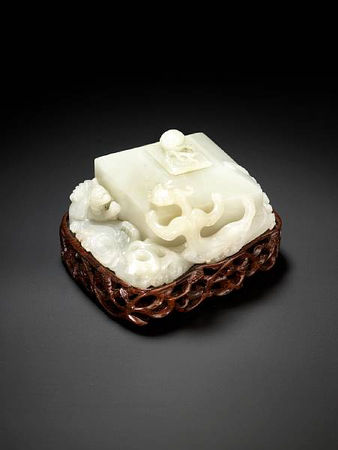 A rare pale green jade waterpot and cover, 18th century. photo Bonhams
The square vessel rising to the slanted shoulders and rectangular opening, superbly carved with a chilong dragon clambering over the side in pursuit of the flaming pearl atop the cover and with further two chilongs emerging from the crested crashing waves, the underside carved with swirling waves, the stone of a pale green tone with minor russet inclusions to the underside, wood stand. 12cm wide. (3). Sold for £45,600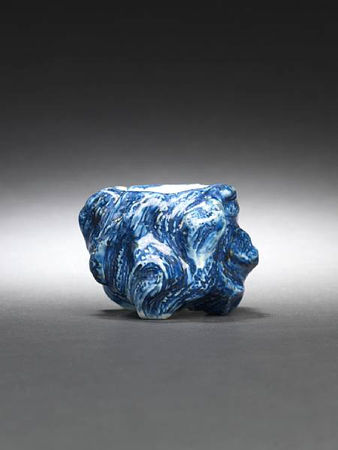 A blue-glazed waterpot, 16th century. photo Bonhams
Naturalistically modelled in the form of rockwork, raised on three short feet integral to the overall fluid design, painted around the exterior in rich tones of underglaze blue with the deeper tones indicating the natural striations of the rock. 8.2cm (3¼in) wide. Sold for £22,800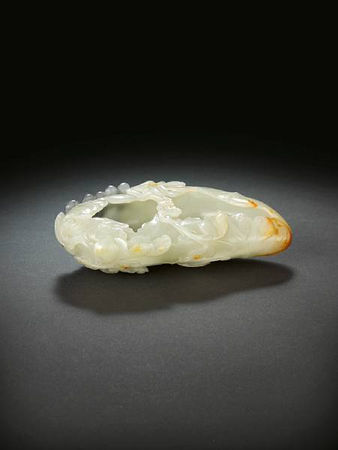 A white and grey jade waterpot. photo Bonhams
The pebble well hollowed and carved as a vine leaf, the exterior intricately carved with grey-black grapes borne on the leafy gnarled stem reaching over the top, the stone of grey-white tone with dark grey inclusions cleverly used to denote the fruit.
11.2cm (4⅜in) wide. Sold for £16,800

Provenance: an old English collection, mostly purchased in London in 1950s/60s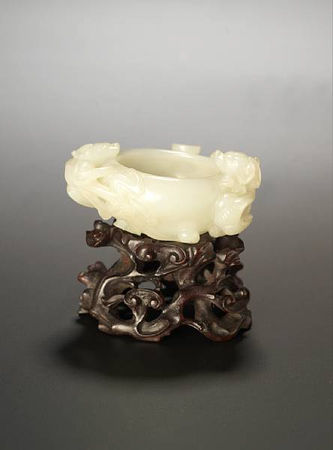 A pale green jade 'chilong' waterpot. Qing Dynasty. photo Bonhams
Carved with two chilong dragons clambering over the rounded sides and inverted rim, the stone of white-greenish tone with minor cloud-white inclusions, wood stand. 6.7cm (2⅝in) wide (2). Sold for £15,600
Provenance: an old English collection, mostly purchased in London in 1950s/60s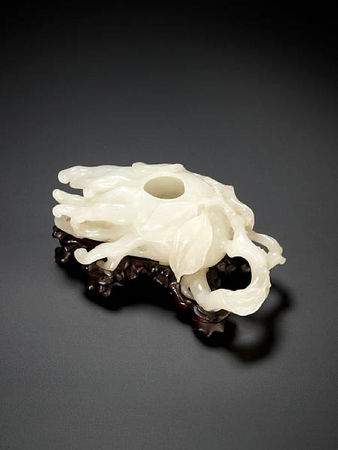 A pale white-green jade 'Buddha's-hand' waterpot,18th-19th century. photo Bonhams
The white stone deftly and naturalistically worked in the form of a hollowed multi-fingered Buddha's-hand finger citron with curled tips borne on a gnarled leafy branch, twisted to form a handle to one side, part of the stone of a pale brown tone skilfully worked to depict a small fruit issuing from the same stem, the stone with some opaque white mottling and with an attractive high polish, wood stand. 10.7cm (4¼in) wide. (2).- Sold for £13,200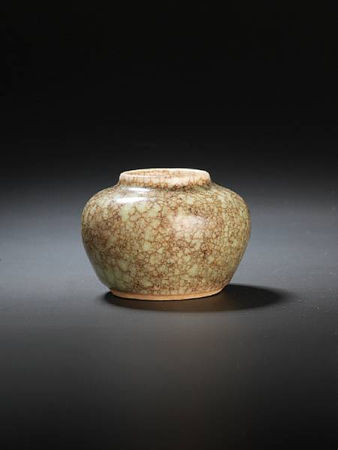 A small crackle-glazed waterpot. Qing Dynasty. photo Bonhams
Of compressed globular form rising from a recessed base, the sides covered with a thick pale green glaze with a dense network of crackle, the interior and mouth under a clear glaze with a similar crackle. 8.9cm (3½in) wide. Sold for £11,400.
Provenance: George Eumorfopoulos, collection nos.846 and C.81
T.J.Larkin, Beurdeley Collection, London, no.468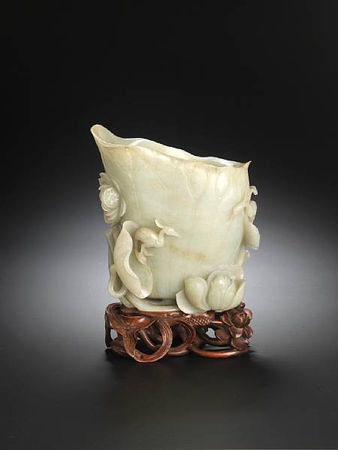 A large pale green jade 'lotus' waterpot, 18th century. photo Bonhams
The large lotus leaf with steep sides rising to an undulating rim, with further lotus leaves, blooms and a pair of cranes carved in high relief around the sides, the stems forming the base and terminating approximately half way up one of the sides, the stone of a pale green tone with opaque white and russet inclusions, carved wood stand. 18.1cm (7in) high (2). Sold for £9,600
Footnote: Provenance: a South American private collection, by repute.
An amethyst and smokey rock crystal 'Buddhist lions' waterpot. Qianlong/ Jiaqing. photo Bonhams
Well carved as two Buddhist lions playing with a ribboned brocade ball forming the waterpot, each with deep inset eyes and bulging nose, the mane falling in curls around the knobbly spine and the tails split into three plaits, the brocade ball with an intricate cash motif design. 9cm (3½in) wide. Estimate: £2,500 - 3,500, HK$ 30,000 - 41,000

Provenance: according to family tradition, the collection was formed by the grandmother of the current owner, who lived in Shanghai circa 1900. She moved to Shanghai as her husband was appointed manager of the Hong Kong Shanghai bank.
Bonhams. Fine Chinese Art, 13 May 2010. New Bond Street www.conhams.com