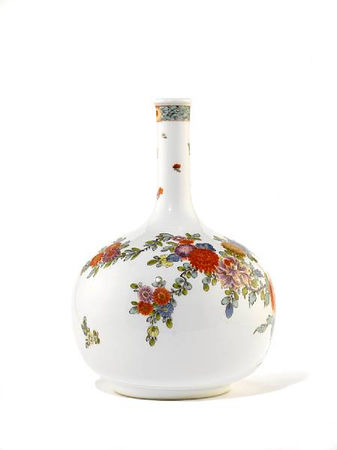 A rare Meissen 'Augustus Rex' bottle vase, circa 1730. photo Bonhams
In the 300th anniversary year of the founding of the Meissen factory – Europe's first porcelain factory - Bonhams sale of 'The Hoffmeister Collection of Meissen Porcelain Part II' at 10.30am on 26th May 2010 at 101 New Bond Street, London. This follows on from the great success of Part I of the sale which made £1,097,100 in November 2009.

The Hoffmeisters assembled the greatest collection in the world of highly important Meissen armorial porcelain. The highlight result is a rare Meissen 'Augustus Rex' bottle vase, circa 1730.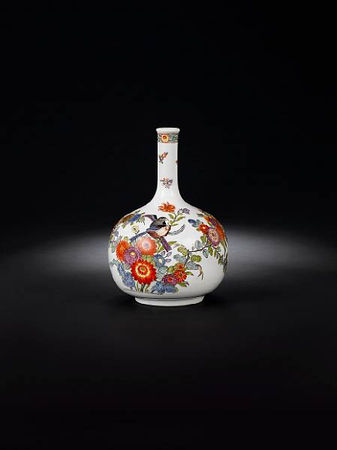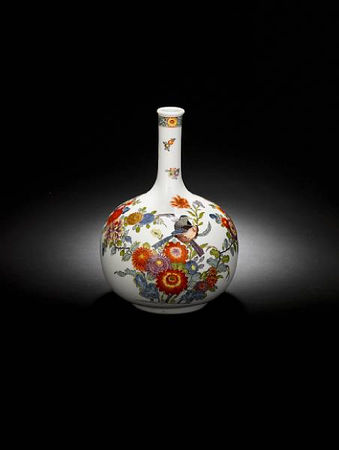 A rare Meissen 'Augustus Rex' bottle vase, circa 1730. photo Bonhams
Painted in gilding and enamels with two birds amidst abundant indianische Blumen, including peonies, prunus and chrysanthemums, issuing from a seeded ground, a butterfly to the reverse and scattered blooms to the neck below a turquoise marbled band reserved with chrysanthemum-heads, 22cm high, AR monogram in underglaze-blue, impressed Dreher's mark of a cross (Rückert 1996, pl. 7, no. 8). Sold for £132,000
Provenance: Sydney J. Lamon Collection, New York, Christie's London, 29 November 1973, lot 13;
Anon. sale, Sotheby's London, 2 March 1993, lot 278;
Acquired in the above sale

Literature: Hoffmeister 1999, I, no. 138

Exhibited: Hamburg, Museum für Kunst und Gewerbe, 1999-2009

A similar vase from a Swiss private collection was sold at Christie's London, 11 December 2007, lot 59. A similar vase, together with two slightly smaller, is in the Arnhold Collection, New York (Cassidy-Geiger 2008, nos. 17a-c, where the author notes that the shape was devised for the decoration of the Japanese Palace).
An important group of armorials is formed by pieces presented to Italian aristocrats by the Crown Prince of Saxony, Friedrich Christian, grandson of Augustus the Strong, owner and founder of the Meissen factory. In 1738 Friedrich, aged 16, accompanied his sister Maria Amalia (aged 14) to Naples for her marriage to the crown prince of Naples, later Carlos III of Spain. Friedrich Christian continued to travel around Italy on his Grand Tour between 1738 and 1740, when regular shipments of Meissen porcelain were sent to serve as gifts for his hosts. This sale features a cup and saucer from a service presented in 1743 to Pope Benedict XIV (born Prospero Lorenzo Lambertini), by Friedrich Christian's father, Augustus III, Elector of Saxony and King of Poland.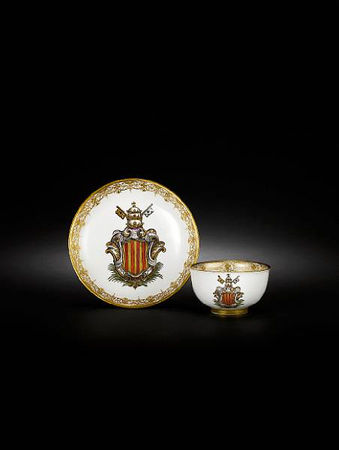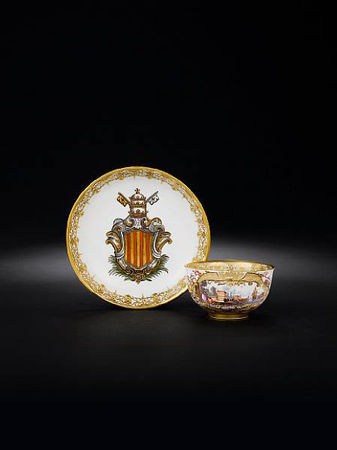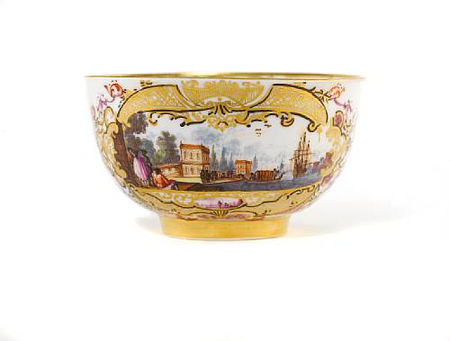 A Meissen armorial teabowl and saucer from the service for Pope Benedict XIV, circa 1743
Each decorated with the arms of Pope Benedict XIV and a gilt foliate scrollwork border to the inside rim, the teabowl with an Italianate scene of figures and palatial buildings by a canal with a boat and ship, within an elaborate gilt cartouche edged in brown and flanked by iron-red and purple scrollwork, enclosing a miniature oval landscape vignette in purple monochrome, the inside with a polychrome circular landscape vignette within two iron-red circles, the reverse of the saucer with three sprigs of indianische Blumen, gilt footrims, the saucer: 13.2cm diam., crossed swords marks in underglaze-blue, impressed 4 to saucer (2) - Sold for £16,800
Provenance: Gift from Augustus III, King of Poland and Elector of Saxony, to Pope Benedict XIV in May 1743;
Acquired in 1975

Literature: Hoffmeister 1999, II, no. 316

Exhibited: Hamburg, Museum für Kunst und Gewerbe, 1999-2009

The gift in 1743 of a tea, coffee and chocolate service from Augustus III to Pope Benedict XIV (1675-1758) has recently been discussed in detail by Maureen Cassidy-Geiger (Cassidy-Geiger 2007, pp. 230-231). The gift is one of many examples of Meissen porcelain that serve to illustrate not only its importance and value as diplomatic gifts, but also the strong ties between Rome and the newly Catholic ruling dynasty in Saxony.

The gift was presented to the pope in the garden of the Quirinale Palace in May 1743, as reported by the Roman chronicle Diario ordinario on 18 May: Sunday morning the most excellent Signor Cardinal Annibale Albani San Clemente, Protector of the Kingdom of Poland, went to [the Palazzo del] Quirinale to present to The Holiness of Our Lord [Benedict XIV] a most beautiful gift sent here by the Majesty of the King of Poland to His Holiness himself, consisting of three very refined services for chocolate, tea and coffee of the finest Saxon porcelain with gold borders and with the arms of His Beatitude, who received it with special pleasure; and in connection with the giving of this gift, being from the Kingdom [of Poland] came two Polish miners in gold and silver [costumes], who were also presented at the same time time to the Holy Father, who had the kind condescension to allow them to kiss his feet in the garden of the Quirinale where he was taking a walk (quoted by Cassidy-Geiger 2007, p. 231).

The miners were in fact on a mission to advise the Papal State on the viability of mines. The porcelain service they delivered served both to illustrate the qualities of Saxon porcelain, and, with a depiction of the Catholic Hofkirche in Dresden as it would look when it was finished, to symbolise the progress of Catholicism in Protestant Saxony (Cassidy-Geiger 1007, p. 231).

The teapot from the service is in the Hoffmeister Collection (Hoffmeister 1999, II, no. 317); the slop bowl is in the Arnhold Collection, New York (Cassidy-Geiger 2008, no. 161), and the coffee pot, sugar bowl, teapot stand and six teabowls and saucers, are in the Ludwig Collection in Bamberg (Hennig (ed.) 1995, no. 147). Another coffee cup and saucer was sold by Sotheby's Milan from the Vivolo Collection, 13 November 2007, lot 144.
Many of the pieces included in the collection boast such a prestigious provenance – diplomatic gifts between European princes that passed between some of the most colourful characters of the époque. As a result Part I of the sale saw enthusiastic bidding from private collectors, museums and dealers from around the world. Among the successful buyers was the Duke of Northumberland, who was able to acquire a plate from the celebrated Hanbury-Williams / Duke of Northumberland Service, which will be reunited with the rest of the service at Alnwick Castle. A Meissen cup and saucer from the Querini service has returned to the Fondazione Querini Stampaglia in Venice.
Another outstanding highlight of the sale is an important Meissen circular stand c.1725-30 with exquisite chinoiserie decoration. Formerly in the renowned pre-War collection of Erich von Goldschmidt-Rothschild it is estimated at £100,000-150,000. The provenance of many other pieces is equally distinguished, with examples from famous historic collections, such as the Royal collections of Saxony, Sweden, Denmark, Italy, Russia and Baden.
A very rare Meissen circular dish, circa 1735
The well painted with an elaborate chinoiserie scene depicting figures seated around a table, flanked by a kneeling figure, a child holding a torch and flowers in pots, all on a gilt scrollwork pedestal with seeded, trellis and striped panels filled with Böttger lustre, reserved with a purple monochrome harbour vignette, and edged with foliate scrollwork edged in brown, the edge of the well with a striped gilt sawtooth border, the rim with two large and two small panels depicting Kauffahrtei scenes of merchants and their wares by a quayside, each within an elaborate gilt scrollwork cartouche filled with Böttger lustre, joined by iron-red scrollwork and a trellis panel reserved with an oval purple chinoiserie medallion, the reverse with three trailing branches of indianische Blumen, 23cm diam., crossed swords mark in underglaze-blue, incised x inside footrim; Sold for £66,000
Provenance: Baron Erich von Goldschmidt-Rothschild Collection, Berlin, sold by Hermann Ball & Paul Graupe, Berlin, 23-25 March 1931, lot 587;
The Property of a European Nobleman, dec'd., Sotheby's London, 29 June 1982, lot 97;
Acquired in the above sale

Literature: Hoffmeister 1999, I, no. 65

Exhibited: Zürich, Kunsthaus, Schönheit des 18. Jahrhunderts; Malerei, Plastik, Porzellan und Zeichnung, September-October 1955;
Hamburg, Museum für Kunst und Gewerbe, 1999-2009

A closely similar circular stand with its tureen and cover - probably originally the pair to the present lot - is in the Museo Duca di Martina in the Villa Floridiana in Naples (published by Paola Giusti, Il Museo Duca di Martina di Napoli (1994), p.113).
The Hoffmeister Collection shows the quality and variety of the oldest porcelain manufacturer in Europe – it provides a survey of the first 50 years of the manufactory's existence, when Meissen dominated the taste for porcelain across Europe. This world famous collection was assembled over 40 years by two German brothers with a passion for this rare 18th century porcelain, and includes the largest and most important group of 18th century Meissen armorial porcelain anywhere in the world. For the past ten years it has been on show at the Museum für Kunst und Gewerbe in Hamburg. Part II of the collection includes examples of all the early styles of decoration, including copies of Asian prototypes, chinoiserie decoration, European landscape and botanical subjects and armorial porcelain.