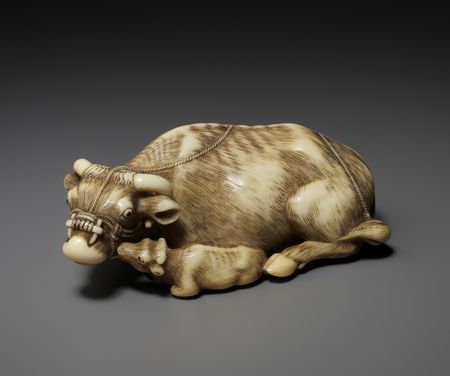 Tomotada. Ivory ox and calf. Signed. Kyoto, circa 1760-80. Length: 2⅜ in., 6.6 cm.
Sydney L. Moss Ltd., celebrating its centenary this year, will be one of the few dealers in Asian art to exhibit at the Russian, Eastern & Oriental Fine Art Fair taking place from Thursday 10 to Saturday 12 June 2010 at the Park Lane Hotel, Piccadilly, London.
Max Rutherston, responsible for the Japanese activities of Sydney L. Moss, speaks Russian and in the last few years has conducted significant business in the Russian-speaking world, including the Ukraine. He has become aware of a particular interest there in Japanese art, especially netsuke, and also swords and sword fittings. As the gallery has a leading reputation in this field, it is above all netsuke that will feature in their exhibition at the fair, Stand No 53. Prices will range from £200 to £20,000.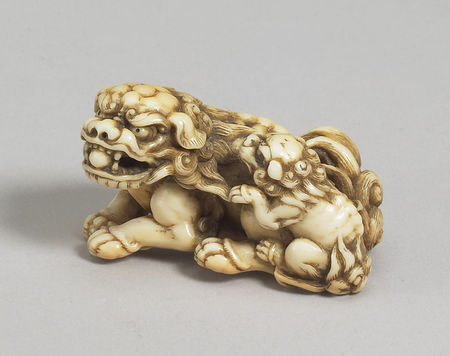 Tomotada. Ivory shishi and cub. Signed. Kyoto, circa 1760-80. Length: 2 in., 5.1 cm.
Netsuke, kimono sash toggles, were originally very simple and practical but developed as an art form in the 18th century and were used right up until the Meiji period (1868-1912). Thereafter they were largely abandoned as a practical accoutrement, though by then they had been embraced by connoisseurs, especially abroad, as an interesting collecting area. This foreign enthusiasm resulted in a thriving craft in Japan which survives to this day.
The netsuke being shown at the fair by Sydney L. Moss will cover the whole span of their history. From the 18th century, visitors will see a selection of ivory animals such as the classic ox and calf (first above) and the legendary Shishi (lion dog) and cub (fsecond above), both pieces carved by the Kyoto master carver Tomotada (c.1775-1825). Another highlight of this section is a tall powerful Kan'u, a Chinese legendary general, (below) stroking his beard, by an unknown artist and dating from around 1720-50.
Anonymous. Ivory Kan'u (legendary Chinese general). Unsigned. Circa 1720-50. Height: 4⅞ in., 12.5 cm.
In the early 19th century more restrained naturalism crept in, particularly in the schools which sprang up in areas away from the bustling larger cities of Kyoto, Osaka and Edo (later Tokyo). Of particular interest are the netsuke from centres such as Nagoya (first below), Gifu and Tsu, where animals in wood tend to be favoured (second below).
Ikkan. Boxwood rat with edamame bean. Signed. Nagoya, circa 1850. Length: 1⅝ in., 4.1 cm.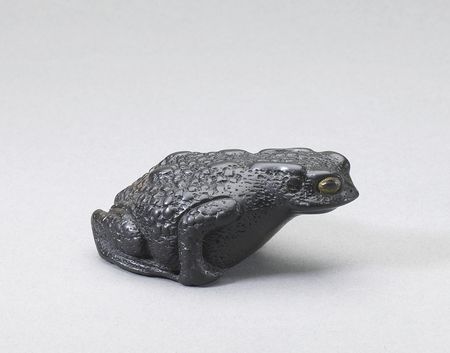 Yoshikazu. Persimmon wood toad. Signed. Circa 1840-60. Length: 2⅝ in., 6.6 cm.
Later in the 19th century, especially after the increasing influx of foreign influence and interest from the mid 1850s onwards, there was a move towards more intricate carving (first below), but that did not preclude the appearance of maverick carvers and their followers who bucked that trend. The great Kokusai, working in Tokyo in the second half of the 19th century, is one such, the majority of his work being in stag antler second below).
Dosho. Ivory chidori (plover). Signed Osaka, circa 1850-70. Length: 19/16 in., 4.1 cm.
Kokusai. Walrus ivory Mosho on a Vajra. Tokyo, circa 1870. Length: 2¼ in., 5.8 cm.
Even in the later phases of netsuke carving, between the two world wars, there were artists producing detailed work of a high calibre. For example, the pale boxwood netsuke of Shizuka , the stoical concubine of Yoshitsune, bowing her head in its large hat against the wind, carved by Gyokuso (1879-1944), one of the greatest artists of the So school (below).
Gyokuso. Pale boxwood Shizuka, the stoical concubine of Yoshitsune. Signed. Tokyo, circa 1930. Height: 2 in., 5.1 cm
Sydney L. Moss will also show a selection of other Japanese works of art, including pipe cases, inro and other high quality and attractive objects.
Sydney L. Moss was founded in 1910 by the grandfather of the present director, Paul Moss who is ably assisted by Max Rutherston, former head of the Japanese Department of Sotheby's London. The gallery has produced many scholarly catalogues and staged numerous major exhibitions over the years. Their clients include private collectors from around the world and important international institutions including the British Museum and the Victoria and Albert Museum in London, the Ashmolean Museum, Oxford, the Fitzwilliam Museum, Cambridge, the National Museums of Scotland, the Art Gallery of New South Wales, Sydney, the Asian Art Museum of San Francisco, the Boston Museum of Fine Arts, the Art Institute of Chicago, the Hong Kong Museum of Art, the Metropolitan Museum of Art in New York and the National Palace Museum in Taipei.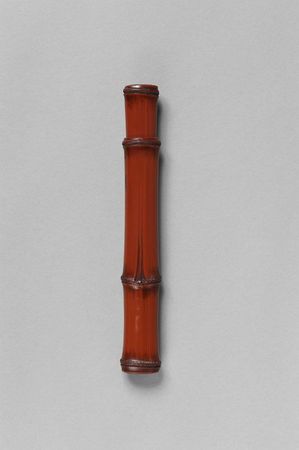 Hashiichi. An orange-brown lacquer muso pipecase imitative of a stem of bamboo. Signed. Tokyo, circa 1870. Length: 7½ in., 19.1 cm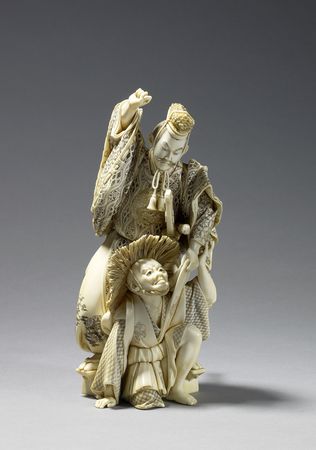 Masanobu. Ivory okimono of Tadamori apprehending the oil thief. Signed. Tokyo, circa 1880. Height: 8½ in., 21.6 cm