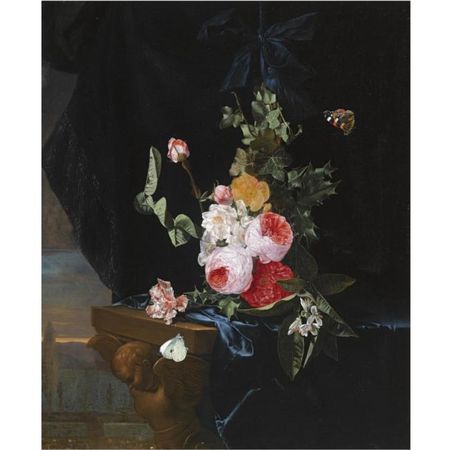 Carstian Luyckx (Antwerp 1623 - ? After 1657) A swag of roses and thistle-leaf, tied with a blue ribbon, before a blue velvet drapery on a sculpted table, together with a Red Admiral and a Cabbage Butterfly, a landscape beyond. photo Sotheby's
oil on canvas; 61.5 by 50.4 cm. Est. 30,000—40,000 EUR. Lot Sold 90,750 EUR
EXHIBITED: IJsselstein, Stadsmuseum IJsselstein, Zomerse Stillevens & Tuinen. Hollandse meesters Barok en Modern, 25 April - 30 September 2009.
NOTE: Although it remains unclear where exactly Luyckx was active during his career, it is known that he stayed in his native town of Antwerp until at least the 1650s, and possibly even later. French inscriptions on his later paintings allow us to believe he moved to southern regions, but no documents confirm this.
His preferred subjects consist of vanitas paintings, game pieces and flower still lifes, mostly containing garlands, see for example the one sold, New York, Sotheby's, 26 January 2006, lot 11, or festoons, and like this painting, a swag of flowers. They have been recorded in private Antwerp collections as early as 1652.1
1. See A. van der Willigen, F.G. Meijer, A Dictionary of Dutch and Flemish Still-life Painters Working in Oils, 1525-1725, Leiden 2003, pp.134-5.
Sotheby's. Old Master Paintings. 18 May. Amsterdam www.sothebys.com