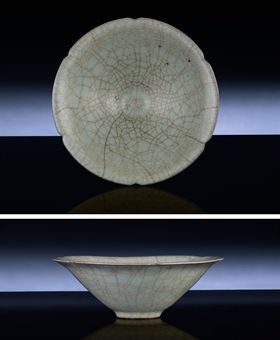 A very rare guanyao mallow-form bowl. Southern Song dynasty, 12th-13th century. Photo: Christie's Images Ltd., 2010
The thinly potted body flaring widely from the narrow ring foot before rising to the very slightly everted rim cut with six notches, covered overall with a thick opaque glaze of greyish blue-green tone suffused with dark crackle ending neatly at the foot exposing the biscuit burnt reddish brown in the firing, the interior of the foot also glazed - 5 3/4 in. (14.6cm.) diam., box - Estimate HK$5,000,000 - HK$6,000,000 Price Realized HK$11,412,000 ($1,476,979)
南宋 官窰葵口盌

盌六瓣花口,侈口外撇,小圈足,底足沿露胎處呈褐色。裏、外及底心滿施灰青色釉,釉色瑩潤,釉面滿佈開片紋,片紋密集,猶如網線縱橫交錯。葵瓣口盌因口沿呈葵花形而得名,或五瓣或六瓣不等,在宋代極為流行。

此盌源自日本琉球島私人收藏,包裝盒中附有一封信,信中說此盌曾為琉球末代國王尚泰收藏,明治元年即1867年,王尚泰因病得到三田醫生醫治,賞賜此盌以示感謝。1883年三田醫生回到家鄉伊与国,把此盌賣給了鹿兒島的古董商人。

此盌2004年於日本根津美術館舉辦之《The Colours and forms of Song and Yuan China》目錄圖版26。臺北國立故宮博物院藏一件於此器相似的葵口盌,見 (圖一)。
Provenance: King Sho Tai (1843-1901), Ryukyu Kingdom, Japan (by repute)
A Japanese private collection, Ryukyu Islands
Exhibited: Nezu Institute of Fine Arts, The Colours and Forms of Song and Yuan China, Tokyo, 2004 and illustrated in the Catalogue, no. 26
Notes: The present bowl is accompanied by a letter signed by Sekiko stating that the bowl was originally in the collection of King Sho Tai (1843-1901), the last King of the Ryukyu Kingdom in Southern Japan. Following the Meiji Restoration in 1867, the King was overcome by health problems and was treated by Dr.Yamada in Minato, Kagoshima Prefecture. The King recovered and was so grateful to Dr. Yamada that he gave him the current Guanyao bowl as a gift in recognition of his services. Dr. Yamada sold this bowl to an antique dealer in Kagoshima prefecture when he returned to his native country (Iyo Koku) in 1883.

It is interesting to note that the Ryukyu Kingdom had close ties with China, and its independence from the rest of Japan meant that these ties were maintained throughout the period that China had ceased its trade relations with the rest of Japan.

This classic bowl, with its dark stoneware body and delicately crackled glaze, exemplifies the sophisticated elegance of wares made at southern Chinese kilns for the refined Southern Song court. The Five Great Song Dynasty Wares are traditionally Guan, Ge, Ding, Jun and Ru. Each of these wares has its own characteristics, and in the case of Guan and Ge wares the simple forms combined with a rich blue-grey crackled glaze produce ceramics of deceptively simple beauty. The simplicity is deceptive because these wares were unusually difficult to make. The variations in colour and translucency of these glazes, as well as the density of their crackle are greatly dependent on the application of the glaze and the control of the atmosphere and temperature in the kilns in which they were fired.

The subtlety of form of the current bowl shows the restrained use of a flower form often seen in fine cups, bowls and dishes from the Ding kilns of Hebei province during the Northern Song period, and latterly the imperial wares of the Southern Song period. In this instance, the bowl is in the shape of a mallow, perhaps the most popular of all the flower forms adopted at that time. However, rather than carrying the petal form down the sides of the bowl, the potter has merely everted the rim slightly and then gently indented it to indicate the six mallow petals.

A bowl of very similar shape and size in the National Palace Museum collection, Taipei, is illustrated in the Catalogue of the Special Exhibition of Sung Dynasty Kuan Ware, National Palace Museum, Taipei, 1989, no. 114 (see fig. 1). Other examples of slightly different form and size are also illustrated ibid., nos. 113, 115 and 116.

As can be seen from the illustrations, the glaze on these pieces has 'crawled' in the same manner as that on the current bowl. Such glaze crawling is a common occurrence on these wares.
Christie's. The Imperial Sale Important Chinese Ceramics and Works of Art. 31 May 2010 . Hong Kong www.christies.com