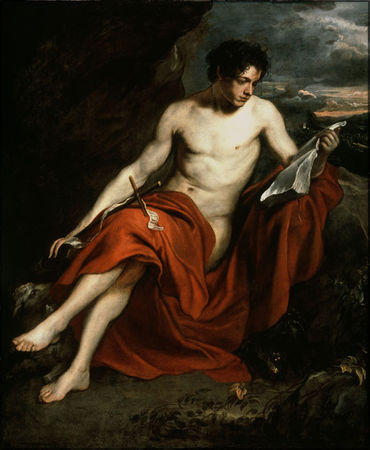 Sir Anthony Van Dyck (1599-1641), "Saint John the Baptist in the Wilderness"
HOUSTON, TX.- During a special dedication ceremony on Wednesday, June 2, Houston Baptist University unveiled "Saint John the Baptist in the Wilderness," the 17th century masterpiece by Sir Anthony Van Dyck (1599-1641), in the Belin Chapel in the Morris Cultural Arts Center on the HBU campus. The painting, a generous donation from the collection of University friends William and Sharon Morris, is the latest in a series of recent enhancements to the chapel, including the installation of the Sherry and Jim Smith Organ and a stained glass chancel window.

"It is our deepest wish that this painting will touch the lives of people who see it and promote more meditation on God's Word," said Sharon Morris. "If its presence here on campus brings HBU students to a closer relationship with Jesus Christ, that would give us the most joy we could ever hope for."

Van Dyck's depiction of "Saint John the Baptist in the Wilderness" reveals his skill in rendering the human form while providing his painting with a sense of the sublime. Just as in his depictions of King Charles I of England and Scotland and his family and court, for which the Flemish Baroque artist is most famous, Van Dyck's religious subjects possess a relaxed elegance and a warm human quality, aided by exquisite flesh tones and beautifully painted fabric. The strong diagonal thrust of "Saint John the Baptist in the Wilderness" is an unusual compositional device in Baroque painting.

"We are honored that William and Sharon, whose pursuit of truth and beauty is reflected in their passion for fine art, have entrusted the University with this very special gift," said HBU President Robert B. Sloan Jr. "In this magnificent work, we witness a painting whose sublime rendering of the human capacity for sacrifice and resolution is a testament to the Morrises and their faith, as well as the faith that underpins our mission and work at HBU."

Many of Van Dyck's early religious paintings portrayed Old and New Testament subjects for Jesuit and Dominican churches in Antwerp, Belgium. He joined the Guild of St. Luke as a Master in 1618 and continued his study of religious painting in the Italian cities of Genoa, Rome and Venice. His outstanding facility as a masterful draftsman was to be a dominant influence on English portrait painting for 150 years.

The installation of "Saint John the Baptist in the Wilderness" on the HBU campus will advance the goals outlined in the eighth pillar – Expand Our Commitment to the Creative Arts – of the University's Ten Pillars vision (www.hbu.edu/vision). In pursuit of those goals, HBU invites students, and the community as a whole, to share its academic and emotional admiration for the arts – visual, musical and literary – and to be part of the creative tradition.