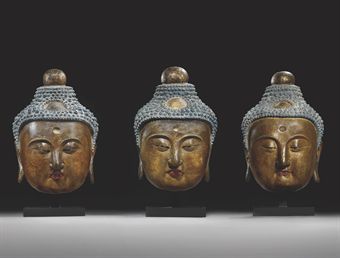 Trois rares tètes monumentales de Bouddha en stuc polychrome et doré. Chine, Dynastie Ming, XVème-XVIème siècle. Photo: Christie's Images Ltd., 2010
Les visages sereins traîtés de façon très réaliste, les joues pleines, la bouche fine et légèrement ourlée, le nez aquilin, les yeux mi-clos, les sourcils arqués, le front paré de l'urna, les lobes d'oreilles allongés, les cheveux et l'usnisha bouclés et surmontés d'un bouton de lotus, socles ; petits manques et restaurations. Hauteur: circa 75 cm. (29½ in.) (3) - Estimate €140,000 - €170,000
Provenance: From a Dutch private collection, acquired during the late 1990's.
Notes: The three monumental gilded stucco heads seem to originate from the same temple taking their comparable size and facial expression into consideration. Most probably they were even housed in the same chapel. Especially temples founded during the Ming dynasty (1368-1644) were decorated with many stucco figures from the Buddhist pantheon. As in general the medium is easier and thus less costly to handle, then examples cast in bronze for instance, it is understandable that they were made in abundance. However unfortunate due to their perishable character not many have survived the uncountable earthquakes, riots and wars.

As the bodies are missing it will remain impossible to determine whom they exactly represent. Their strong resemblance suggests however that they could form a group or at least were part of an iconographic set. It is known that many temples housed large sets of for instance the Buddha's of the Past who preceded the present Buddha Shakyamuni in previous cosmic eras. This specific group comes often in a set of seven, sometimes in a multitude of this figure. Another possibility is that they represent the three Buddha's of the Past, Present and Future.
Independent whom they originally represent, it must have been a wonderful sight to see the chapel filled with monumental, colourful and gaily painted stucco figures and that for sure impressed the devotees.
For a group of gilt-stucco Buddha's still in situ in a Buddhist chapel in Beijing, see Ancient Temples in Beijing, published by China Esperanto Press, Beijing 1993, pp. 82/83.
Christie's. Art d'Asie. 8 June 2010. Paris www.christies.com