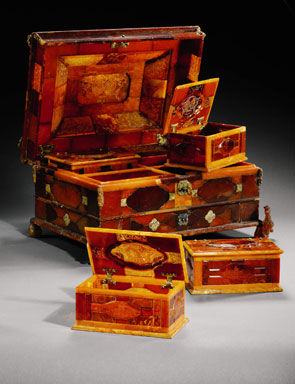 A rare amber casket made to celebrate the union of Prince William IV of Orange and Anne, Princess Royal of Great Britain, North German, probably Danzig, 1734. Est: £200,000-300,000. Photo: Sotheby's
LONDON.- On Tuesday 6th July 2010, in the first ever sale of its type, Sotheby's will bring together some 21 lots, the intrinsic quality and importance of which will be matched by extraordinary nature of their provenance. Ranging in date from the 16th to the 19th centuries, and emanating from all corners of Europe, the works in the sale span the entire range of the decorative arts, from porcelain to silver, snuff boxes to furniture, and textiles to objects of Vertu.

Mario Tavella, Sotheby's Deputy Chairman Europe, who has spearheaded the sale, describes what first triggered the idea: "Someone asked me once: what makes something a treasure? I thought about it.... In my world, the world of objects, a treasure would be something which is not only beautiful, precious, rare and hidden, but which also tells a captivating story. These are the kind of pieces that provoke an almost visceral reaction when we look at them. It struck me that, in the general course of life, encounters with real treasures happen all too rarely. And so I made it my job to set about finding them. Now, with this sale, we have 21 works of art to which I feel the term treasure can justly apply. It is more than many might hope to see in one place in a lifetime."

Having once formed part of some of Europe's most prestigious aristocratic collections, the pieces selected for this sale constitute the pinnacle of their collecting category and have been chosen due to their combination of exceptional provenance with extraordinary craftsmanship. During the long and varied history of these works they have been associated with names such as Queen Marie Antoinette, the Dukes of Devonshire, the Rothschild family, the Imperial family of Russia, the Princes Carafa of Roccella, the Duke of Urbino, the Medici family and the Earls of Macclesfield, Strafford and Dartmouth. Although redolent with the names of Europe's greatest families, what these pieces also share is a freshness to the market.
An Italian Engraved Ivory Inlaid Rosewood Centre Table made for the Duke of Urbino Francesco Maria II Della Rovere (1549-1631), c 1596-7, and subsequently part of the collection of the Medici family. Est: £500,000-1,000,000. Photo: Sotheby's
This extraordinary piece of furniture, probably made by a German craftsman working for the noble families in Italy, was commissioned sometime between 1596 and 1598 by the Duke of Urbino, Francesco Maria II della Rovere (1549-1631). The circumstances behind the commission are poignant: Francesco was born blessed with good looks, intelligence strength and courage, but after a brief moment of freedom and youthful indulgence in Spain in the 1560s, he was promised in marriage Lucrezia d'Este, a princess of exceptional noble lineage, but a woman some 15 years his senior. Their loveless match did not produce the heirs their parents had hoped for and Lucrezia died childless in 1598. One year later, Fransceso married his sweet-heart cousin Livia della Rovere, and this table, together with a matching cabinet now in the Urbino Galleria Nazionale delle Marche, with their intertwining oak leaves, may well have been commissioned to celebrate the occasion.

Their marriage produced a son, Federico Ubaldo, who in turn married into the Medici family. His daughter, Vittoria della Rovere, was born in 1623 and it was to her that Franceso bequeathed the table. He sent it to her in Florence just months before he died, knowing that when he passed away Urbino would be taken over by the Church and would no longer enjoy the independence and freedoms of his rule.

His note to Vittoria, sent with the table and other precious things, is full of sadness: "I am sending to Your Highness all the jewels that remain in this house, after so much misfortune; and I am sending them to you whilst I am still alive because after my death who knows what will happen, Your Highness should receive them willingly as a demonstration of my affection poured out for you, and in your time may they adorn you; remembering first to adorn your soul with those virtues that are appropriate for ladies of your rank, and which make you ever more dear to your husband, his Serene Highness. And I kiss your hands."

The table remained in the Palazzo Pitti in Florence until the death of Vittoria in 1694. It then passed to her second son, Cardinal Francesco Maria de' Medici. After this, all trace of the table was lost until it reappeared, some twenty years ago1, in a Christie's auction, whence it had been consigned by the descendents of Charles Butler, whose collection also included, for instance, Titian's Tarquin and Lucretia (now in the Fitzwilliam Museum in Cambridge), as well as pictures by Rubens, Bellini and others, many of which now hang in major national museums.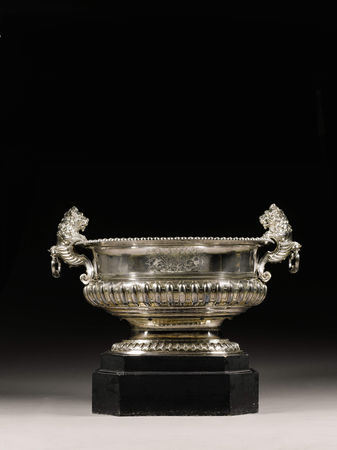 The Great Silver Wine Cistern of Thomas Wentworth, 3rd Baron Raby, Ambassador Extraordinary to Berlin, 1706-1711. Made and engraved in the workshops of Philip Rollos Senior and Junior, and John Rollos, c.1705-6, bearing the arms of Queen Anne. Est: £1.5 – 2 million. Photo: Sotheby's
Among the most important pieces of English silver to have come to the market in the last 50 years, this monumental wine cooler measures 129.5cm from end to end, and weighs 11½ stone (2597 oz). Capable of holding many bottles or flasks of wine and a great quantity of ice, it is as "large as a small bathing-tub" and is one of only a very small number of English cisterns surviving from the late 17th/early 18th century.

Completely unrecorded since 1722 and unknown to scholars, it was made for the 'fractious and gallant' (as Winston Churchill described him) Lord Raby, an ambitious, quick-thinking Yorkshireman, who – having proven himself in various military and ambassadorial postings - was, in 1706, appointed Ambassador Extraordinary at the Court of the King of Prussia in Berlin.

In order that her ambassadors should dazzle in their respective posts, Queen Anne provided for each of them an "allowance" of silver and silver-gilt. The amount issued to Raby was 5893 ounces of silver – a huge amount by any standards. The allocated allowances could be used as each ambassador saw fit, and Raby chose to apply the lion's share of his to the production of this gigantic tour de force of the silversmith's art. Raby's insistence that the cistern should be as large, heavy and impressive as possible was taken rather too literally by the silversmiths, with the result that far more silver was used than the Queen would pay for, leaving Raby with a substantial £40 bill to foot for the difference.

The cistern was made by Philip Rollos. One of the finest and most celebrated goldsmiths working in London at the time, Rollos was responsible for many of the largest and most important pieces of silver produced in England in the 17th and early 18th centuries. His son, John Rollos, was equally celebrated as an engraver. Both Philip and John also worked on a large silver-gilt basin for Raby on his appointment in Berlin. Sold at Sotheby's in 1963, that piece is now in the Victoria and Albert Museum. Meanwhile, the cistern to be sold this summer has passed through the Wentworth family and their descendents, and has never before appeared on the market.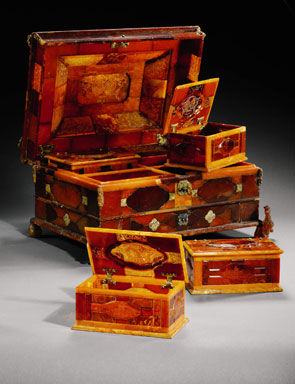 A rare amber casket made to celebrate the union of Prince William IV of Orange and Anne, Princess Royal of Great Britain, North German, probably Danzig, 1734. Est: £200,000-300,000. Photo: Sotheby's
This extraordinarily rare and beautifully crafted box was probably made to celebrate the union of Prince William IV of Orange and Anne, Princess Royal, the eldest daughter of King George II of Great Britain. They married at St James' Palace in 1734, further reaffirming the strong ties between Great Britain and the Netherlands.

The amber from which the casket is made would have been dredged from the Baltic Sea, where it had been collected as fossilized resin from the forested land which had been there over 100,000 years ago. Since Paleolithic times, amber had been regarded as a precious material not only prized for the many hues of gold and yellow, but also because of its association with healing. Each piece found was rarely over two inches long, and this casket, copiously engraved with the arms of William IV, Prince of Orange and Anne, Princess Royal of Great Britain, is constructed of many hundred of such pieces. Never having appeared on the market before, it comes to sale by descent through the family of Wilhelm Adolph Maximilian V. Furst zu Weid, whom Anne married in 1871, William having died some 20 years earlier.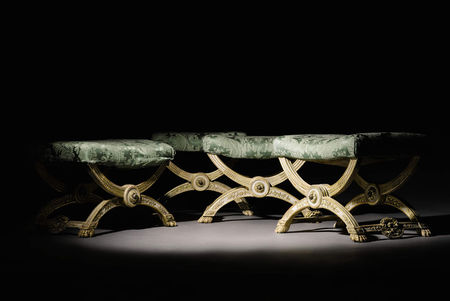 A set of three ivory painted and parcel-gilt Royal Pliants by Jean-Baptiste-Claude Séné (1748-1803) made for Queen Marie Antoinette's Salon des Jeux at the Châteaux of Compiègne and Fontainbleau, Louis XVI, circa 1786-87. Together with a later 19th century copy. £150,000-250,000. Photo: Sotheby's
Together with a later 19th century copy. £150,000-250,000. These elegant folding stools were made for one of the most romantic figures in French history – Queen Marie Antoinette. They are three of a set of 64 she commissioned for the Royal Châteaux of Compiègne and Fontainbleau. 24 of these are still at Fontainbleau, while the remaining 40 were dispersed after the Revolution. Some of these have since found their way into museums and distinguished private collections, while the whereabouts of many others remains a mystery.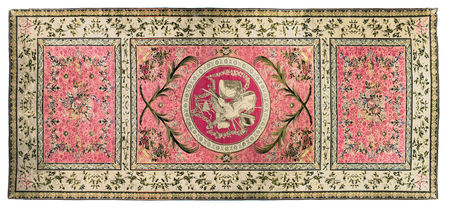 George III Axminster Carpet, England, by Thomas Whitty, late 18th century approximately 1323 by 572cm; 43ft. 5in. by 18ft. 9in. Photo: Sotheby's
This enormous and beautifully executed carpet was Axminster carpet at Powderham Castle was made by Whitty for the Music Room at Powderham Castle by 1798. Accounts vary as to who designed the carpet; it has been attributed to William, 3rd Viscount Courtenay (c.1768 - baptized 30 August 1768 – d. 26 May 1835), who together with some of his thirteen sisters, were accomplished amateur artists and who painted the medallions on the walls of the Music Room. It is equally possible that James Wyatt, the fashionable architect who designed the Music Room, which was added to the castle between 1794 and 1796, had a hand in its design, perhaps doing the cartoon for the instruments roundel which is apparently unique in Axminster carpets; the surrounding flower baskets and swags are paralleled in other surviving late 18th century Axminster carpets.

It was the tradition at Axminster, when a carpet had been completed, to take it to the Congregational Church of which Whitty was a member and to lay it out over the pews for the workers and townspeople to admire before it was packed up and dispatched to its new home. The great carpet from Powderham, having made its short journey to the church, then travelled the thirty odd miles to the castle, where it has remained for over 200 years; it is a rare occurrence for an 18th century Axminster carpet with such provenance to be made available for sale.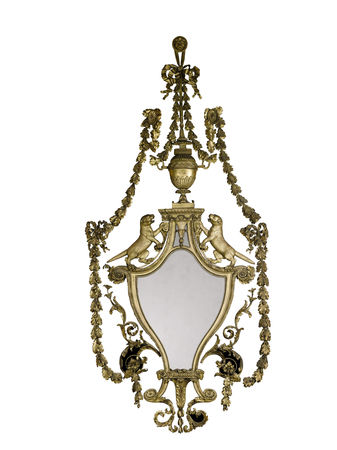 The Stowe State Bedchamber Mirrors; A Pair of Late George III carved giltwood mirrors, c 1759-60, the design attributed to Giovanni Battista Borra and possibly carved by Jean-Antoine Cuenot. Est £300,000-500,000. Photo: Sotheby's
Exhibited in the landmark The Treasure Houses of Great Britain show at the National Gallery of Art in Washington in 1985-6, this beautiful pair of wall-mirrors once formed part of the furnishings in the State Bedchamber at Stowe House, in Buckinghamshire. They were commissioned by Richard Grenville, 2nd Earl Temple, and supplied by Giovanni Battista Borra, who had recently travelled with Robert Wood and James Dawkins on their celebrated tour of Asia Minor and Syria. Borra had prepared the drawings for the ensuing book The Ruins of Palmyra and Baalbeck, and many of the precocious neoclassical motifs that are evident in the mirrors were surely inspired by what Borra had seen in Palmyra.

The mirrors were sold at auction in 1921, and have subsequently changed hands twice. Having remained in the same family for some 40 years, they now come to sale with an estimate of £300,000-500,000.